Top 5 Compact & Portable Electric Bikes To Buy In 2022 Reviews
Are you looking for a compact electric bike than you can carry everywhere?
If so, read my article about the best compact&portable electric bikes. Before the review you will read about the general things of these bikes, their specifications, types, and other interesting things.  Hopefully you will easily decide which e-bike is the best for you after reading this post.
Things To Know About The Portable and Compact Electric Bikes
Popular Riding Viachle
Electric folding bicycles are spreading on city streets, on trains and busses, and in-office buildings for a good reason. It's hard to beat the compatibility and portability of a bike that folds down to fit under your desk, but it can also make your commute faster and less expensive.
Which Motor They Are Using
Most portable electric bicycles use a hub motor because they are small and don't take up any additional space on the bike. Hub motors can be placed be in the front or rear wheel and most of the bikes on this list are powered by 250- and 350-watt motors.
Wheel Size Is Important
The important thing when buying an electric foldable compact electric bicycle is the wheel size because that dictates how small the bike can fold down. Most folding e-bikes use a 20-inch wheel, but some of them use even 16-inch wheels. The larger wheels will more easily roll over bumps and holes but with bigger wheels, a folding bike will not have the specifications and possibilities like a traditional folding bike.
Where To Buy Them
When buying a compact folding electric bike you should consider its features, folding size, range power, and value. Since folding e-bikes are pretty popular you can find them anywhere, especially on the internet stores like Amazon and Walmart for the different price ranges.
Best 5 Compact & Portable Electric Bikes  Reviews
Best Woman Portable Electric Bike
Jetson Bolt Folding  Full Throttle Electric Bicycle
Small Compact Design
This small electric bike comes in a nice black color with 12″ aluminum alloy frame. The Bolt features has a built-in carrying handle in the center of the frame, providing convenience and making it easy to pick up and go. The seats and bar are also adjustable to the size you want.
Battery And Motor
This portable electric bike comes with a rechargeable lithium-ion battery that can last up to 15 miles. The bike is made of lightweight and sturdy aluminum alloy frame and can support weights up to 250lbs. The bike has 250w hub motor which can take you rough city streets or over hills.
Other Features
The bikes have twist throttle and cruise control that are making ride more control and comfort. With bright LED headlight you can ride even during the night. The collapsible handlebar makes the Bolt easy to carry and store anywhere. The bike is perfect for young adults or smaller people and with a fully charged battery they can travel 15miles.
Specifications:
small compact design
foldable
support 250lbs weights
led headlight
Best Portable Electric Assist Bike
Eahora X3 Folding Electric Bicycle
Folding Portable Design
Eahorda bike weighs 45lbs and can carry up to 200lbs. It has an aluminum alloy frame folding design so it can easily be stored in the trunk or small room. The bike also has an intelligent curved surface display and memory cotton leather seats for more comfortable riding.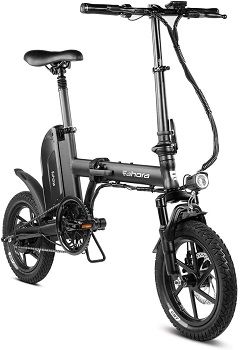 Motor And Inteligent Controler
The bike comes with 350w ECO motor and an intelligent controller connected with the e-pas system. That increases the cruising range by 40% at the same speed and power. The e-drive control system also has a mute function which reduces the noise during riding.
Large Capacity Battery
The bike has a large capacity Samsung 36V 10.4Ah removable battery with a Key-Secured feature. Charging time is 5-6 hours and with a fully charged battery you can travel up to 28 miles with the speed of 18mh which is pretty enough for commute riding.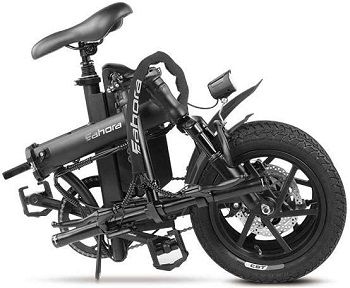 Safe Riding
Shock-absorbing spring front suspension fork filter the bumpiness of different road conditions effectively and you can expect better handling, improved cornering capabilities.  The front & rear mechanical disc brakes are well equipped on Eahora electric folding bicycles for safer riding and stopping.
Specifications:
curved surface display
large capacity battery
E-PAS system
safe riding
Best Portable Affordable Electric Bike
Beston Sports Mini Electric Bike Portable Bicycle
Recumbent Bike Unique Design
This electric bike comes with a unique design and in black/red color. The entire bike only weighs about 36lbs and can comfortably accommodate rider up to 265lbs.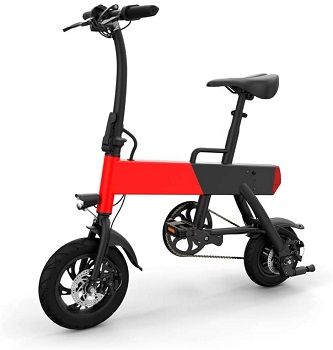 Large 40cell Battery
With a small foldable design you can store it in a car trunk or in some small rooms. The bike is equipped with a Large 40 cell 8.0Ah Lithium-ion battery and the Perfect gear ratio adds a good feel when pedaling without power.
LED Display
The bike has Environment-friendly specifications and has footrest area Rear cargo basket Bright neon green body for safety. The saddle can be adjusted to your needs. The bike has an LED display that shows useful information about the bike such as a battery, speed et.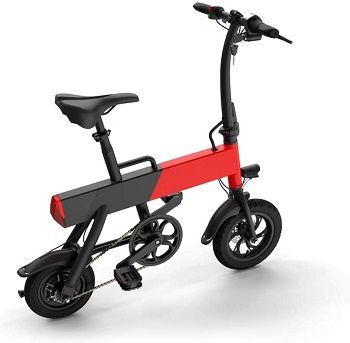 Other Features
With a large battery and 350W Brush-less motor you can travel 12 miles with a speed of 15mph. The bike is made of aviation aluminum alloy and can carry 265 lbs. The bike also has RPM Sensor and headlight for a better view in the evenings.
Specifications:
lightweight
adjustable seat
RMP sensor
LED display
Fastest Portable Electric Bike
SAMEBIKE  Lightweight Foldable E-BIKE
Design
The bike comes in white color and looks like many other electric bikes. The difference is that Samebike has extra wires and LCD displays on the steering wheel. It is made of aluminum alloy which is strong but light material.
Bike's Motor
This electric bike is equipped with a 350w motor and has a folding aluminum design. With it you can reach maximum speed oh 30kmh with distance up to 70km on a single charge.
Led Flashlight And Reflector
Altho other portable e.-bikes this one weight 28kg and it will be a bit harder to carry it around. It has an adjustable seat and it is suitable for people of any height. Also there is a large LED flashlight that ensures riding in the dark. Behind the seat is a red reflector that is noticeable to drivers who ride behind it.
Removable Battery
The bike comes with a removable 10.4Ah / 48V lithium-ion battery and you can bring it to your home or office to recharge. The battery is encased in a protective cover, which can extend battery life. It takes up to 4 hours for the battery to be full.
3 Riding Modes
The bike has 3 riding modes you can choose and comes with 10ah lithium-ion battery. The bike can ride up to 40km on a single charge in a fully electric model. Also you can remote control to lock and unlock your bike, besides, you can also remote search for your electric bicycle, using sound to find your e-bike.
Specifications:
fast charging
headlight and reflector
3 riding modes
remote search
Best Compact Electric Commuter Bike
ANCHEER Folding Collapsible Electric Commuter Bike
High-quality Materials
This electric bike is made of high-quality materials and comes with a lightweight steel frame and folding features. The sturdy folding frame can be folded down in seconds, so you can store it in your car or in small rooms.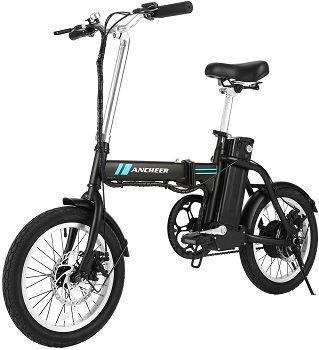 Battery And Fast Charging
The portable folding electric bike is equipped with a 36V 8Ah Lithium-Ion battery, and You can charge it on/off the bike at your convenience. It charges easily in 4-6 hours and with it you can travel 15-30 miles on one charge.
Motor And Working Modes
The bike comes with 250w high-speed brushless gear motor and 2 available working modes. You can chose the e-bike or assisted bike. Combining both of them will increase your riding experience.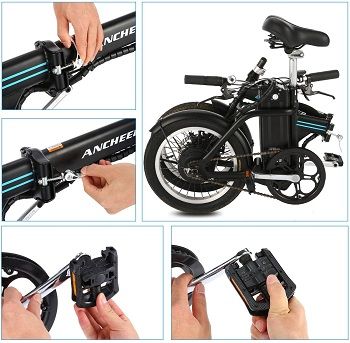 Other Features
The bike has front and rear disc brakes for good stopping power, an LED 3-meter smart button, a comfortable adjustable bicycle seat, and an integrated bell on the right side of the wheel.
Specifications:
adjustable seat
integrated bell
2 working modes
high-quality materials
Conclusion: Which Are The Two Best Compact & Portable Electric Bicycles You Should Buy?
Portable & compact electric bike is affordable and you can carry it anywhere. I would recommend the Eahora X3 compact electric bike and the Beston e-bike. Eahora X3 weighs only 45lbs and can carry up to 200lbs. It has 350w strong motor and many interesting features like intelligent controller with e-pas system, large capacity battery, and key-secured battery feature. The Beston portable electric bike comes with a unique lightweight design and has environment-friendly specifications. It has an adjustable seat and an LED display. Also, there is an RMP sensor and headlight for a better view at night.
If you are interested in electric bikes that are made for the mountain or gravel riding, read this article about the best mountain electric bikes. Also, you can read another article about the fat tire electric bikes if you are a fan of adventures, but if you like more electric bikes for city, read more about in my article about electric commuter bikes.