Best 5 Lightweight Electric Bikes For Sale In 2022 Reviews
Are you looking for a light electric bike?
If so, read this article about the best lightweight electric bikes for the sale. You will read some general stuff about the electric bikes, why lighter electric bikes are good, and their features. After reading this review you will easier to decide which electric bike suits you the best.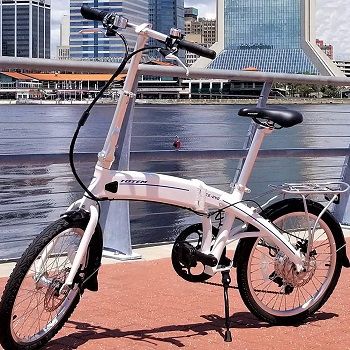 Things To Know About The Light Electric Bikes
E-bike Can Be Heavy
Electric bikes can be quite a bit heavier because of heavy motor and batteries which they need to do better-riding performance. Typical non-electric bike weights from 25 to 35lbs and Electric bikes typically weigh over 40 lbs and they tend to be more substantial.
Light Electric Bike Features
The lightness of the bike means that you can ride it easily when you run out of power. Some lightweight electric bikes that have in goal complement rather than powerful riding come with smaller motor and battery.
The lighter bike can be more easily and faster ridden especially on the ascents. Also, those bikes should have a bigger mileage range. They usually come in a folding e-bike category because they tend to be as lightest as possible for easier carrying and transporting.
Advantage And Disadvantages
The lightweight bike is more portable and easier to ride. Another advantage is that you can carry it upstairs or lift it on and off public transport. It depends how and where you use e-bike but if the bike is super light and it doesn't have a good motor and battery so it not a worthwhile investment.
Where To Buy Them
Since the lightweight electric bikes are becoming more and more popular you can find them in specialized e-bike stores or on the internet. Internet stores such as Amazon, Walmart, and eBay offers many lightweight foldable electric bikes from a few hundreds of dollars to 1500 dollars you can choose.
Best 5 Lightweight Electric Bikes  Reviews
Best Lightweight Electric Assist Bike
Jetson Adventure Electric Bicycle Lightweight
Light And Durable Materials
This electric bike comes in black-green color. Jetson is designed with light and durable materials and comes with a front shock suspension that makes the riding more smooth.  Also, there is a saddle designed with a shock-absorbing feature for more comfort.
Battery And Motor
The bike is equipped with a 250-watt motor with power supplied by a 36v battery. It is rechargeable and can take you up to 30 miles. The battery is concealed in the center of the frame and it is easy to charge.
9-levels Of Pedal Assist
This 21-speed mountain bike has 9 levels of pedal assist to give you more power when you need it. Even there are a bit lighter e-bike than this, this bike is designed for urban traveling.
Headlight And LCD
The bike has a headlight and taillamp for better safety at night and it supports up to 300 pounds of weight. Also, there is a bell, so you can tell people when you are coming. With an interactive LCD, you are updated with information about the battery life, your current speed, track distance, and more.
Specifications:
light and durable materials
safe and comfortable
21-speed gear
LCD
Best Lightweight Folding Electric Bike
Trekpower 16" Lightweight Folding EBike
Foldable Design
This lightweight foldable electric bike is available in black, red, white, and yellow colors. With foldable features, this bike is easy to carry and store. It has a 100% high-strength aluminum alloy frame and can carry up to 120lbs.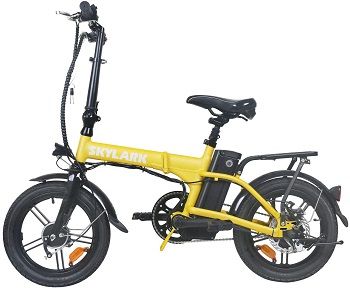 Strong Battery And Motor
The bike is equipped with 250W High-speed Brushless Motor and 36V/10AH Removable Lithium Battery, with strong power, allowing you to travel at speed up to 30kmh. It takes only 4 hours to be fully charged and it is equipped with a key that prevents thefts of the bike.
3 Riding Modes
There are 3 riding modes available. You can choose between electric bicycle, pedal-assist, and normal bike, but combining them would be a better choice. You can reach up to 30km with a pedal assist.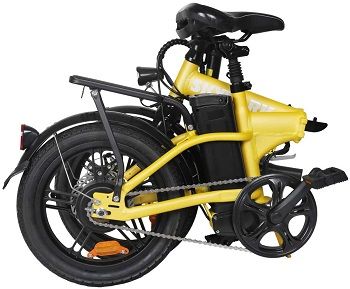 Adjustable And Safe To Ride
Some other features that this bike has is an LCD that shows you informations about the bike you need. The bike also has a human design seat that you can adjust according to your needs and high-intensity long illumination headlight.
Specifications:
foldable and light
adjustable
LCD
powerful battery
Best Lightweight Commuter Electric Bike
ToteM Commuter FOLDING E-BIKE
Light And Foldable
This electric bike weighs only 44 pounds and it is foldable to a compact 27″ by 32″, so it is easy to carry it or store in your trunk on in small room. It comes in simple white color and is perfect for transporting to work or around the town.
Riding Modes
There are 3 riding modes available. You can choose fully automatic 15 mph with the throttle, pedal-assist that comes with 5 levels of assistance and regular bike pedaling. Also, you can combine all of them.
USB Port And Display
The CS-260 Extended Life battery gives you 12 miles on a single charge without pedaling and up to 75 miles for pedal assist. The bike has a built-in USB phone charging port and a display that shows you pas, trip distance, speed, and battery status.
Motor And Battery
The bike comes with 250w brushless motor and the removable Lithium-Ion 36V battery charges fully in 4 to 6 hours. There are also dual disc brakes for more secure stoping and smooth Shimano Gear set.
Specifications:
foldable
lightweight
USB port
display
quick charging
Most Affordable Lightweight Electric Bike
Nakto 16″ Lightweight and Aluminum Folding EBike
Light Carbon Steel Frame
This bike comes in black or white color (what you find) and weighs only 38 lb. It comes with a high-carbon steel frame and a 16-inch wheel. The bike is ideal for those with minimal storage space and it is easy to ride.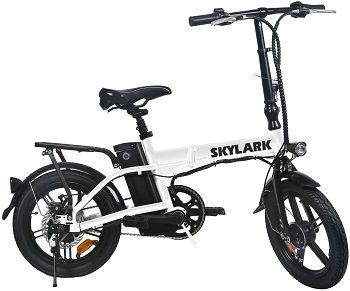 Motor And Battery
The bicycle is equipped with a powerful 250W brushless gear motor and removable 36V 10Ah lithium battery. With it, you can ride up to 22 miles with 20 mph of speed. It only charges 4-5 hours.
Riding Modes
This lightest folding electric bike has an e-bike and assisted bike mode you can choose according to your needs, or combine them for better riding experience. The bike has an adjustable seat and handlebar so it can fit teens and adults.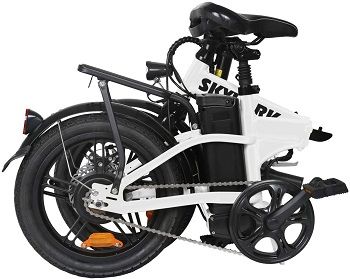 Useful Features
The bike comes with many interesting features like power display that clearly shows you data like current speed, batter mileage, etc. There is also front light for better visibility, small bell, etc. All of these can improve your riding and make it safer.
Specifications:
light
many features
adjustable seat and handlebar
fast charging
Best Lightweight Mountain Electric Bike
VTSP Electric Bikes Mountain Bikes
Carbon Fiber Frame
This electric mountain bike comes in different colors. It has a magnesium motor which makes him lighter than usual mountain bikes. Also, there is an air fork that is lighter and more stable.
Motor And Torque Intelligent System
This bike comes with 250w Magnesium Alloy Brushless Motor. It has a 36v  lithium battery which is removable and you can charge it on the frame or remove it. It has a quick charging time that lasts up to 4 hours.
Riding Modes
The bike has 3 types of riding mode. it has 6 types of assistance and the Shimano 9 speed control system. The bike can reach 25kmh and ride up to 90km with pedal assist mode. Thanks to Shimano hydraulic disc brakes ad customized saddle, the riding is comfortable and safe.
Other Features
This lightweight electric mountain bike comes with a display. It shows you important information about the bike such as battery status, speed, travel, and others. The bike's Kenda tires are suitable for riding on or off the road.
Specifications:
lightweight
many features
intelligent system
quick charging
Conclusion: Which Two Light Electric bikes You Should Buy?
Between these listed best lightweight e-bikes I would recommend the Nakto Folding bike and VTSP mountain electric bike. The Nakto is the lightest electric bike on the list and most affordable. It has a foldable feature and it is easy to store. This electric bike also has many features such as display, front light, small bell, and speaker button. The Vtsp electric bike comes with a carbon fiber frame and magnesium motor. It has a quick-charging battery and 6 types of assistance. Also, there is a customized seating and bottle holder.
If you want to read more about the lightweight e-bikes you should check the article about the best folding electric bikes. Also you can read the article about the best commuter e-bikes. But, if you aren't sure about the type of electric bike you need, check this post about the best electric bikes.