4 Best 1000-Watt Electric Bikes For Sale In 2022 Reviews
Are you looking for a powerful E-bike?
Then you might consider getting the 1000W electric bike. Electric bikes are getting more and more popular and there are just a few things that make each other different. The 1000 watt electric bike has power and that is why you would like to go with one of them.
Buying Guide For 1000W E-bike
What Is An Electric Bike?
Electric bikes are on the market for a few years now and they are getting more and more popular. They are simply a traditional bike equipped with the electric motor. This is what makes them special and even more enjoyable to ride. The electric motor and the battery can give you the boost that you need when pedaling.
Benefits Of An Electric Bike
The main benefit of the electric bike is the power you get. It allows you to ride on the rough terrains and different kinds of roads with ease. You can ride them like a normal bike and get the exercise that you need or you can turn on the motor and relax while still traveling places.
Motor Power Characteristics
Most of the electric bikes on the market come with the motors from 250 W to 750 W. These are standard bikes and depending on a battery you can go up to around 50 miles. If you are an enthusiast and want something different, faster, and adventurous, you should look for the electric bike with 1000 W of power.
Style Of The E-bike
The style of the bike doesn't have to be determined by the power of the motor. You can get the 1000 W E-bike on a commuting bike, cruising bike, fat tire bike, folding bike, mountain bike, or trike. The style of the bike depends on your personal preferences and the type of rider you are.
4 Best 1000-Watt Electric Bikes
Best 1000 Watt Electric Fat Tire Bike
Cyrusher XF800 Electric Bike
Safe Materials
This bike is made from the premium and selected aluminum. It is a strong and durable material that can last you a long time. The bike passed CE certification and the manufacturer used only anti-exposure painting material to keep the bike protected. It is quality made and it comes in neon green and black combination.
Fat Tire E-bike
When the bike has increased the size of the tires it has stronger friction on the road surface. This makes riding more stable on any kind of road condition. This allows you to use this bike on the mountain roads, snow, beach, city road. The tires on this bike are 26 inches with 4 inches of thickness.
Double Suspension
This 1000W electric bike has a strong carbon steel suspension fork and there is a rear suspension that helps you absorb any bumps on the trail. This feature provides you with a comfortable and safe ride. It is a stable construction so you can enjoy the road adventures as you like.
Excellent Battery Capacity
This bike has a 750 W motor that can be upgraded to 1500 W power. This depends on your preferences and needs of you as a rider. It works together with the 48 V 13 Ah battery that can provide you with enough power for a long ride. You can remove the battery and charge it off and on the bike and you can also use it to charge your phone.
Size Information
The overall size of the bike is 76 inches in length, 24.8 inches in width, and 43.7 inches in height. The seat can be adjusted in height from 33.5 to 41.5 inches. It can support up to 300 pounds and it weighs around 70 pounds.
Specifications:
Puncture-resistant fat tires
Three working modes
Samsung lithium battery
USB charger
Large riding distance
Best 1000 Watt Electric Mountain Bike
ECOTRIC Powerful Electric Mountain Bicycle
Disc Brakes
When you have a mountain electrical bike with fat tires, you need to have the best possible brakes. This e-bike has them and they are front and rear disc hydraulic brakes. They provide you with security on your trip. They perform great in any weather and road conditions.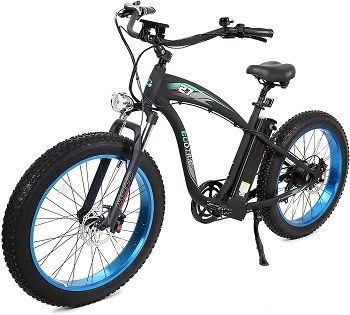 Lithium Battery
This bike has a 48 V 13 Ah lithium battery which is also removable. This allows you to charge the battery on the bike or take the battery with you and recharge it in the office or your home. The battery is placed in the ABS plastic cell box and you can lock the battery and power for safety.
Suspension Fork
The fat tires on this bike are standard 26 inches wheels with 4 inches thick tires. They are anti-skidding and can adapt to the snow, sand, and other demanding road conditions. It has integrated front suspension fork so that you can easily get over the bumps on the road. On the fork, you can find the headlamp.
Frame Materials
The frame on this bike is constructed with alloy and it is a Streamline Design. The motor is on the rear end and it is brushless with 1000 W power. This allows you to ride the bicycle up to 26 miles per hour. On the pure electric power you can ride over 25 mils and maximum load capacity is up to 260 pounds.
Product Size
The distance between the frame and the seat cushion is 26.4 inches. The length of the middle tube is 20.9 inches and the distance between two wheels is 53.1 inches. The height from the saddle to the ground can be adjusted from 38.6 inches to 44.1 inches.
Specifications:
LCD Monitor
360 V power display
Five-gear cycle
The speed limit can be set
One key repair function
Best 1000W E-bike With Mid-drive Motor
Recon Ranger Power Electrical Bike
Tribute To The Army
This electric bike is made with the inspiration of the US Army Rangers. They are elite military formation. They existed in the 17th century and were the army of kings and queens. They are an important part of history and this is one of the ways to appreciate them.
Power Of The Motor
Accordingly, to the army inspiration, this bike has an integrated motor of 1000 Watt power. It is a mid driven electric motor with high torque. It is strategically placed on the next to the pedals so that it can sense the speed you are pedaling with and start the assisting mode when you need an additional boost.
Battery Levels
To be able to perform and give you the capacity of the motor into the riding power, the bike is equipped with 48 V 11.6  Ah. It is a lithium-ion battery that can last you for a long time. It is not removable but it is easy to charge it on the bike.
Multipurpose Tires
Because it is an army-inspired bike, it is only logical that it comes with fat tires. They are 26 inches wheels with 4 inches thick tires. These tires are suitable for all terrains so you can go explore the wilderness with it or even go hunting because the motor is quiet.
Specifications:
Comes in two color options
Mid-drive motor
Suitable for any user
Best 1000 Watt Folding Electric Bike
ZPAO Folding Electric Road Bike
Strong Base And Frame
This 1000 watt bicycle is made from the aluminum alloy. It is a strong frame that can support up to 330 pounds. The bike stands on 26 inch wheels and has fat tat tires suitable for any terrain including mountains and snow. The handlebars can be extended freely on steep slopes.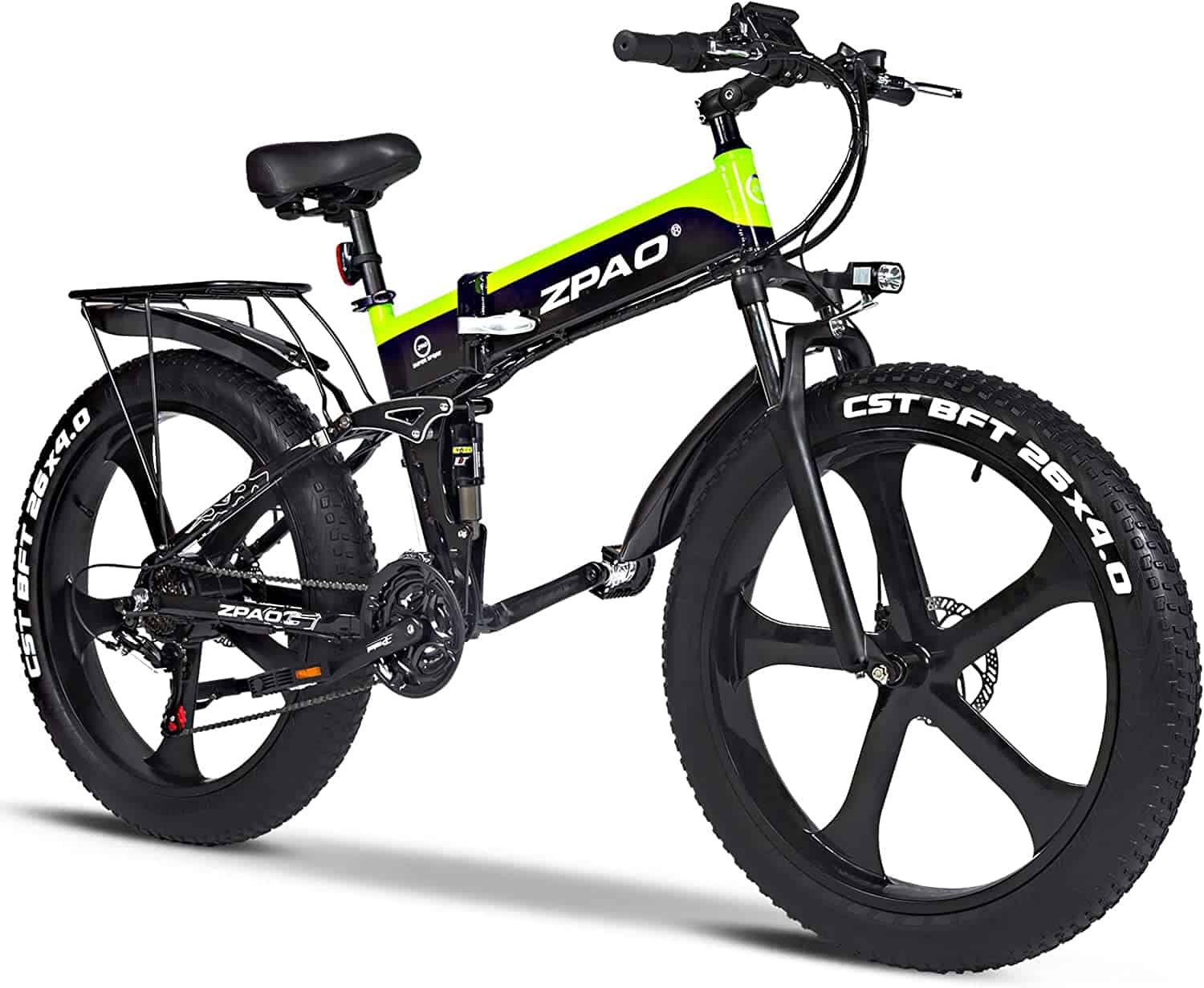 LCD Display
To be able to monitor the settings on the bike, there is a 3.5 inch display mounted on the handlebar. It shows you speed, battery level, mileage, and mode. There is a USB port as well to charge your phone.
Quality Battery
Although this is a simple e-bike, it has a powerful battery. It is a lithium battery of 14 Ah and 48 V. The battery takes only 5 hours to charge. With this you can reach the maximum speed of 25 mph (40 km/h). The speed can be adjusted.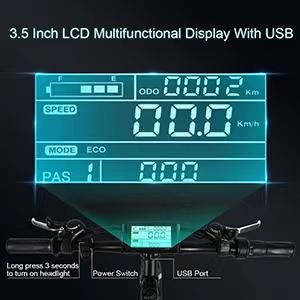 Fast and Easy Folding
Even though this bike is strong and sturdy, it takes only 10 seconds to fold. This makes it portable so you can put it in your trunk for your next mountain biking trip.
Specifications:
Aluminum frame
Dual front and rear suspension
LCD monitor
Brushless high-power motor
Best 1000W Electric Bike Kit
JAXPETY 1000W Electric Bicycle Conversion Kit
Motor Equipment
The Electric Bike doesn't have to be bought complete. You can buy a conversion kit and do adjustments to your regular bike. This kit is equipped with 1000 W and 750 W brushless motor. With this motor, you can go 19.88 miles per hour by default. The motor is made to be installed in the front wheel.
Controller Characteristics
This bike comes with the aluminum alloy controller. This controller guarantees a big current supply. There is also a crank speed sensor that allows you to ride in the pedal-assist mode. This way you can use the electric power only when you want it or need it.
Tire And Wheel
The wheel in this conversion kit is made from aluminum alloy and it has the stainless steel spoke. The tire is made from nylon. There are earth-rare metal magnates that are used to produce large power. They are used in motor for efficient production.
Package Description
Everything you be to convert the standard bike is included in this package. The only thing you need to buy additionally is the battery. Every part of this conversion kit is made from high-quality materials so that your DIY electric bike can last you a long time.
Included Items
The package includes a powerful 1000 W motor that is made to be mounted on the front wheel. You will also get a needed 26 inches wheel. In the package, you can find hand brakes, twist throttle, battery power indicator, battery carrying bar, and user manual to help you put it all together.
Specifications:
Compatible with different batteries
The charger is not included
The motor diameter is 5.31 inches
Conclusion: Which Powerful E-bike Is Your Favorite?
When you have enough power and large battery capacity you can explore much more and ride far away. It expands your riding options and that is why a 1000W electric bike can be the right choice for you. The best option from this list is the CYRUSHER XF800 ELECTRIC BIKE because of the rear rack or you can go with ZPAO Folding Electric Mountain Bike because of the foldable design.
If you want to know more and learn about electric bikes, take a look at the post about electric bikes for sale. There is also a review of the best electric mountain bike or you can read about folding electric bikes.