Best 5 Fat Tire Electric Tricycles (Trikes) to Buy in 2022 Reviews
Are you looking for a three-wheeler fat tire electric bike in 2022?
Most riders find the electric tricycles highly convenient and a fun means of transportation. As such, fat tire electric trikes offer you all the benefits that a two-wheel fat tire ebike offer, especially if you're considering stability and the environmentally friendly power it delivers. That makes trikes easy to ride, especially for people with any kind of limited physicality. The natural feel, effortless transportation, along with electric assistance are reasons why electric tricycles are preferred over traditional ebikes. To learn more about fat tire electric trikes and make an informed purchase, keep reading our guide.
How to Find the Best Fat Tire Electric Tricycle (Trike)?
What's an Electric Fat Tire Trike?
An electric fat tire tricycle has three wheels. These pedal-propelled vehicles have tires with a width larger than 3.8 inches. With the extra surface space, you'll have better traction with more stability while riding. Trikes are easy to ride, thus giving you a stress-free experience for enjoyable rides and not having to worry about the conditions and terrain. To ensure you find the right bike for you, start by considering how you plan to use the bike.

The Electric Trike Types
Fat tire trikes are an innovative alternative that gives you the stability and traction that you need. When you're shopping for a tricycle, you can get the recumbent trike that works well for relieving and even preventing back pain thanks to the position you'll be holding your body in. Also, you can opt for the upright tricycles that allow riders to mount and dismount through the step-through frame. Finally, you can opt for the cargo tricycles (freight tricycle) that allows you to carry loads from one location to another.

Battery power
The battery power is among the most important features you should consider when shopping for a tricycle. Most e-trikes have batteries attached right behind the seat, a feature that gives them more room to go large. Even then, battery life can be limiting, but this depends on the distance covered per ride. Overall, a lithium-ion battery gives you more value over time for your money.

Cargo space
As you look for electric tricycles, it's crucial that you consider how you'll be using your trike – and whether you will need more cargo space. Also, having more than one large cargo basket for carrying all items will determine whether your electric tricycle will benefit you in your day-to-day. Options of cargo space range from large rear baskets to small front-mounted baskets and even fully enclosed boxes. An extra feature worth considering is waterproof bags or coverage attached to your storage baskets.

Tricycle construction
Steel is often used in making bicycle frames because it's relatively inexpensive and strong. Also, Aluminum makes a suitable material for bike frames since its lighter and doesn't rust. In addition, aluminum makes better quality trikes. While it's not as tough when compared to steel, this reduces maximum carrying capacity. However, this material can still handle 250 pounds loads. In some instance, Titanium is used in bike making since it's as strong as steel and light as aluminum but it's extremely expensive.
Best 5 Fat Tire Electric Tricycles (Trikes)
Best Fat Tire Electric Trike for Adults
BURCHBIKE 500W CARGO TRIKE
Tire design
The Burch fat tire tricycle features a sleek design with fat tires that let you maneuver different terrains. The fat tires ensure that you enjoy a smooth ride through grass, sand, and even over bumps. The Burch bike features three 20-inch Kenda fat tires that allow you to travel on city streets, beaches, some trails, and even on a golf course. This gives you more variety in all your outdoor adventures.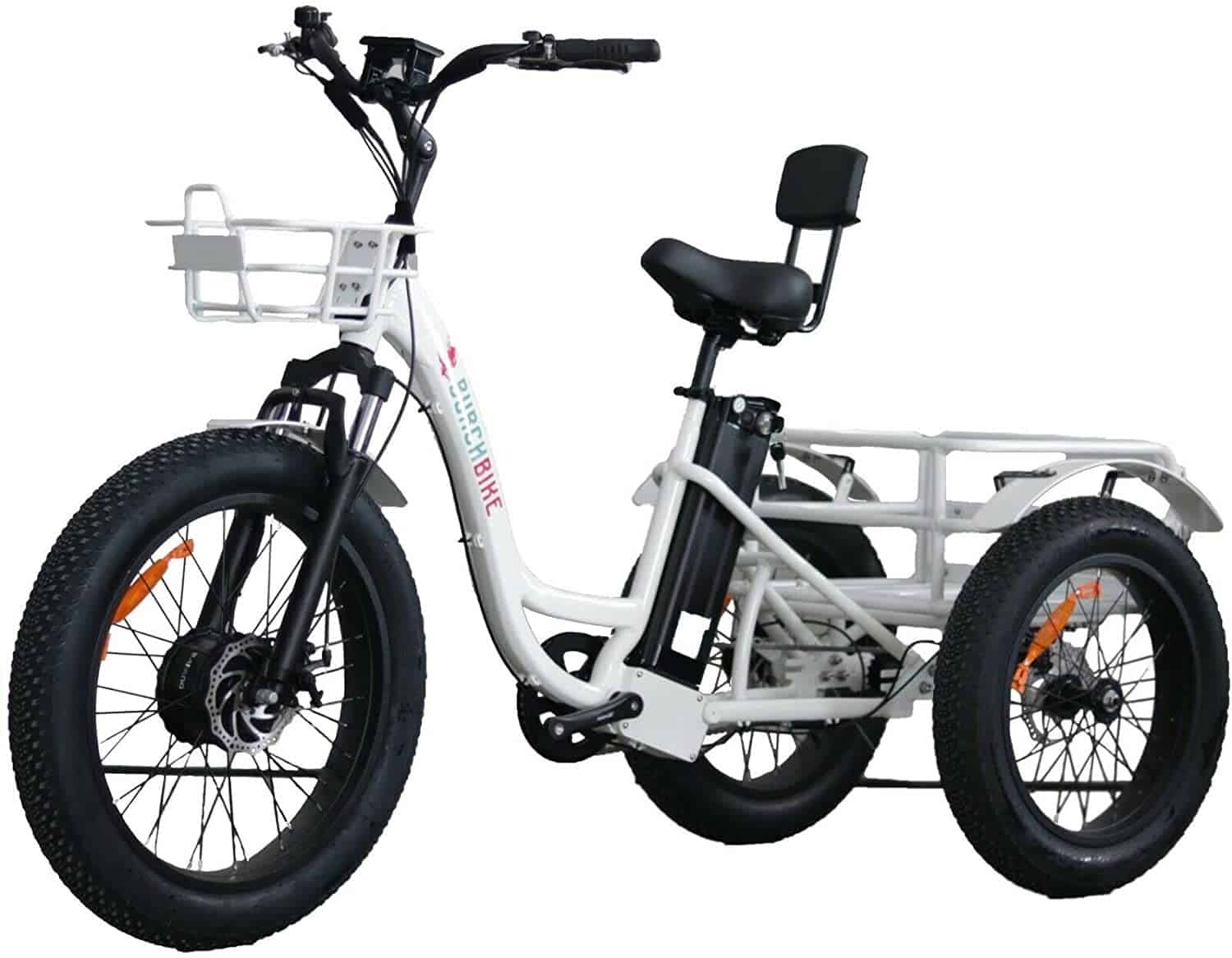 Large front and rear bins
The oversized front and rear bins make this bike perfect for storing your shopping, groceries, or giving your pet a ride. This makes your trips easier and convenient. Its front basket provides you with more spaces to carry more items. Plus, you can easily take out items from your front basket even while riding, which makes your trip go without a glitch.
Powerful battery
The Burch electric trike is fitted with a motor that's powered by a 48-volt battery and generates 500W of power. That lets you carry any items you need in the cargo area and you won't be losing much power. This bike's max speed is 20 mph. In addition, this e-trike's range is 35 miles and can take 4-6 hours to fully recharge the battery.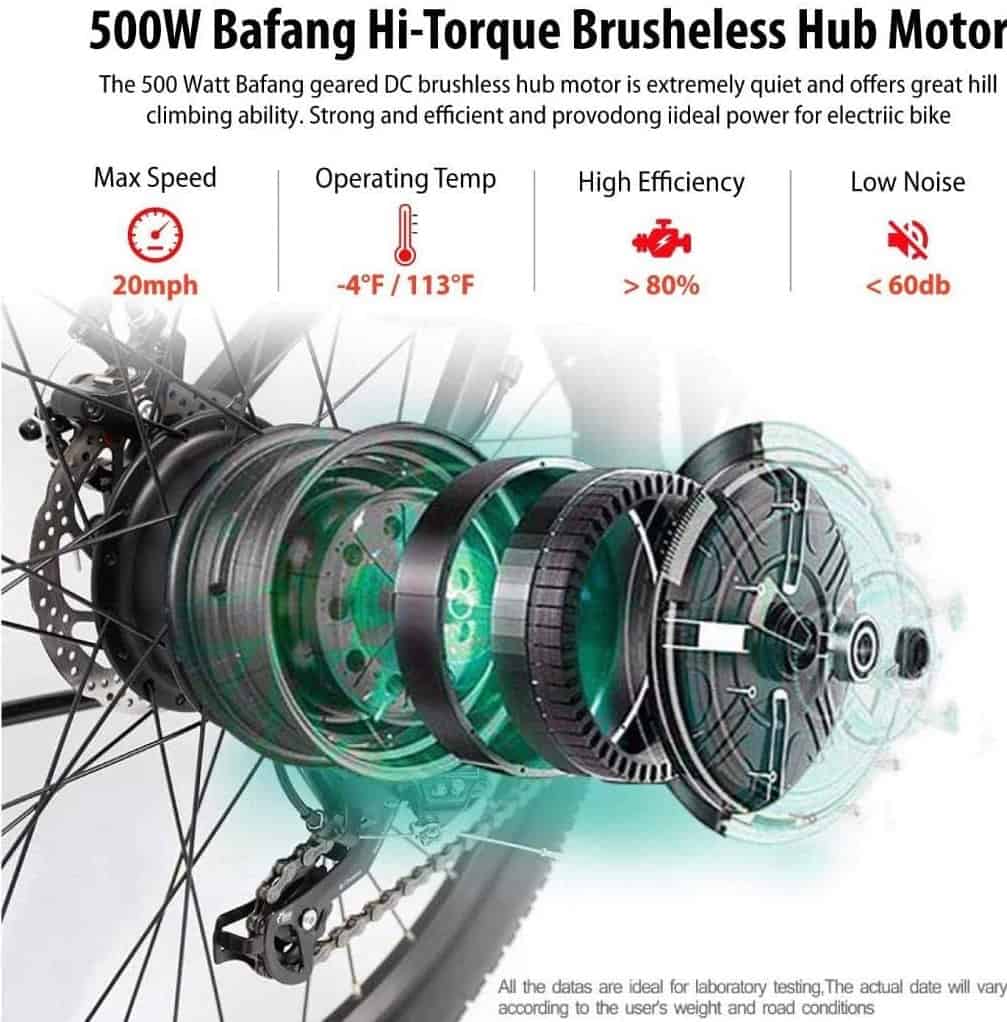 Safe
The three wheels of this bike provide lots of stability helping keep you safe. Also, the 6061 Aluminum alloy frame is durable. You'll also have a comfortable ride due to the bike's front suspension fork which features 80 mm of travel. This bike also includes lights that help keep you safe if traveling at night. Overall, the Burch bike offers more than what most people need in an e-trike. While it will meet the needs of most riders, it works great for senior citizens.
Specifications:
Front and rear cargo baskets

500-Watt motor

35 Mile Range (Pedal Assist Mode)

23MPH Max Speed

20-inch Wheel Size

Dual Suspension Type
Best Recumbent Fat Tire Electric Trike
ADDMOTOR 750W COMFORT TRIKE WITH CARGO BASKET
Frame and weight
The M-360 three-wheel electric tricycle comes in a single frame size and available in two different colors — orange and lime green. The MOTAN M-360 weighs about 125 pounds with a longer frame. The longer frame makes it easy for riders to better handle and control the trike throughout the journey This ADDMOTOR M-360 load capacity is 350 pounds for a rider, plus an additional 100 pounds for the rear rack.
High-capacity removable battery
The trike uses a 48-volt system with a 17.5 Ah battery to travel a max speed of 55mph when using pedal assist. This bike's battery can be found on the downtube right beneath the saddle. This positioning helps maintain a lower center of gravity and the bike's weight well balanced. In addition, the battery is removable and allows locking, which makes charging it easier.
750W Front-Mounted Motor
The M-360 has a Bafang hub motor located in the front wheel and can generate continuous 750W of power. This bike can generate peak power of over 1,000 watts for quicker acceleration and hill climbs. Its motor provides 80 Newton meters torque that helps in accelerating as well as climbing hills. This also comes in handy when traveling in sandy and muddy trails. That makes this bike suitable for beach trips.
Tektro mechanical disc Brakes
The M-360 electric bike features Tektro mechanical disc brakes alongside a 180 mm rotor located in the front while both rear wheels have 160 mm rotors. These brakes allow for ample stopping power. Since each rear wheel comes with its brake, you'll have well-balanced braking and the trike won't pull to either side as you slow to a stop. Also, the brake levers include motor inhibitors that instantaneously cut power to your motor every time they are depressed, which ensures the shortest stopping distance possible.
Specifications:
Bafang front brushless hub motor

High-capacity removable battery

Aluminum alloy frame

Tektro mechanical disc brakes

750w front-mounted motor
Best Mountain Fat Tire Electric Trike
DWMEIGI 750W 18.2AH TRIKE WITH WATERPROOF CARGO BASKET
Larger capacity removable battery
The DWMEIGI MG1703 electric fat tire tricycle is fitted with a 48V/18.2AH removable lithium battery. This battery lets you reach a longer range of maximum 45 miles per single charge when running on pure electric mode and even longer range if using PAS (Pedal Assist System) mode. With the PAS mode, pedaling is easier since the motor is turned on. To fully charge the battery takes 4 to 5 hours thanks to a 48V/3AMP super charger. This allows the trike to easily ride in different terrains and enjoy cycling at any time.
Bafang motor and 7 gear Shimano shifter
This 3-wheel e-bike includes 750W BAFANG high-speed brushless motor which delivers strong power with maximum torque 80NM. This bike's switching gears for different roads make traveling easier while saving energy. The 7-speed SHIMANO Shifter kicks in for both pedal assist and electric modes. The MG1703 is fitted with rear rack and fenders and can run easily in different terrains.
Sturdy step-through frame
This is another important feature you should consider before buying an adult tricycle. This trike has a carbon frame step-through frame that ensures you don't have to lift your leg too high over the seat or bar to mount or dismount the bike. You simply need to "step through" the trike's frame and easily have your foot on either side of your trike. Its unique design is more comfortable and can easily ride through muddy trails, wet stones, beaches and even snowy mountains.
Large-size basket with waterproof bag
The DWMEIGI 3-wheel e-bike come with a 58L big storage basket. This works well whether you plan to go shopping, fishing, camping or are travelling. What's more, the large baskets let you take your favorite pets with you everywhere you go. Another advantageous feature included in this trike is a waterproof bag to keep your shopping or items protected from the elements.
Specifications:
Shimano 7 speed shifter

Front suspension type

Steel frame

48V detachable lithium battery

Low-step frame

Bafang front hub motor
Best Addmotor Fat Tire Trike
ADDMOTOR 24 INCH CARGO TRIKE WITH FRONT SUSPENSION FORK
Powerful 750W brushless motor
The AddMotoR M-350 P7 includes a Bafang motor located at the front wheel. With this, your e-trike can generate continuous power of 750-watt and even reach peak power of 1,000 watts. With its 80 Newton meter hub motor you'll enjoy quicker acceleration, easier hill climbs, and even trips through sandy and muddy trails. With its cadence sensing pedal-assist along with the half grip twist throttle, this trike can help you easily journey through most rugged terrains.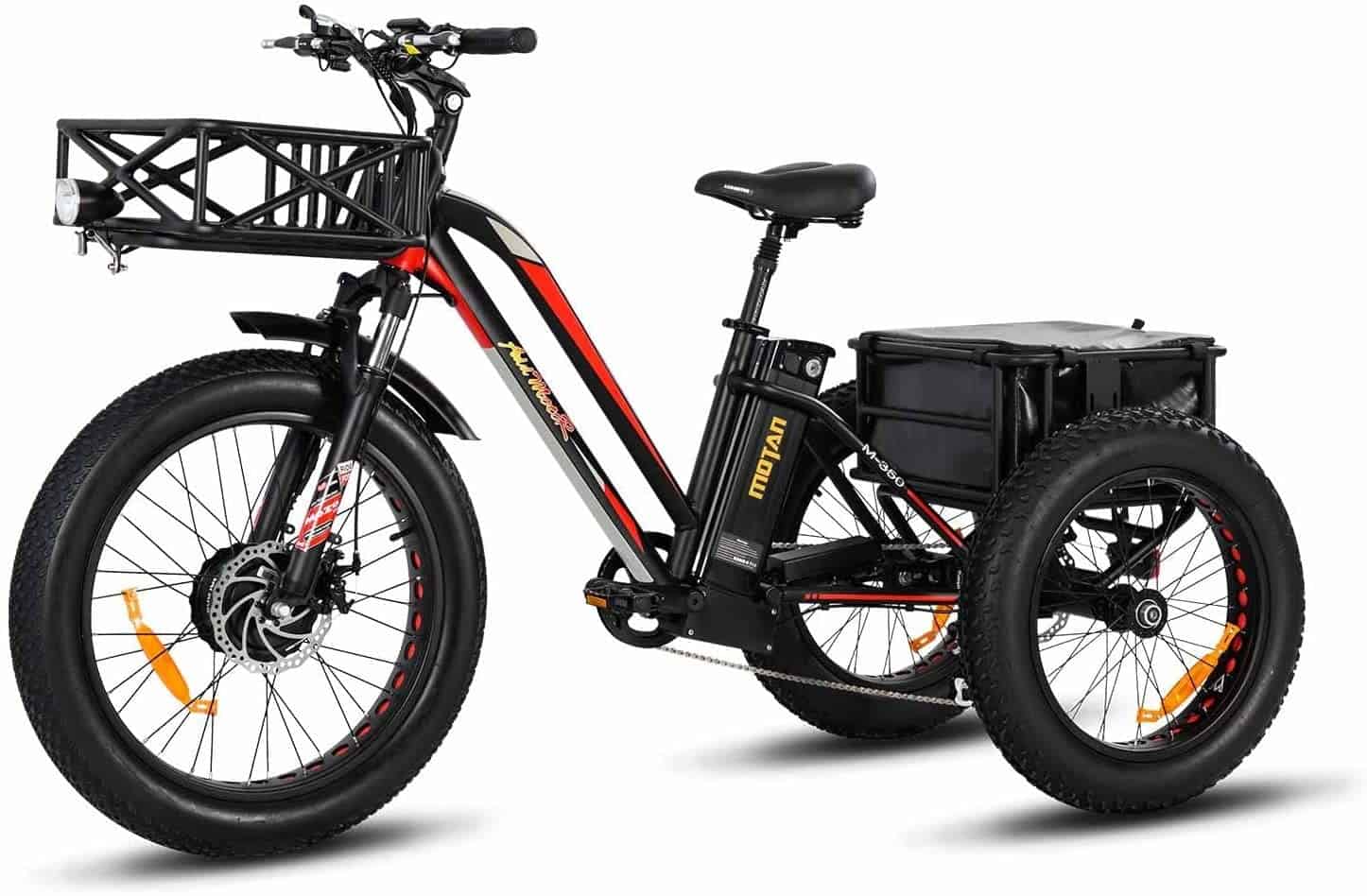 High-Capacity removable 48V battery
The M-350 P7 trike is powered by a 48-volt/16-Ah high-capacity Panasonic battery to cover approximately 45 to 55 miles distance with level-1 pedal assist. This battery is found behind the seat, and this helps balance your bike considering the motor is located on its front wheel. The removable battery allows for easy recharge or storage. What's more, it locks on the frame ensuring that it remains secure when you're riding. The time needed to recharge your battery will depend on its status but full recharge typically takes 6 to 7 hours.
Excellent brakes
This tricycle features Tektro mechanical disc brakes fitted with motor inhibitors. The 80mm rotor in the front wheel with one 160 mm you can easily control your three-wheel bike. Its brakes deliver you good stopping power, as the motor power gets cut once you depress the levers thus reducing the stopping distance. this is a crucial factor, especially for a trike like the MOTAN that's fitted with a powerful machine that can haul a lot of weight.
Large capacity front and rear basket
The M-350 P7 trike offers you great support and the basket can carry heavy loads of max 100 pounds. The rear basket has a vinyl cover and with a smaller front bin. These helps make your trips even more convenient. The front bin offers you more room to carry more items, and it allows you to easily take items from the basket while riding.
Specifications:
24-inch wheel size

Front and rear suspension

7 Speeds trike

Disc brake style

Large capacity cargo basket

Front-wheel brakes
Best Fat Tire Electric Trike by Emojo
Emojo Caddy Pro Electric Tricycle
Battery Range
This practical electric cargo bike has a battery that can ride for up to 45 miles on one charge. To fully charge the battery you have to leave it for 4 to 6 hours. It has a capacity of 48V / 15 Ah. It weighs around 70 pounds and it can carry up to 320 pounds. It is a strong and stable bike that will get you safely and quickly wherever you want to go.
Oversized Basket
This is a perfect cargo bike for picnics, day trips, grocery shopping, or pet rides. There is a front basket that gives you a more practical place for your bag, phone, and other items. In the back is a bigger basket that can hold all of your other items. It is practical and easy to use e-cargo bike.
Stable And Safe Construction
The frame on this bike is made with a strong and stable aluminum alloy. It has a suspension fork for a smooth ride. It is a comfortable bike that every user will enjoy. It has 7 speeds that you can easily adjust to the outside circumstances and your personal preferences.
Excellent Motor Power
The motor power on this electric cargo bike is 500W. It can speed up to 23 mph which is powerful for these kinds of bikes. The powerful battery can hold you up and ride with you up to 40-55 miles. That is if you use only pedal assist mode.
Size And Dimensions
The front tire on this bike is 4 x R24 and the rear tires are 4 x R20. The overall dimensions of this bike are 78.5 in length, 29.8 in width, and 47.6 in height. It comes in white and black color combination which will suit everyone for any need. It is great for everyday use and you can even take it on long runs.
Specifications:
Powerful 500W motor
Quick charge
7-speed transmission
Max load capacity up to 320 pounds
Basket in front and the back
Conclusion: Which Fat Tire Electric Tricycle (Trike) is Best For You?
While the best e-trike for you will depend on your needs, we feel the best adult fat tire electric trike is the Addmotor 750W With Cargo Basket . This motorized electric tricycle is good for riders who need a higher carrying capacity Also, if you're seeking the best smooth and efficient ride, then EMOJO Heavy Duty Cargo Trike is the best e-trike to get. It comes with large baskets that make your riding experience easy plus it can carry a lot of weight.
If you want to make your riding effortless, then check out our reviews on the Best Electric Trikes for Adults . Since these e-bikes come with various features, it's important that you know the purpose of your bike. Also, if you want more stability and safety while riding, then check out our article on the Best Fat Tire E-bike for more information. If you aren't sure about which trike to get, check out more ebikes reviews on our Top 25 Electric bikes guide.