Top 5 Electric Touring Bicycles (Bikes) To Buy In 2022 Reviews
Are you looking for a new electric touring bike?
Look no more, because in this article you can find everything you need to know about electric touring bicycles. You will also find here the list of the best bikes you can find on the market. Take a moment to read this post and pick your favorite e touring bike for the next adventure.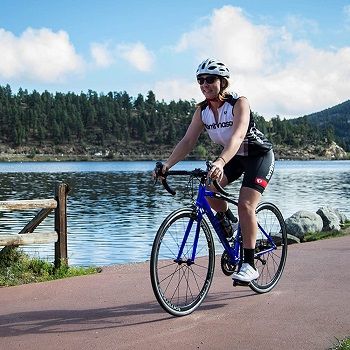 How To Choose The Touring E-Bike?
What Is Bike Touring?
Bike touring is exploring and traveling with your bicycle as the only mode of transportation. There are no specific rules that are required in bike touring. Where you sleep, what you eat, and where you go is up to you. Nowadays with electric bikes, this type of vacation and adventure is closer to everyone than ever before.
How Far Do You Want To Go?
Probably the most important thing you have to consider is how far do you want to go. If you go with the cheaper one, you shouldn't be surprised if you don't make it to the finish line when you wanted. The price of the bike is usually determined by the quality of the battery.
Additional Battery
No matter how expensive your bike is, it is always wise to bring an additional battery. Sometimes you might go through wilderness and you won't be able to charge the battery. This is the perfect situation to use the additional one. Don't rely on it, just have it with you in case of an emergency.
Gear And Equipment
Another major thing you have to consider is what and how much gear you have to carry with you. There is a certain amount of weight the bike can carry and some of them don't have a front rack. This limits your baggage size, but that also depends on the length of your trip and how much stuff do you need.
Type Of Riding
You have to also consider what type of touring on an e-bike are you planning to do. Different roads require different bikes. If you are going on an off-road adventure through the mountains you would want a mountain bike, but if you plan on staying on paved roads you might need something different. Be sure that you always research the roads before going.
Top 5 Electric Touring Bicycles (Bikes)
Best Electric Bike For Long-distance Touring
Schwinn Sycamore Electric Bicycle
Versatility Of The Bike
This electric touring bicycle is a combination of a motor and battery. Once you start the pedaling the motor activates and it provides you with the additional assistance. You can easily control it with the thumb controller on the handlebars. It also has a removable battery that can last you for miles and it is easy to recharge it.
Mount Display
There is a display there mounts on the handlebar so you can easily check every activity on the bike. It shows the battery life, assistance level, speed in MPH and you can see the current level of assistance. You can change the levels for assistance. There are five of them from up to 20 mph.
Battery Indicator
There is also a battery indicator on the battery itself so you can easily check if you have enough for the next day. The average battery circle on this electric touring bicycle is between 45 and 60 miles for one charge. This depends on the level of assistance you choose to use.
Portable And Removable Power
The battery that is mounted on the bike can be charged while on the bike or you can take it with you and charge it somewhere else. It is also recommended to remove it for transportation and security. You can also use the battery in the RV, office, or garage.
Specifications:
Simple controls
Removable battery
Battery life indicator
Aluminum frame
Comfort seat
Best Electric Touring Mountain Bike
NCM Moscow Plus Electric Mountain Bike
High-quality Materials
The frame on this chair is made with aluminum and it is a high-quality material that can last you a long time. It is a combination of the Tektro, Shimano, and other high-end brands. This bike is made as an improvement of everything else on the market. It is lightweight and strong.
Super Performance
The bike has a 500W motor that is located on the back of the bike. The battery is lithium-ion and it has the power of 768Wh. You can enjoy the ride that can last from 30 to 60 miles, depending on different factors. This touring e-bike can hold up to 275 pounds.
Sizing Of The Bike
There are two sizes you can choose from. One is with wheels of 27.5 inches and the other is with 29 inches. The bike weighs around 57 pounds. The height of the bigger bike is 32.5 inches, the frame is 20 inches and the reach is 21 inches. The wheelbase is 43.7 inches long and the height of the seat can be adjusted from 35 to 41.7 inches. The overall length is 73 inches.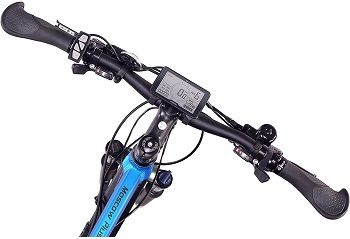 Das-Kit System
Das-Kit system is a high-contrast LCD display. It has detachable controls and it is easy to read. The display shows you the battery life, speedometer, odometer, assist level and trips 1 and 2. Throttle controls are on each side of the handlebars right at the thumb reach for your convenience.
Specifications:
24 speeds
LCD display
Powerful battery
Best Fat Tire Electric Touring Bike
Greenergia Electric Bike
Power And Energy
This e-touring bike has a powerful motor of 500W. It is quiet and it has a high torque of a maximum of 145 Nm. It is a reliable and efficient motor that can last you a long time. Along with the motor, you get the 43 V 12.5 Ah battery. The battery is removable and you can easily recharge it.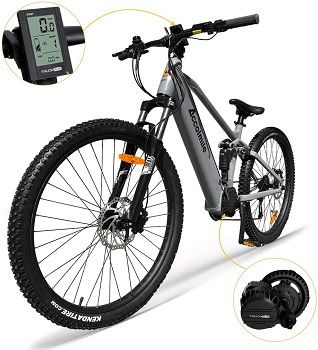 Brakes And PAS System
The bike is equipped with a hydraulic disc brake. It has a front fork that comes with full suspension system. It has shock absorption so you can enjoy any terrain you like to explore. Because of the suspensions and big tires, you won't feel much disruptions.
Cycling Modes
There are three cyclin modes that you can choose from. The options are E-bike, Assisted bicycle, and Bicycle. Each one of them is easily adjustable and you can comfortably ride for a long time. It is great exercise wherever you are. You can see the adjustments on the display, adjust the speed, and enjoy the ride.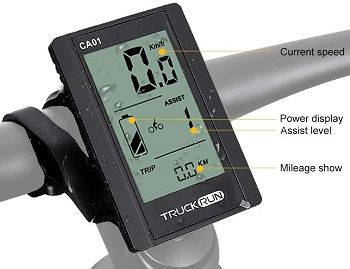 Materials And Structure
The frame is made from an aluminum alloy which is sturdy, stable, and durable. The tire is 27.5*2.35. It is wide and it offers you great traction. It also has a mud and water-shedding option. It is a compact and strong bike that would be perfect for any adventure enthusiast or commuter rider.
Riding Experience
This touring bike can achieve maximum speed from 30-35 mph. The smart battery can be charged in 5 or 6 hours. It is a robust bike that won't disappoint you.
Specifications:
Full suspension frame
Hydraulic disc brake
27,5 inches wheel size
Quality aluminum alloy frame
Best Folding Electric Touring Bike
FIIDO D2S Folding EBike
Lightweigtht E-Bike
This is the lightest electric bike on this list. You can easily take it with you wherever you go. It fully folds and it saves space when you store it. It is suitable if you want to take it with your car or leave it in the corner of an office. It features 3 gear power boosts.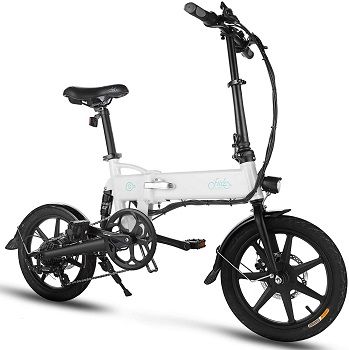 Inteligent Cycling Mode
This bike offers you three different riding modes. You can choose the pedal riding mode which is great for exercise. The second option is the electric-assist which gives you a boost with the motor when you want it. The third option is the purely electric mode in which you can completely relax or concern tough parts of the trail.
Safety Features
The FIIDO D2S Folding EBike has a new smart technology that is incorporated in the brake system. It has dual disc brakes that are placed on the front and on the rear wheels. This makes braking more stable and efficient. It also has an LED headlight that helps you drive safely when it gets dark.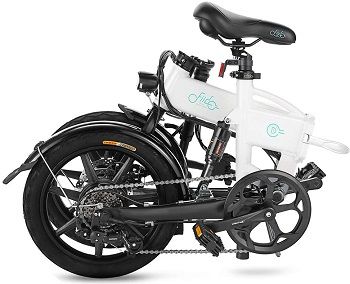 Powerful Performance
Thi electric touring bike comes with a powerful 250W brushless motor. It is combined with the 36V 7.8Ah lithium battery that is built-in the bike. The speed can go up to 15.5 miles and with the right settings, you can travel as far as 31 miles. If you need to change the battery you can remove it with tools.
Specifications:
Collapsabel bike
16" wheels
36V li-ion battery
LED display
Best Electric Road Touring Bike
Tommaso Monza Endurance Road Bike
Reliable Construction
This is a lightweight electric touring bicycle has an aluminum frame with the combination of HCT Carbon fork. Those materials are lightweight but strong and can carry a lot of weight. You can find pre-drilled holes in the frame so you can attach all kinds of accessories, racks, or fenders. This is a perfect bike for long rides or commutes.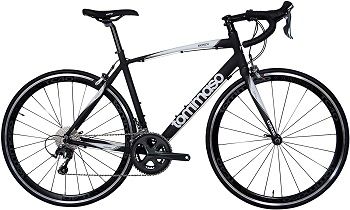 Optimized Fit
The bike is designed so that you feel comfortable with it at all times. It has compact handlebars that will give you increased power. Every part of the Tommaso Monza Endurance Road Bike is made to provide you with maximum efficacy. You should get the most of every ride no matter how long it is, and you can do that with this bike.
Parts And Components
Bikes have parts from different manufacturers. Their parts can cost a lot and this is where you can spend more than you planned to. Tommaso Monza has components only from Shimano Tiagra 4700 Groupset. They are in the same price range as the bike which means that you will get great value for money. The parts from Shimano include the bottom bracket, the crank, cassette, derailleurs, and shifters.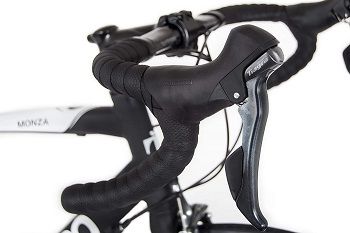 Wheels And Brakes
This model has an excellent choice of wheels. They are aluminum 40 wheels. They provide you with the stability, aerodynamics is increased and the vibration dampening is better. This bike has the popular disc brakes and simple brake calipers. They perform great on any weather conditions.
Specifications:
WTB Volt Saddle
Aluminum frame
Compact crank
HCT Carbon Fork
Ultralight e-touring bike
Conclusion: Which Electric Touring Bicycle Will You Choose?
You have to choose the comfort and the quality when it comes to touring. Sometimes the tours can take a long time so you need a reliable electric touring bike like Schwinn Sycamore Electric Bicycle or you can go with something more practical like FIIDO D2S Folding EBike which you can fold and carry with you.
To learn more information about electric bikes you can read the article about the best electric bike for sale. There is also a post that covers the subject of the best electric mountain bikes you can find on the market. Also, don't forget to check out the post about affordable electric bikes.