Best 5 Powerful (High-Power) Electric Bikes In 2022 Reviews
Are you looking for a high power electric bike?
Once you start riding an electric bike you will not want to go back to just a normal bike. But there is always room for improvement and you can improve the motor of an electric bike easily. In this article, you will find the list of the most powerful electric bikes you can find on the market.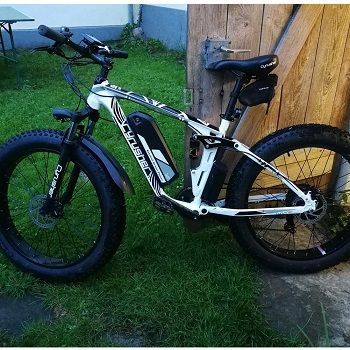 Buying Guide For Powerful Electric Bikes
Motor Power
Most electric bikes you can find on the market have a motor power from 250 W to 500 W or 750 W. Those bikes are in the average spectrum and some of them are suitable for kids to use. If you are looking for a powerful hub motor, you should consider getting 1000 W power motor or even higher. The power will give you more speed and milage you can travel.
Battery Capacity
When you have high motor power you will need a large capacity battery. The battery tells you how much power can it store and how far can you go. The larger battery means expensive bike but it also means that it can weight more. This puts more weight on your bike but it also gives you more mileage.
Powerful Electric Bike Style
You can have whichever bike you like and have the power you want. Nowadays different types of bikes are equipped with powerful motors. One of the first bikes that were upgraded with a high power motor is the mountain bike because of the demanding trails, but you can find the road, commute, cruise, and other bikes with the same motors.
Reliability Of The Bike
What you have to consider when it comes to the powerful e-bikes, are brakes. You don't want to find yourself in the situation where you are speeding 45 mph and have weak brakes that can't stop you. Make sure that your bike has high-quality brakes on the front and rear end.
Motor Placement
There are two options you can choose from when it comes to the placement of the motor. There are hub motors placed on the rear end of the bike or you can go with mid-drive motors that are placed on the middle tube next to the pedals. Each has different advantages and disadvantages and the choice is up to your preference.
Best 5 Powerful (High-Power) Electric Bikes
Best Powerful Electric Mountain Bike
Cyrusher XF800 Electric Bike
Safe And Selected Materials
This bike is made with the selected premium materials that also passed the CE certification for high-quality. The manufacturer only used anti-exposure painting materials so you can feel safe using this bike. It is a reliable, safe, and durable electric bike with powerful specifications.
Fat Tire E-Bike
This is a mountain bike so it needs to have fat tires for better grip. With these tires, the friction is straightened which makes the riding more comfortable and stable on any road conditions. You can enjoy riding this bike in the mountain trails, snow, sand, or cycling on a smooth road.
Double Suspension
The Cyrusher XF800 has a strong carbon steel suspension which absorbs any bumps on the road. It has suspension on the front forks and the rear end of the bike. This gives you a comfortable ride downhill and uphill while feeling safe. It is a bike specially designed to make uncomfortable roads comfortable.
Motor And Battery Life
There is an excellent motor of 750 W built into this bike. It works together with the 48 V 13 Ah which gives you long term and high-speed riding. You can remove the battery to charge it or you can leave it on the bike. It also allows you to charge your phone while riding the bike.
Size Information
The handlebar is 43.7 inches high from the ground and it is 24.8 inches long. The seat is adjustable on the height from the 33.5 inches to 41.5 inches. The overall dimensions of the bike are 76 inches in length, 24.8 inches in width, and 43.7 inches in height. It weighs 75 pounds and has 26 inches wheels.
Specifications:
USB charging port
750 W motor power
Rides up to 50 miles
Removable battery
Fat 26 inches tires
Best Powerful Folding Electric Bike
MX01 26 Inch Electric Folding Bike
Strong Structure
This bike is made with high-quality materials and designed for all terrains. You can comfortably ride it on muddy paths beaches, and snowy roads. It is constructed with a corrosion-resistant aluminum alloy which strong and lightweight. The frame can be folded in half so you can carry it with you and store it when needed.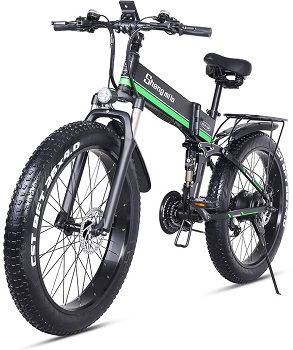 Strong Power
This high power e-bike has a high-speed brushless motor of 1000 W. It offers strong power and it works together with the 48 V 10.4 Ah lithium battery. It is made from high-performance battery cells that can last you a long time. The battery is located in the frame and can be removed for charging. It needs 4 to7 hours to be fully charged.
Mileage And Top Speed
With this equipment, you can ride this bike from 18 to 55 miles depending on the riding mode that you chose. The maximum speed that you can accomplish with this bike is 21 miles per hour. The gears and the speeds you can change on the handlebar which is easy to use.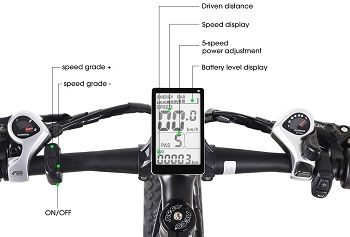 Three Cycling Modes
There are three different modes you can adjust this bike to. Each one of them brings different abilities to you. You can leave the bike in the normal mode which doesn't use any electrical power. You can also turn on a pedal-assist mode that gives you the necessary boost when you need it or you can go full-electric mode for maximum riding power.
Bike Configurations
The bike ha Shimano transmission system that offers better quality and it is more durable. Using thumb throttle makes changing gears much easier especially if you are on difficult roads. This way you can concentrate on the road ahead of you. This bike weighs 55 pounds and it can support up to 330 pounds.
Specifications:
Power display
Accelerator throttle
LED light and speaker integration
Easy to remove the battery
Best Most Powerful Mid-drive Motor
ECOTRIC Powerful Fat Tire Electric Bicycle
Powerful Mountain E-Bike
This e-bike comes with a motor of 1000 W and it is located in on the tube under the seat so it doesn't get in your way while riding. There is also a battery of 48 V/ 13 Ah that can take you 25 miles far on one single charge. This range depends on the mode you are riding in.
Brushless Gear Motor
The powerful motor on this bike can give you an adventurous ride of 25 mph. The maximum rider weight that this bike can hold it up to 260 pounds on a flat road and full power. The battery is removable and it takes approximately 6 to 8 hours. To activate pedal assist mode you have to pedal 180 degrees.
Tires Specifications
This bike has fat tires that are 26 inches x 4 inches. They are durable and suitable for all road conditions. They provide you with balance and stability when cycling. You will feel safe on this bike because of the great support. It is a perfect choice if you want a mid-drive electric bike.
LCD Display Panel
There is a 36 V display mounted on the handrail. It is a practical feature on electric bikes that shows you all the necessary information. You can read on it the speed, mode level, battery level, and other information. There is also a USB charging port so you can charge your smartphone or another small device.
Ergonomic Design
This bike comes 90 % assembled so you have to finish the work once you get the bike. All the tools and accessories are included in the package alongside the simple instructions. The handlebar and the seat are ergonomically designed so that you feel comfortable for long rides.
Specifications:
Hydraulic disc brakes
48 V lithium battery
Strong suspension fork
Best Fat Tire Electric Bike
DJ Mountain Bike Power Electric Bicycle
Safety Certification
Each bike from the DJ production goes through specific tests so to prove the quality and safety. Thi bike is not an exception. It passed the tests of bike industries fro US and Canada standards. Motor, battery, frame, and all the other parts of this bike were included in the testing process.
Strong Power
The DJ Mountain Bike has a powerful motor of 750 W that can be extended to 1000 W in the peak power moment. Accordingly, it comes with a large capacity battery that can get you uphill quickly than you ever thought it was possible. It is a bike that can serve you well for years to come.
High-quality Materials
The frame of this bike is made with aluminum which is lightweight and durable materials. The battery is LG and the motor is Bafang. There are a Tun Gun suspension fork, Shimano gear system, and Tektro brakes. These are just some of the important parts integrated into this bike for even better performance.
Size Characteristics
The wheels on this bike are 26 inches and the tires are 1.95 inches. It weighs 57 pounds and it has heavy-duty alloy rims. The seat is made of extra comfortable cushion so you can enjoy sitting in it for a longer time. It has a maximum speed limit of 20 mph.
Specifications:
Extendable power of the motor
Great value for money
High-quality parts
Comfortable design
Best Powerful Beach Cruiser Electric Bike
W WALLKE X3 Por Electric Bicycle
Electrical Equipment
This is not the most powerful e-bike on this list but it has a lot to offer. It has integrated 750 W powerful motor that can reach a maximum speed of 24.8 mph. Together with the Samsung lithium battery of 48 V/14 Ah can give you cruising range up to 55 miles. The battery needs 5 to 7 hours to be fully charged.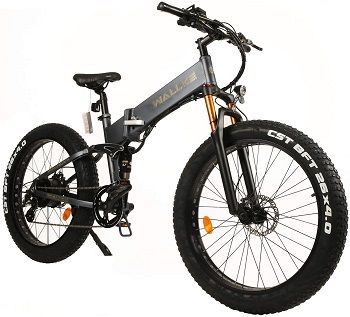 Mechanical Features
To make electrical run smoothly, there are mechanical features that allow you to fully enjoy the bike. It has a double-disc hydraulic brake system. They are quality made and a lot better than some other brakes on the market. You can feel safe with them on any road including snow, sand, or muddy mountain trails.
Aluminum Suspension Fork
The front fork on this bike is entirely made of aluminum and it has an air shock absorber that is combined with center shock absorber. This allows the bike to be more durable and it will give you a better off-road experience. It is a high-quality made bike that can last you a long time.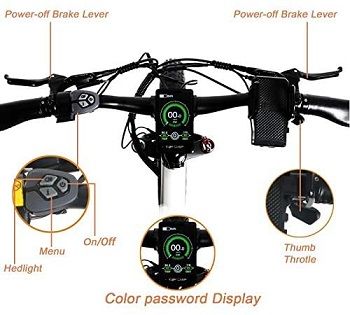 Display Configurations
There is an LCD monitor on the handlebar where you can see all the adjustments that you made on the bike and the situation at any given moment. You can see the speed you are riding, battery level, odometer, and other things that can give you the full picture of the bike performance. You can also find there a USB port for charging your phone.
Overall Dimension
The distance between wheels is 72.83 inches. The handlebar is at the height of 43.30 inches and the Seat height can be adjusted from 33.85 inches to 42.32 inches. The reach is 17.32 inches. Some assembly is required and all the tools that you need will be provided in the package.
Specifications:
Color display
6061 aluminum alloy frame
Air pressure shock absorber
750 W Shengyi motor
Available in three colors
Conclusions: Which Powerful Electric Bike Is Your First Choice?
You probably know what kind of bike you want, now you only have to decide on power. There are many options out there and before purchasing you have to research the license you might need. Once you have done that choose the best for you which is Cyrusher XF800 Electric Bike which can produce the power of up to 1500 W. The second best bike is MX01 26 Inch Electric Folding Bike because you can easily fold it and take with you.
You should also check out the article about the best electric bikes for sale and you can also learn more in the post about the best electric hybrid bikes. If you are interested in something more specific there is an article about the electric pedal bikes that you can read.