5 Top 350W Electric Bikes You Can Choose From In 2022 Reviews
Are you looking for a 350w electric bike?
If so then read this article about the best 350w electric bicycles. Before analyzing the top 5 e-bikes I will tell you more about the differences between 250w and 350w electric bikes, how much you can u travel, how fast and some other useful information that will help you decide which one is the best for you.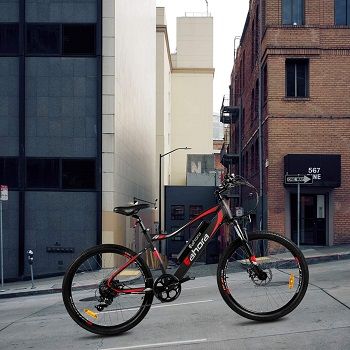 Things To Know About The 350w Electric Bikes
250w And 350w E-bike Motor Differences
The most common electric bikes are powered with 250w motor which is made for basic city rides and lighter people.
The difference is that 350w speed pedelec has an assisted speed to 45 km/h and the 250w motor is assisted to 25 km/h. ALSO taking hills is gonna be a little bit easier than on 250 w motor.
Common 350w E-bike Features
The battery that is common for 250w motor electric bikes IS 36 OR 48V.350w e-bikes are powered to travel more miles and usually have 2 or 3 working modes. The bikes are made of aluminum or carbon steel and some of them have additional features such as LED lamps or baskets.
The Price And Where To Buy them
The medium price for the 350w electric bikes is around 800 dollars and since they are very popular you can get them everywhere. You can choose different models and with features you like. Also, the good choice is to check them on the internet shops like Amazon, Walmart, etc.
5 Best 350W Electric Bikes On The Market
Best 350w Urban Mountain E-bike For Adults
Eahora 26inch Mountain  350W Urban Electric Bike
Sport Looking Design
This sport looking e-bike comes in black and white color with red or blue lines. It is lightweight and it weighs 50lbs. The bike is made of 6061 aluminum alloy frame, a front suspension fork with aluminum shoulder, and iron legs.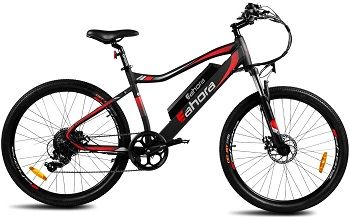 Intelligent Controler
The bike is equipped with 350w brushless motor with an intelligent controller which is connected with the E-PAS system. That means that the bike is increasing using range by 40% at the same power and speed.EPAS system regenerates 60% energy when you're going downhill without energy consumption.
Strong Battery
The 48v 10.4Ahbattery offers the stronger climbing and with the fully charged battery, you can travel 50 miles per charge. The battery is hidden in the case which ensures the safety of the electric system.
LCD Display
The bike comes with a Waterproof and password protected LCD dashboard. There are 3 levels for options: class 1, class 2, class 3.
It shows useful data such as power bar, speed, range, pas and time, etc. The user-friendly display is easy to read.
Other Features
This bike has LCD backlight and multi-function buttons and soft saddle that ensures safe riding, also the ergonomic handlebar grips are good for long-distance comfort.
Specifications:
user-friendly display
LCD backlight
intelligent controller
lightweight
Best 350w Beach Cruiser Electric Bike
SOHOO Adult Mountain Electric Bike
Carbon Steel Frame
This electric bike adopts a high-strength carbon steel frame and it weighs 62 pounds. It comes in a simple white color. the bike has a front fork with premium comfort shock absorption and back use V brake.
Battery And Motor
It comes with a 36V/10AH removable lithium battery and 350w high-speed brushless motor. With those, you can ride up to 30 km and at the 20miles road speed. With the smart lithium battery charger, the battery can be full 4-6 hours.
2 Working Modes
you can choose between 2 working modes: variable speed throttle and pedal-assisted mode. with throttle mode, you don't have to ride and with the assisted mode, you can do some exercise. combing both of them can help you travel faster.
Other Features
This mountain electric bike comes with a power display which is good for knowing your bike better. It has front light for safer riding at night. Also, it comes with a front basket where you can store your supplies when doing shopping. Another great feature is that the battery is anti-theft and removable and you can bring it to your home or office to recharge.
Specifications:
power display
removable battery
fast charging
2 working modes
Best 350w Folding Electric Bike
FIIDO L2 Folding  Aluminum Electric Bicycle with Pedal
Lightweight E-bike
The FIIDO L2 electric bike is lightweight and easy to fold which means you can store it even in small rooms. The frame is made of high-strength aluminum alloy, which is light and rustproof. The design of large wheels hub and rear shock absorber are improving road access and better comfort.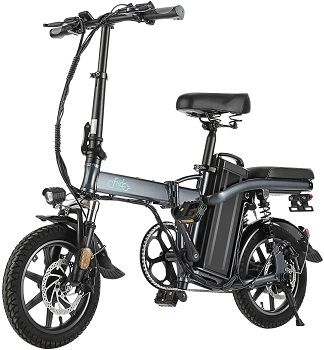 Motor And Battery
This folding electric bike is equipped with a 350W high-magnification brushless motor and a 48V 20AH removable long-life lithium-ion battery. It can reach 25km/h and ride up to 190km. The battery is removable and can be installed and removed manually.
Safe Riding
Because of the 14 inch tires, the large wheels hub, and rear shock absorber the riding is safer and comfortable. Also it has dual disc brakes on the front and rear wheels for better and safer stopping.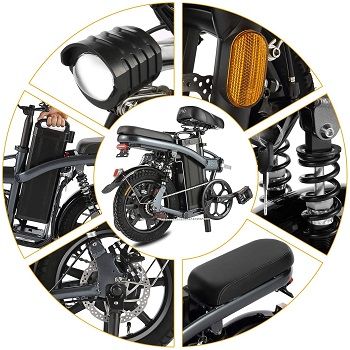 Other Features
Some other features that this environmentally responsible electric bike has is a bright LED light that allows you to ride at night, safety warning light. With the LED display you can get more information about the vehicle. Also, the bike is made of high-quality materials and very portable.
Specifications:
LED lights and LED display
lightweight
high-quality materials
portable
safe
Best 350w City Electric Bike
ECOTRIC 26″ Electric City Bike
Simple Design
This bike comes in a simple black and white color combination with 26″ carbon steel frame. The bike weighs around 60 lbs and it is recommended for users under 220 pounds.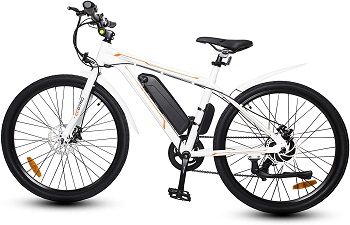 Removable Battery And Motor
The bike is equipped with Removable 36V/9AH Lithium Battery, so you can bring the battery to your home or office to recharge. It has 350w brushless toothless rear motor and with it, you can reach up to 20mp/h and ride over the 18-20 miles depending on the mode you use.
Shimano 7-speed Gear
The bike comes with a disc brake system making you sure to travel safer. It has Shimano 7 speed gear and walk and pedal assist you can choose any time and make your riding better.

Other Features
The bike comes with a small three-speed cycle display that shows your battery status, which mode are you using, and your riding speed. With this electric bike, you can ride across the city and over the mountains.
Specifications:
display
7-speed gear
removable battery
simple design
350w Lightweight Electric bike
350W Folding Lightweight Aluminum E-Bike
Foldable Design
This small electric bike comes in simple white color. It is foldable which means it is easy to store it in small rooms. This bike has a Bluetooth system and a motor locking feature.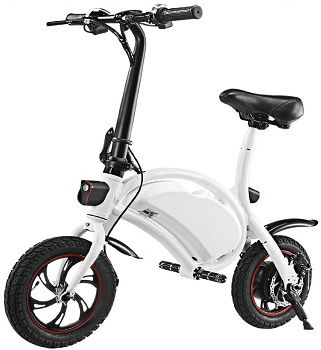 Motor And Fast Charged Battery
This bike has 2 12inch wheels and weights 26 lbs. It carries 350w high-speed motor and can achieve a top speed of 35km/h. Powered with 36v 6ah battery you can ride up to 25 km with a fully charged battery which takes less than 3 hours.
Comfortable Cushion
The soft padding and extra-wide design are the most important things to consider when choosing a comfortable saddle. With 12-inch shock-absorbent rear rubber tire and disc brakes the bike offers a more fluid and safer ride.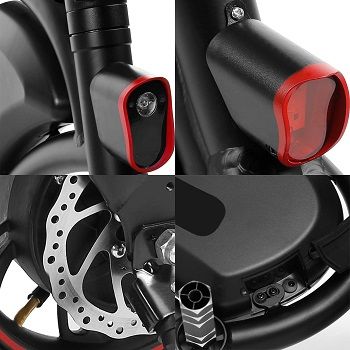 Other Features
This lightweight electric bike is eco-friendly and folding design makes it easy to carry it up a flight of stairs. It supports the app system you can download at the apple store on android one. You can also lock your bike by app and password and secure your bike. The bike is waterproof and is equipped with an LED headlamp for night riding.
Specifications:
lightweight
fast charging
Bluetooth system
supports app system
Conclusion: What Are Best 350w Electric Bicycles You Should Buy?
All listed 350w electric bikes are pretty awesome but I would recommend the FIIDO L2 e-bike and the 350W Folding Electric Bicycle. The Fiido bike is easy to store and carry because it is lightweight and foldable. It has a large wheel hub and rear shock absorber that provides more safety while riding. Also, it has some additional features such as LED display and bright LED light. Another 350w folding electric bike has a very comfortable cushion and shock absorber for a more fluid ride. The bike is eco-friendly and it supports the app system. The great feature is also locking your bike with a password.
If you are interested to learn more about the best modes on the market read this article about electric bikes for sale.  If you have a certain budget for electric bikes than read this post about the best cheap electric bicycles. But, if the type of electric bike you need is one with 1000w, read this article about the best 1000w  electric bikes.