Best 5 Three Wheel Electric Bikes (Trikes) In 2022 Reviews
Are you looking for an exciting 3-wheel electric bike?
There are enough electric bikes and scooters on the market, but if you want something that will stand out from the crowd and still performed well for you, E trike is a way to go. Keep reading, and find out which re the best ones on the market and what to look for when buying one.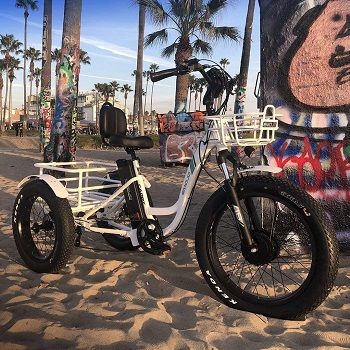 Buying Guide For Electric Trikes
What Is An Electric Trike?
An electric trike is a trike equipped with an electric motor that can offer you pedal assistance when you need an additional push. They come with front-wheel hub motor or a mid-mounted motor. The choice of motor is up to your preference. Each one of them has different advantages to the riding.
Power Of The Motor
The power and the size of the motor are directed by the laws of each country and state individually. Most of the electric trikes have a power of 250 W to 500 W which is standard in most of the countries. If you want something faster and more powerful you will need to check are you obligated to have a license.
Motor Type And Placement
Unlike regular electric bikes, electric trike bikes can have a motor placed on the front wheels or in the paddle area. This is because e-trikes usually have a basket or some other kind of transportation element on the rear end. Because trikes can have two wheels in front and one in the back, the motor can be placed on the front wheels.
Electric Trike Styles
Three wheels bikes are no longer just for kids. There is a wide range of options you can choose from according to your style. Just like regular bikes, you can choose from fat tire trikes, city or urban electric trikes, cargo trikes, folding trikes, or people movers.
Batteries And Charging
One of the most important parts of the electric trike is the battery. The capacity of the battery is measured in Watt-hours. The higher watt-hours mean higher range you can travel with the trike. It also means that you will probably spend more money on it. Most of the electric trikes come with one battery pack.
Best 5 Three Wheel Electric Bikes (Trikes)
Best Electric Drift Trike
Razor Power Rider 360 Electric Tricycle
Perfect Drift Trike
This dirt electric trike is a perfect combination for riding downhill and drifting around. It can reach speed up to 9 mph and you can use the trike for 30 minutes before you have to charge the battery again. It has a push-button throttle for the convenience of use.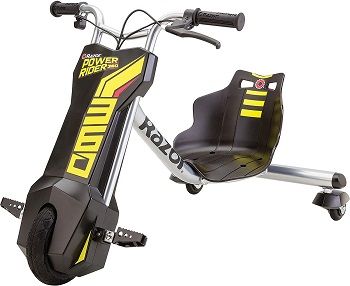 Quality Materials
The frame of the trike is made with high-quality steel. Electric parts, motor, and battery are covered with quality plastic to keep them protected. The wheels and other small parts of this e-trike are made of durable rubber. It is a quality made 3 wheels electric bike that can last you for a long time.
Trike Performance
This electric trike has great performance factors. It can cut a full 360 degrees spins. It allows you to slide and drift thanks to the wide and small rear wheels. It is a powerful electric trike bike that you will enjoy on different roads. The bike has front free-wheel with platform pedals.
Mechanical Specifications
Thi trike includes the front braking system operating by hand. It also features a front hi-impact pneumatic wheel for smoother riding experience. The entire trike works thanks to the 12 V battery that can be easily recharged. You will get the charger in the package too. It is suitable for anyone from 8 years old and up and it can support up to 120 pounds.
Specifications:
The full speed of 9 mph
360 degrees spin
Up to 40 minutes of continuous use
Rechargeable battery
12 hours charging time
Best Electric Trikes For Adults
Emojo Caddy Pro Electric Tricycle
Battery Range
This practical electric cargo bike has a battery that can ride for up to 45 miles on one charge. To fully charge the battery you have to leave it for 4 to 6 hours. It has a capacity of 48V / 15 Ah. It weighs around 70 pounds and it can carry up to 320 pounds. It is a strong and stable bike that will get you safely and quickly wherever you want to go.
Oversized Basket
This is a perfect cargo bike for picnics, day trips, grocery shopping, or pet rides. There is a front basket that gives you a more practical place for your bag, phone, and other items. In the back is a bigger basket that can hold all of your other items. It is practical and easy to use e-cargo bike.
Stable And Safe Construction
The frame on this bike is made with a strong and stable aluminum alloy. It has a suspension fork for a smooth ride. It is a comfortable bike that every user will enjoy. It has 7 speeds that you can easily adjust to the outside circumstances and your personal preferences.
Excellent Motor Power
The motor power on this electric cargo bike is 500W. It can speed up to 23 mph which is powerful for these kinds of bikes. The powerful battery can hold you up and ride with you up to 40-55 miles. That is if you use only pedal assist mode.
Size And Dimensions
The front tire on this bike is 4 x R24 and the rear tires are 4 x R20. The overall dimensions of this bike are 78.5 in length, 29.8 in width, and 47.6 in height. It comes in white and black color combination which will suit everyone for any need. It is great for everyday use and you can even take it on long runs.
Specifications:
Powerful 500W motor
Quick charge
7-speed transmission
Max load capacity up to 320 pounds
Basket in front and the back
Best Electric Trike Scooter
Relync R1 Ultra-Lightweight Mobility Scooter
Fast Folding
This is a folding three-wheel electric trike that is made with the latest fashionable choices. It has an aluminum alloy frame and it is designed so that you can easily fold it in 3 seconds. This is the fastest folding e-trike you can find on the market.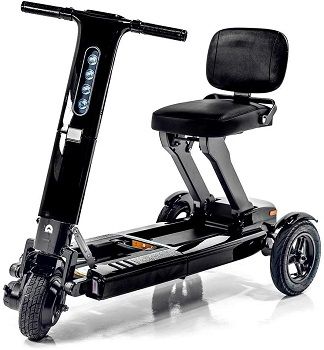 Airline Approved Battery
The battery integrated into this bike is lithium and lightweight. It can provide you with a ride of up to 9.4 miles on a single charge. It is a high-quality battery that can last you a long time. This bike is perfect if you want to take it with you on travel, ships, theme parks, and other destinations.
Compact Size
This is the most compact-sized bike that you can find on the market. It folds in a small size that you can easily fit it in the suitcase and it can fit in most of the cars. It is a perfect trike that you can carry with you. Even if it is compact-sized, it comes with a comfortable chair with the backrest.
Stylish LED Light
There is a LED light in front of the bike so you can comfortably ride in the night also. There is also a display so you can monitor the speed and other characteristics and settings of the bike. It is a great feature that any bike should have.
Specifications:
Foldable design
Great battery system
Fast-charging battery
Best Electric Trike For Seniors
Vive 3-Wheel Mobility Scooter
Safe Steering
This is a great 3 wheel electric trike perfect for riding on smooth surfaces. It is easy to use ti and it is designed so that it can support up to 265 pounds. This mobility scooter has non-marking and flat-free tires. They are made with a tight turning radius. The maximum speed of it is 3.7 mph and it can go 12.4 miles for only one charge.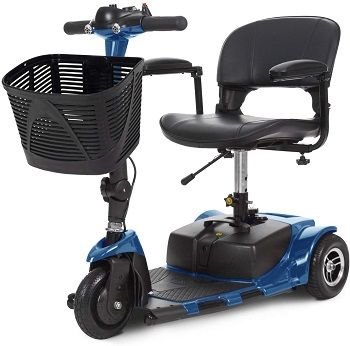 Comfortable Seating
The seat on this trike is more than comfortable. It is 16.9 inches wide seat with the padded backrest and cushioning. You can adjust the height of the seat according to your needs and the seat can be rotated which makes getting on and off easily. Some armrests can be flipped up if you are not using them.
Easy Portability 
You can easily disassemble this trike into four different pieces so it becomes easy to transport. This trike is also equipped with folding tiller and it has removable seat. Each section of this bike is standard in size so it can fit in any trunk. The heaviest part of the bike is the rear part with the motor and it weighs 29 pounds.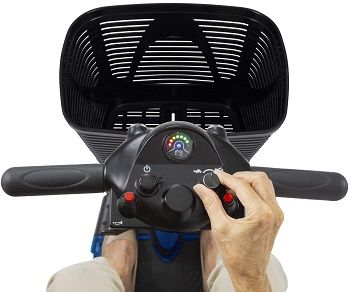 Control Panel
Between handrails, there is a control panel. There you can adjust the speed you prefer and you can even change the direction of the trike depending do you want to move forward or backward. It also has a headlight that you can turn on and off. The most important thing is battery life and you can also see that on the control panel.
Specifications:
3 Wheel design
Adjustable speed knob
Swivel seat
Removable battery
Best Folding Electric Trike
TopMate ES31 Electric Mini Foldable Tricycle
Long Rear Axle
The default setting for the rear axle is the length of about 10 inches. This mini trike comes in the version of 15.75 inches long axle. The longer axle makes the riding more stable which is important for the mini e-trikes. Both options are available for this bike so you can choose the one for you.
Size And Weight Recommendations
This mini electric trike is recommended for people under 70.87 inches in height and under 60 years old. This vehicle requires basic balancing skills so you need to be alert at all times. It is a fun experience to ride this e-trike and it provides you with something new on the market.
Adjustable Gears
This bike can be adjusted in three different gears. The first gear can speed up to 3.7 miles per hour, the second one is up to 7.4 miles per hour and the third one goes up to 13.7 miles per hour. It is easy to adjust the speed with the lever on the handlebar so you can fully enjoy the ride.
Shock Absorbers
There are three shock absorbers on this trike. One is on the seat and two of them are on the rear wheels. This makes tricycle more stable and it provides you with safety and power. This fun three-wheel trike can be great fun for the elderly and children.
Load Bearing Capacity
Thi electric trike is made with 98% aviation aluminum alloy. It is a firm and light materials that can last you a long time. The durability of this trike is also extended because of the corrosion-resistant coating. The entire bike weighs 30.9 pounds and it can hold up to 220.5 pounds.
Specifications:
Folding feature
Long rear axle
Three adjustable speeds
Integrated shock absorbers
Good load-bearing capacity
Conclusion: Which 3 Wheel Electric Bike Will You Choose?
Sometimes you need additional support on the bike, and that is when you need to consider electric trikes. If you want the best on the market, you should consider Emojo Electric Fat Tire Tricycle because of the fat tires and additional cargo space. Another great option is TopMate ES31 Electric Mini Foldable Tricycle because it is small and practical.
If you want to learn more about this subject you can read the article about the best electric bikes for sale. There is also a post about the best road e-bikes that you can read and for additional information, you can take a look at the article about the fastest electric e-bikes.