Best 5 Beach Cruiser Electric Bikes For Sale In 2022 Reviews
Are you looking for the most comfortable beach cruiser electric bike?
Electric beach cruisers are bikes that provide you with the best combination of beautiful design and comfort. If you want to learn more, keep reading this article and find out which re the best on the market and how to choose the one for your needs.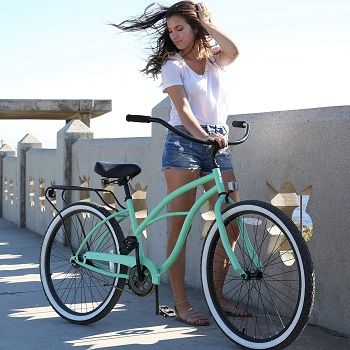 Things To Know About Electric Cruiser Bikes
Why Choose Electric Cruiser Bike?
These bikes are the most comfortable bikes you can find on the market. They are designed so you can enjoy the ride for a long time without any pain afterward. They come in multiple colors and shapes so you can choose the one that suits your style and needs the best.
Easy To Ride And To Maintain
These bikes have easy upright riding positions which makes them comfortable and easy to ride. Electric cruiser bikes usually have only a few speeds which makes them even easier to ride. This also means that you don't have to spend a lot of time maintaining it. You just need to clean it now and then, especially if you are cruising near the beach.
Final Design Of Electric Cruisers
These bikes are stylish. You can choose from different frames designed for men and women. Usually, you can find those bikes in vintage style which makes them even more attractive to look at and ride. Cruiser bikes often have a basket in the front or the back so you can carry groceries and other items with you.
Motor Power
Electric beach cruiser bicycles don't have very powerful motors. These bikes are designed for slow and smooth rides, but you can expect to have a motor of 250 W to 350 W. This gives you enough power to smoothly ride around the beach and to give you a boost on the uphill roads.
Battery Capacity
The most important thing on a bike is the battery and for the electric cruiser is important that you have the one with the large capacity. Since this bike is made to be cruising along the beach for some time, you want your battery to be able to give you the electric boost as much as you need it.
Best 5 Beach Cruiser Electric Bikes
Best Women's Electric Cruiser Bike
NAKTO Beach Electric Bicycle
High-Quality Materials
This electric cruiser has an innovative carbon steel frame that is strong and durable. The front fork is made from the same material and it has premium shock absorbers.  This is one of the most affordable bikes you can find on the market and it comes made with high-quality materials and precision.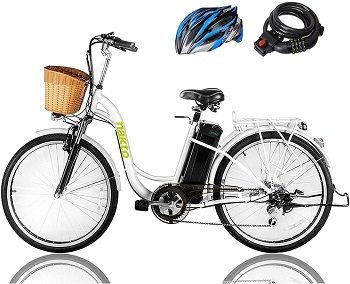 Brake And Gear Shift System
This electric beach cruiser has front V brake and on the rear end, it is an expansion brake. There is a 6-speed transmission system. You can choose any speed you decide to use according to the needs and the situations on the road. There is horn installed on the handlebar as is the LED headlamp.
Motor And Battery Capacity
This bike has 36 V 10 Ah battery. It is a removable battery that allows you to charge off and on the bike. With this bike, you can ride fro 22 to 28 miles on a single charge. It has a PAS ranger from 28 to 35 miles. The motor is 250 W power and it will help you speed up to 25 mph.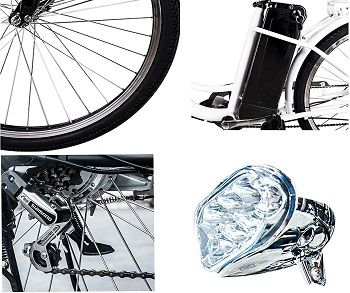 Working Modes
There are two different riding modes that you can choose from. The first option is assisted bicycle which will give you light traveling and to occasional boost when needed. Another mode is an e-bike which is a fully electrical mode. This is a great option if you want a fully relaxed ride.
Specifications:
Easy to switch modes
Removable battery
LED front light
Power display
Anti-slip wear-resistant tire
Best Fat Tire Electric Beach Cruiser
ECOTRIC Powerful Fat Tire Electric Bicycle
Speed Characteristics
The maximum speed that this bike can go is up to 20 miles per hour. When in the electric mode you can ride with it over 19 miles. The bike weighs 58 pounds and it can hold up to 260 pounds. You can adjust the riding modes and the bike is equipped with a great braking system.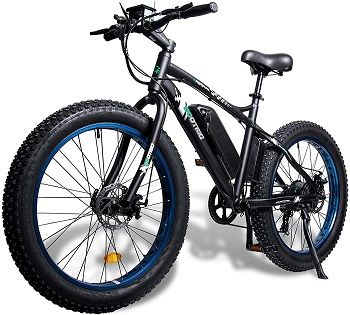 Brushless Motor
This electric cruiser has a powerful 500 W motor that allows you to speed up to 23 mph. The battery is lithium and removable. It is 36 V battery and you get the charger in the package. It is a great bike with suitable for different kinds of roads.
Fat Bike Tires
This bike has all road fat tires. They are 26 x 4 inches. They are durable in all conditions on the road so you can comfortably ride on the snow, beach, mud, and other types of roads. You can feel safe with this bike and you can protect it with the battery and power lock.
Ergonomic Design
This bike comes 90% pre-assembled to your door and a few finishing touches are easy to do. You just have to follow the manual that comes in the package. Each component on this bike is designed with care and comfort in mind. The handlebar is ergonomic, the seat can be adjusted and tires are anti-slip.
Size And Dimensions Of The Bike
The horizontal distance for this bike is 22.2 inches and the length of the middle tube is 19.3 inches. The wheels are at a distance of 45.2 inches and the entire length of the bike is 74.3 inches. The height from the ground to the seat can be adjusted from 36.2 inches to 42.1 inches.
Specifications:
Anti-skidding tires
7-speed system
Tektro disc brake
Durable battery
Best Electric Urban Retro Cruiser Bike
SOHOO 500W Electric Beach Cruiser
Design
This beach cruiser has a sturdy one-piece aluminum alloy frame with 26 inch wheels a step-over design. The maximum rider weight is 325 lbs (147 kg) so big and tall riders can enjoy the ride. This bike comes with a detachable luggage rack. The intelligent M5 LCD Display shows you everything you need to know: Pedal-assist level, speed, voltage, battery life, and mileage. It is available in black, white and silver.
Powerful Motor
The rear drive motor is very powerful, operating at 48V and 500 Watts. The lithium battery is 48V / 13 Ah and is removable.
4 Working Modes
This beach cruiser has 4 working modes: walk mode, pedal-assist mode, throttle mode, and regular bike mode. Walk mode makes it easy to walk with your bike without needing to push it. You can walk along with your bike up to 3 MPH. There are 5 different pedal assist modes with max speeds from 8MPH to 25 MPH and ranges from 30 miles to 65 miles. You can adjust mode as needed. In regular bike mode, there is no pedal assist and you just ride it like a regular bike. If you want electric assist without pedaling, you can use throttle mode.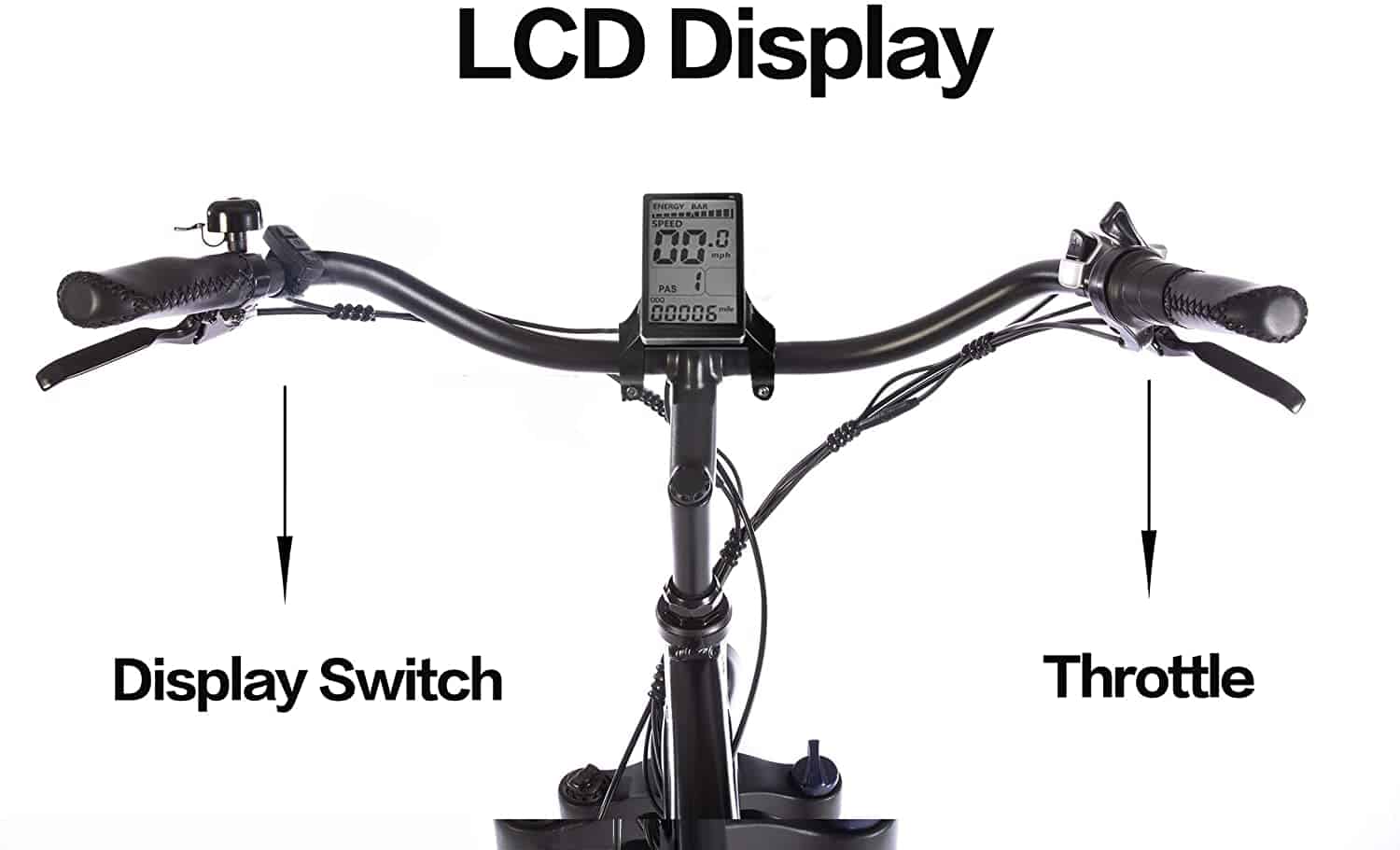 Comfort
With a 30.8mm aluminum high-end belt clip saddle, this beach cruiser will give you an easy and comfortable riding experience. The front fork and seat post have enhanced shock absorption features so your ride is smooth.
Safety Features
This bike has an LED integrated headlight and LED rear light which are long lasting. The battery is anti-theft. There is a braking power shutdown system to ensure fast and safe power shutdown. The brake is 180mm with an advanced double disc design. If you are going fast and need to stop quickly, this bike gives you immediate control.
Specifications:
4 Working modes
325 pound (147 kg) max load
500 Watt Peak Power
48 V / 13 Ah battery
Top speed 25 MPH
Anti-theft battery
Advanced braking system
Available in black, white, and silver
Best Beach Cruiser Specialized E-bike
Sixthreezero Around The Block Electric Bicycle
Hub Motor
This bike is equipped with 250 W rear hub motor. It is a powerful motor that you can adjust to work in pedal-assist mode or you can go full electrical for more speed and comfort while cruising on the beach. Because the motor is on the rear end, you will have more space in the front for attaching different items.
Battery Capacity
The battery on this bike is 250 W battery that can last you from 18 to 40 miles depending on a mode you are riding in. You can go from 14 to 28 miles per hour and if you are in the pedal-assist mode, the range goes even up to 60 miles.
Wheels And Tires
If you are looking for wide and stable tires, this bike has them. The wheels are 26 inches and tires are 2.125 inches. They provide you with an excellent roll and a stable and comfortable ride. This bike is perfect for cruising on the beach but you can also enjoy riding on the city streets.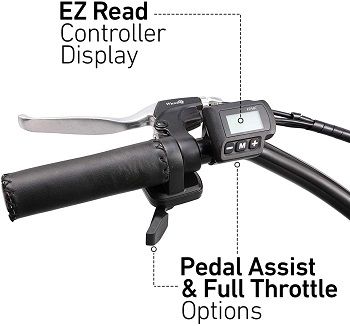 Brakes And Gears
This bike works on a 7-speed Shimano Tourney rear derailleur. There are front and rear disc brakes so that you can easily and promptly stop whenever you need to. It is a safe bike that you can ride on all kinds of surfaces and terrains feeling stable and comfortable.
Comfort Seating
The most important thing about cruiser bikes is comfortable seating and this bike has it. You can adjust the seat height and the handlebar to fit you perfectly. You will have proper posture and sit in the upright relaxed position that can reduce pain on your shoulders, hips, and knees.
Specifications:
Relaxed riding position
EZ Controller display
Pedal-assist and full-throttle options
Dual-spring wide saddle
Best Folding Electric Beach Cruiser Bike
Emdaot 250W Folding Electric Bike
Premium quality
This foldable white-colored e-bike comes in premium quality. It is made of high-strength carbon steel and front fork aluminum alloy with iron comfort shock absorption. Also the alloy collapsible frame is made for quick folding and easy storage.
Motor And Battery
Bike is equipped with a 250W high-speed brushless gear motor and removable 36V 8AH lithium-ion battery. The battery also comes with a smart lithium charger and a maximum distance of 43 miles (69 km). With a 7-speed professional transmission system and high-speed motor, you can reach a max speed of 18 mph (30 km/h)
LCD Display
This bike has a LED 3-speed smart meter button which shows battery power and Gear indicator. With the smart meter button, you can select throttle mode or pedal assist mode. There are 3 different pedal assist modes, each with a higher max speed.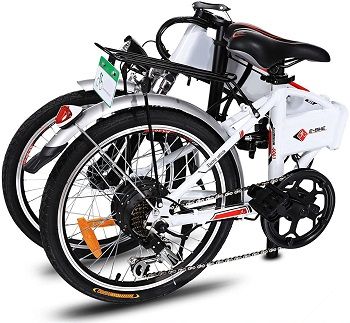 Other Features
This bike has high-quality seats and anti-slip wear resistant tire. Another good thing is that you can ride at a constant speed by using a cruise mode. The folding design allows you to lift it in one hand easily. Because of the high quality materials, this bike will last a long time.
Specifications:
premium quality
folding design
smart meter button
powerful motor
Conclusion: Are You Ready To Cruise With The Beach Cruiser Electric Bike?
One of the best activities you can do with your bike is to relax and enjoy the ride next to the beach or in the park. Electric cruiser bikes are the best option for that and if you want the best go with Sohoo 500W Electric Beach Cruiser because of the unique design and powerful motor. If you are looking for something more practical you can go with Emdaot Folding Electric Bike.
For more information about electric bikes, take a look at the article about electric bikes for sale. There is also a useful post about the best electric road bikes or you can read and learn more in the article about folding fat tire electric bikes.