Best 5 Electric Cargo Delivery Bikes/Bicycles In 2022 Reviews
Are you in the market for the electric cargo bike?
There are great benefits to these kinds of bikes and you probably know that because you are here. To help you decide on the best electric cargo bike for you, here is the quick buying guide and the list of the best cargo e-bikes on the market.
A Quick Guide To Electric Cargo Bicycle
What Is A Cargo E-Bike?
Bikes are not designed to carry a lot of stuff except you and your backpack. The rest can make the bike very difficult to ride. For that matter, the cargo bikes emerged on the market. Those are bikes that have additional parts attached to them so you can transport kids, do grocery shopping, deliver food, or anything else that requires you to carry more stuff. It is convenient and you don't have to look for a parking space.
Types Of Cargo Electric Bikes
There are a few different types of cargo bikes. The most common are box bikes, a longtail bike, pedicab, trike, or a mini cargo bike. Each one of them has a different placement for the cargo box and they come with different additional items. Just by looking at them, you will know which one will suit your needs best.
Electric Assist
There is no bike in more need for an electric-assist than the cargo bike. It is easy to ride your weight but when you have to drive a few more pounds on the back or in the front of you, you would want a little push. You can find cargo bikes with the motors in the front of the middle of the bike.
Battery Technology And Life
Batteries are one of the most important things you will have on your cargo bike. They are usually lithium batteries that are getting lighter and more powerful. Some bikes have removable batteries and some of them have them built-in. This is the factor that will determine the price, distance, and power that your bike will have.
Best 5 Electric Cargo Bikes
Best Electric Cargo Tricycle
Emojo Caddy Pro Electric Tricycle
Battery Range
This practical electric cargo bike has a battery that can ride for up to 45 miles on one charge. To fully charge the battery you have to leave it for 4 to 6 hours. It has a capacity of 48V / 15 Ah. It weighs around 70 pounds and it can carry up to 320 pounds. It is a strong and stable bike that will get you safely and quickly wherever you want to go.
Oversized Basket
This is a perfect cargo bike for picnics, day trips, grocery shopping, or pet rides. There is a front basket that gives you a more practical place for your bag, phone, and other items. In the back is a bigger basket that can hold all of your other items. It is practical and easy to use e-cargo bike.
Stable And Safe Construction
The frame on this bike is made with a strong and stable aluminum alloy. It has a suspension fork for a smooth ride. It is a comfortable bike that every user will enjoy. It has 7 speeds that you can easily adjust to the outside circumstances and your personal preferences.
Excellent Motor Power
The motor power on this electric cargo bike is 500W. It can speed up to 23 mph which is powerful for these kinds of bikes. The powerful battery can hold you up and ride with you up to 40-55 miles. That is if you use only pedal assist mode.
Size And Dimensions
The front tire on this bike is 4 x R24 and the rear tires are 4 x R20. The overall dimensions of this bike are 78.5 in length, 29.8 in width, and 47.6 in height. It comes in white and black color combination which will suit everyone for any need. It is great for everyday use and you can even take it on long runs.
Specifications:
Powerful 500W motor
Quick charge
7-speed transmission
Max load capacity up to 320 pounds
Basket in front and the back
Best Fat Tire Electric Trike for Adults
BURCHBIKE 500W CARGO TRIKE
Tire design
The Burch fat tire tricycle features a sleek design with fat tires that let you maneuver different terrains. The fat tires ensure that you enjoy a smooth ride through grass, sand, and even over bumps. The Burch bike features three 20-inch Kenda fat tires that allow you to travel on city streets, beaches, some trails, and even on a golf course. This gives you more variety in all your outdoor adventures.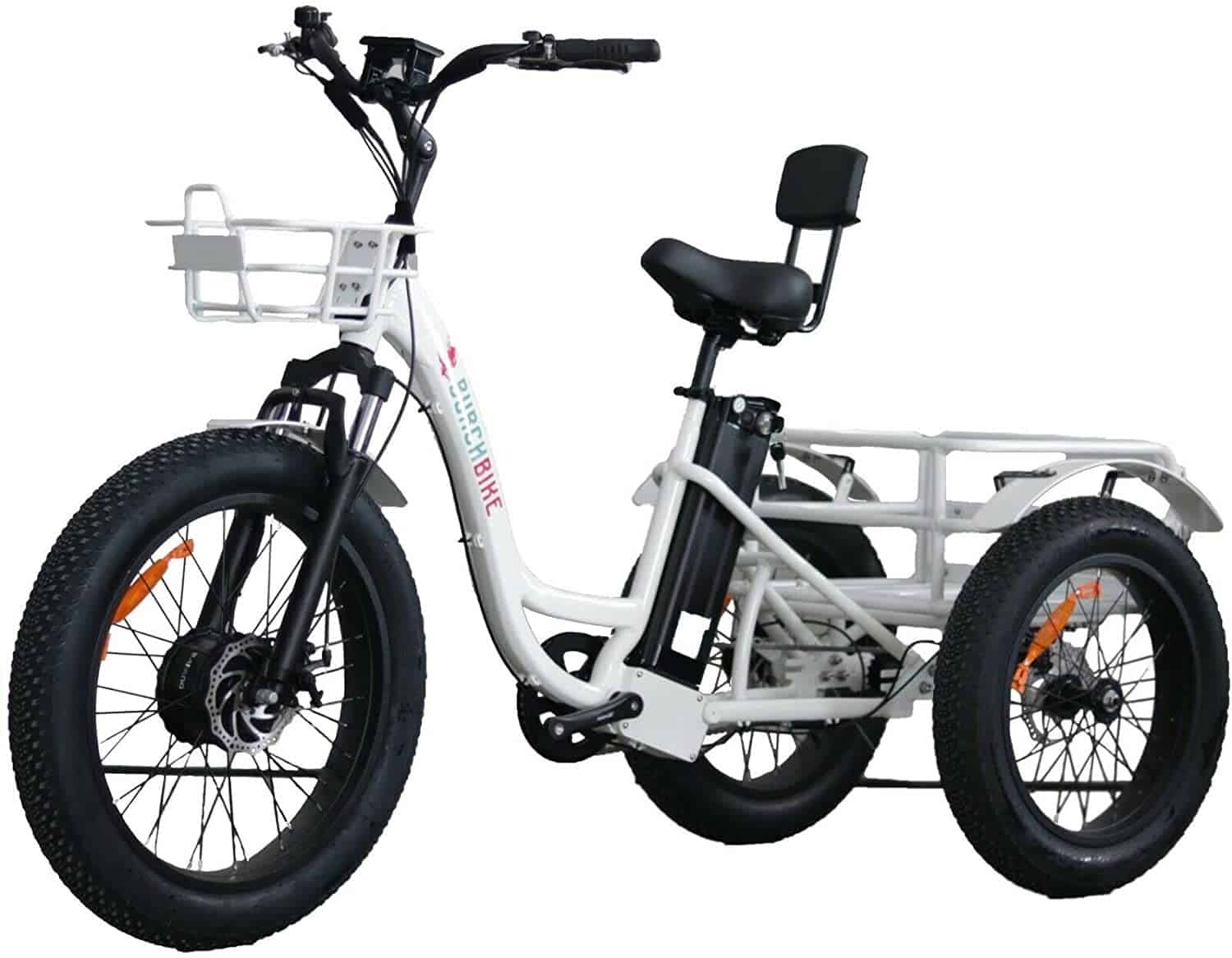 Large front and rear bins
The oversized front and rear bins make this bike perfect for storing your shopping, groceries, or giving your pet a ride. This makes your trips easier and convenient. Its front basket provides you with more spaces to carry more items. Plus, you can easily take out items from your front basket even while riding, which makes your trip go without a glitch.
Powerful battery
The Burch electric trike is fitted with a motor that's powered by a 48-volt battery and generates 500W of power. That lets you carry any items you need in the cargo area and you won't be losing much power. This bike's max speed is 20 mph. In addition, this e-trike's range is 35 miles and can take 4-6 hours to fully recharge the battery.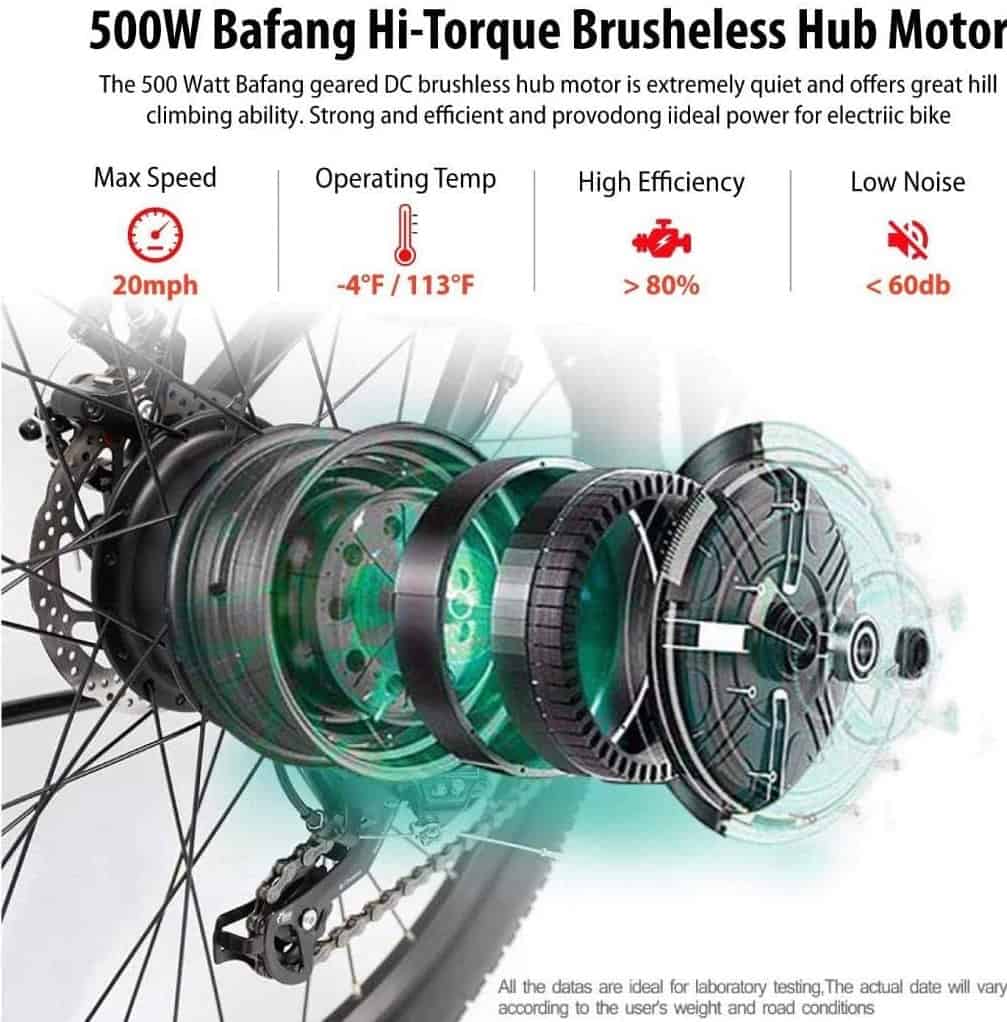 Safe
The three wheels of this bike provide lots of stability helping keep you safe. Also, the 6061 Aluminum alloy frame is durable. You'll also have a comfortable ride due to the bike's front suspension fork which features 80 mm of travel. This bike also includes lights that help keep you safe if traveling at night. Overall, the Burch bike offers more than what most people need in an e-trike. While it will meet the needs of most riders, it works great for senior citizens.
Specifications:
Front and rear cargo baskets

500-Watt motor

35 Mile Range (Pedal Assist Mode)

23MPH Max Speed

20-inch Wheel Size

Dual Suspension Type
Best Cheap Electric Cargo Bike
Schwinn Meridian Adult Trike
Strong Frame
This is a comfortable tricycle that has an aluminum alloy frame. It is a step-thru frame and the bike is equipped with a pedal-assist motor. The wheels are 26 inches and this bike is comfortable for the riders from 5'4" to 6'2" in height. It is a big and comfortable bike to run daily errands.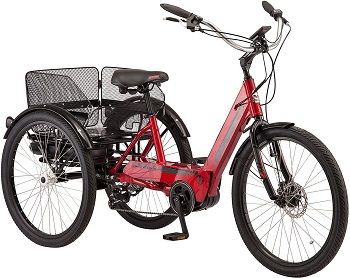 Motor Power
The bike has a powerful motor of 350 W. It is a Bafang Max Drive motor. It will provide you with the pedal-assist motor that will assist you up to 16 mph. The battery is 630W and it provides you with an extended range of riding and cruising.
Multiple Speeds
With this cargo e-bike, you can change between seven speeds. The gear shifter is Shimano derailleur that is designed for precise gear changes. For the safety feature, there are front and rear mechanical disc brakes. Those will ensure you reliable stopping at any weather conditions.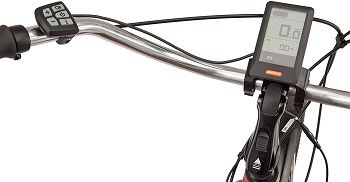 Cargo Basket
There is a rear basket made of strong mesh material that can hold a lot of weight. It will keep your cargo in place on any road. The electric bike comes in black and red color combination. You can choose another color but they don't come with an electric motor.
Specifications:
Alloy frame
Double-wall alloy rims
7 changeable speeds
Best Electric Cargo Fat Bike
Addmotor Motan Electric Tricycle 
Heavy-Duty E-Bike
Thie electrical fat tire trike is perfect for ridding especially when you need to carry different items with you. It is great for large loads and it has additional support on the rear end. It has a maximum load capacity of up to 350 pounds and the rear rack can hold up to 100 pounds.
Motor Equipment
This fat tire trike has 750 W motor and it works together with the lithium battery of 16 Ah. It is a Panasonic removable battery that you can charge on and off the bike. It needs about 4 hours to be fully charged so you can go to the next adventure.
Longer Frame
This trike is designed with a longer frame than other trikes like this. This increased length of the frame allows you to have better control and it is easier to handle the bike. There is a display mounted on the handlebar so you can read all the settings of the bike. There is a USB port to charge your phone while you ride.
Comfortable Features
This is a uniquely comfortable bike with oversized saddle and a sturdy and adjustable backrest that supports you while riding. This kind of seat is great for people with larger bodies and limited mobility. It is a costume made backrest and seat so that you can be comfortable even on long rides.
Product Size
The overall length of the bike is 80.7 inches and the distance between wheels is 55.5 inches. The handlebar is at the height of 45.2 inches from the ground. The seat is at the height at 28.3 inches and the reach is 29.5 inches. The rear wheelbase is 23.6 inches.
Specifications:
Aluminum alloy frame
Addshox steel fork
Sensitive front horn
Large metal basket
Best Electric Longtail Cargo Bike
GreenBike Electric Motion Cargo Bike
Wide Usage Application
This cargo electric bike is designed with the user in mind. It comes with a variety of accessories that you can use to customize the bike according to your preferences. It has a longtail on which you can add baby chairs, baskets, cushions. You can also customize it by adding a step-up platform, front basket, or saddlebags.
Mid-mounted Motor
The motor on this bike is placed in the center of the frame. It is a 500W power motor and you can choose the battery that is either 10.4 Ah or 12.8 Ah. The disc brakes are hydraulic and you can monitor all the activities on the LCD screen located on the handlebar. You can choose from two drive modes. One is Pedal assist and the other is thumb throttle.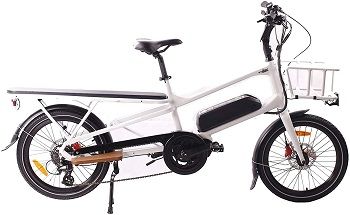 Suggested Use
This bike is designed to be driven in an urban environment. It is a perfect choice for busy city streets or strolls through the park. It weighs 59 pounds and it comes in black or white color combination. It is made from 6061 aluminum alloy frame. It has a Promax stem that is adjustable and hydraulic disc brakes.
Electronic Details
It takes about 5 hours to fully charge the battery and with that one charge, you can ride up to 50 miles. On the display that is mounted on the handrail, you can see all the adjustments and specifications of the bike. It shows you the battery level, speed, assist level that you can adjust in five different levels. The top speed this bike can reach is 20 mph.
Specifications:
Multiple accessories choices
500W Dapu motor
Hydraulic disc brakes
LCD screen
Two paddle modes
Conclusion: Do You Have Your Favorite Electric Cargo Bike?
If you are the type of person that has a lot of items that need to carry or you want to take your kids wherever you go, you should go with the best electric cargo bike. If you want the best, the first option should be the Emojo Caddy Pro Electric Tricycle because of the fat tires. The second best option is Schwinn Meridian Adult Trike because of the wide battery range.
There is more useful information in other articles like the one about electric bikes for sale. You can also read the post that covers the subject of 1000 W electric bikes or take a look at the article about the best electric hybrid bikes.