Best 5 Electric Off-Road e-Bikes For Sale In 2022 Reviews
Are you looking for an electric off-road bike?
If so, read this article about the best off-road bikes. In this post, you will learn the difference between regular and electric off-road bike, their features and abilities. If you like adventures then this post is perfect for you and I hope you will easier decide which model is the best one for you.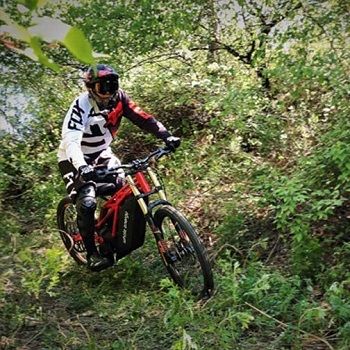 Things To Know About Off-road Electric Bikes
Good Performance On Rough Terrain
The traditional e-bikes cant ride through rough terrains and give you good performance like off-road electric bikes. Off-road e-bikes can be full of adventure and adrenaline and they provide more power, comfort, and stability to ride on any terrain.
Different Frames
The frames on the off-road electric bikes are built differently than regular or city electric bikes. They are made to withstand different stresses and with different materials. They are usually light because off-road riding includes many obstacles and rotating. They're also more compact with smaller components.
Suspension And Tires
They also have different suspension. Off-road suspension should be more qualitative boasts, with different spring rates and they're geared for tougher surfaces. Off-road E-bikes also come with different tires that provide better traction and control of the wheels allows on uneven surfaces.
Exploring The Limits
Off-road riding is a great tool for building riding confidence. They are rough and not equipped with fancy technology. Those bikes prefer a more powerful motor than speed and they are the best way for exploring the limits of your vehicle. Altho, their price can reach up to 3000$.
5 Best Off-Road Electric Bike Reviews
Best Off-Road Folding Electric Bike
Vivi Off-Road Folding Electric Bike
Compact And Foldable
This off-road electric bike for adults comes in black-blue or white-blue color combination and it is compact and foldable. It s perfect for those people who like to experience adventure riding but they also can place it in your car or a small apartment when not using it.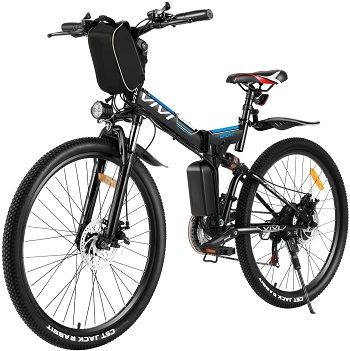 Ergonomic And Adjustable
The bike has 26-inch lightweight wheels and nonslip thick tires. The bike has ergonomic and adjustable seat and handlebars for more comfortable riding. Also, multi-purpose tires are made to be ridden on any road.
Large Capacity Battery
This bike has a 36V/8Ah lithium-ion battery that supports 22-40 miles of riding ona single charge. With a smart charger, you can fully charge it in 4-6 hours and you can do it on or off the bike.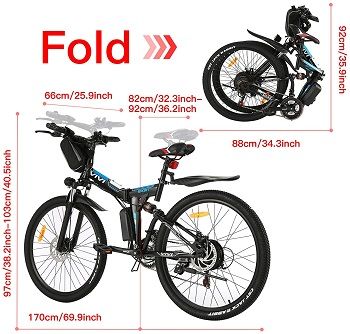 3 Working Modes
This electric off-road bicycle has 3 working modes. You can choose between e-bike, assisted bike and normal bike. Also, you can combine them according to your needs. You can get a burst of speed by using a throttle, which is ideal for pulling away from the city.
Display And LED Headlight
The bike is equipped with a bright LED headlight for safer riding at night and a better view. Also, there is a display that shows you which mode you are using and how much power you have left. It is a simple display with 3 buttons.
Specifications:
compact and comfortable
folding feature
strong battery
LED headlight
Best Off-Road Electric Mountain Bike
Ancheer Electric Mountain Bike
Carbon Steel Frame
This electric bike adopts an Aluminum alloy 6061 frame. It comes in two black and blue color combinations. It has high strength aluminum fork and front and rear disc brakes. It provides perfect climbing abilities.
Thick Tires
This electric bike has an anti-slip thick tire which suits for trails, gravel, and off-road. You can choose between e-bike, assisted bike, and normal bike modes, or you can combine them for best expeirence.
Battery And Motor
The bike is equipped with a 36v 10.4Ah lithium-ion battery placed in the center of the frame and 350w high speed brushless gear motor that allows you to reach up to 25 miles at the speed of 20 mph in throttle mode.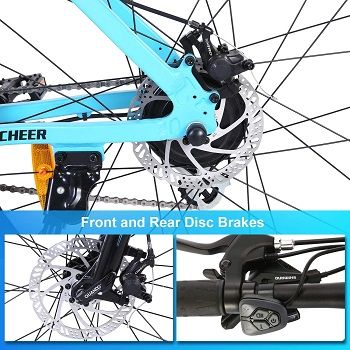 Other Features
The bike weighs around 53 lbs and can carry up to 330lbs of weight. The bike comes with dual disc brakes for good stopping power and high-strength shock-absorbing front fork. This bike can be ridden by an adult height around 5'1″-6'4″.
Specifications:
aluminum alloy frame
different riding modes
good absorbing fork
good climbing abilities
Best Off-Road Cruiser Electric Bike
EZ Breeze Adult Electric Cruiser Bike
Attractive Design
This electric off-road bike adopts a attractive two colored black and white design. The frame is made of aluminum alloy rust proof frame. It also has scratch-resistant auto paint so you can be sure it will look amazing for a long time.
Juggernaut Fat Tires
The bike comes with Kenda Juggernaut fat tires made for beach but suitable for trails, gravel, mountain hills and off-roads too. You can cruise through the beach or climb mountains!
Battery And Motor
It is equipped with a 48V14AH lithium-Ion battery tucked away inside the frame. With it, you can reach a speed of 20-25 mph, depending on the terrain. The 750W motor will get you to the destination with ease.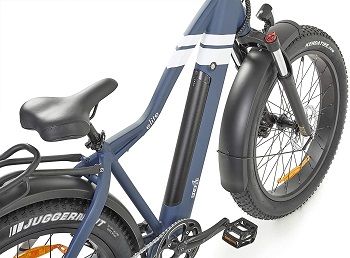 Other Features
The bike has front and rear lights for safety, speed control sensor and dual disc braking system so you can be sure it will stop when needed. You can also choose one out of 3 riding modes – full electric, pedal assist, wihout electricity.
Specifications:
3 riding modes
scratch resistant auto paint
attractive design
4″ fat tires
Best Off-Road 1500w Electric Bike
Aostirmotor 26″ tire Electric  Bike
Nice Sport Look
This nice sport electric bike comes in a nice black color with white and red lines. It weights around the 90 lbs and with upgraded load capacity, it is suitable for people weighing up to 300lbs.
Aluminum frame and Anti-sip Resistant Tire
This bike is made of aluminum frame and has anti-slip wear-resistant tire and alloy suspension fork, which is good for complex terrain and it is reducing bumps, giving you a more comfortable experience.
Strong Motor And Removable Battery
The bike is equipped with 1500w motor with the strong driving force and endurance and large capacity 48V 15 AH lithium battery. The battery is removable and supports 31mph speed with charging time 4-6 hours. You can ride up to 26 miles.
LCD Display
The bike also comes with a big multifunctional LCD display. This little computer shows you any useful information that you need when driving such strong vehicles, such as speed, power, PAS, and motor.
Other Features
It has 3 working modes, e-bike, pedal-assisted, and normal pedaled which improves your riding experience. Because of the fat tires, you will have no problem cruising over beach snow or dirt. Even with great feature, it doesn't seem to have any headlights which mean is better using it during the day.
Specifications:
nice-looking
strong motor and battery
LCD display
3 working modes
Best Off-Road Fat Tire Electric Bike
Eahora X5 Fat Tire Foldable E-Bike
Foldable Design
This electric bike comes in a blue, black, or green color. It consists of a one-piece aluminum frame that is foldable. It means you can simply store it in small space rooms when not using it.
Comfortable Saddle And LCD
The bike has a comfortable leather saddle and aluminum folding pedal and suspension front fork. There is also a large LCD so you can see the data you need. This bike can carry heavy weights up to 330pounds.
Battery And Motor
48v 10.4 ah lithium-ion battery comes with Samsung battery cells. For its safety, the battery is placed in the frame to make it waterproof and rustproof. The bike can be charged in 5 hours. With 500w hub motor, this e-bike can take you up to 55 miles.
E-pas Technology
This electric off-road bike has E-pas technology whose purpose is to save energy and generate electricity. When going downhill, it recover 45% of electricity so you can ride up to 70 miles in the assist mode. Shimano 7-speed shifting system and thumb throttle are meaning the riding easier and faster.
Specifications:
foldable design
E-pas technology
battery stored in the frame
LCD screen
Conclusion: Which Two Off-Road Electric Bikes You Should Buy?
I would recommend the EZ Breeze adult electric bike and Eahora foldable electric bike. The off-road e-bike comes with an attractive design. This bike is grate of any trails, off-roads or gravel. It has 4″ fat tires and good suspension system that provides a stable ride. Eahora e-bike has a folding feature and fat tires that provide more stability on the off-road trails. This electric off-road bike is great for heavier riders, and it comes with E-pas technology that saves energy and recovers electricity when going downhill.
If you liked this article you can read more in this article about the best electric bikes for the sale. Also, if you are interested in bikes made for hunting or fishing check this article about the best hunting electric bikes, or if you like more gravel bikes check this post about the best gravel electric bikes. But, if the type of e-bike you are more interested in is the one for road cycling, check his article about the best road electric bikes.