Best 5 Electric Gravel Bikes On The Market In 2022 Reviews
Are you looking for a powerful electric bike than can ride on a gravel road?
If so, read this article about the best electric gravel bike. Before the review, I will tell you about the general features of the gravel bikes, where to buy them, and for what price range.  I hope u will find some useful information that will help you decide which electric bike is the best for you.
Things To Know About The Gravel E-bikes
What is Gravel E-Bike?
Gravel bikes are electric bikes similar to mountain ones, made for offroad, rugged riding, and they are less performance-based than most eMTBs. They also have the capability of smoothly transition from road to offroad and back again with no trouble. That's why they can be more expensive.
The Best Gravel Electric Bikes
The best gravel e-bike should have a decent riding range and motor power. It should have features that boost stability, safety, convenience, and durability. Gravel e-bikes are not as performance-based as electric mountain bikes and they usually have smaller motors and batteries.
Gravel Bikes Additional Features
Another great feature that is making e-bike a gravel one includes excellently designed flared drop bars, puncture-resistant tires, and ones that give the best weight allotment. The e-bike does not necessarily have to be lightweight. Better weight distribution is making the riding more smooth and stable through bombs and rough trails.
Where To Buy Them?
Gravel bikes are becoming more popular these days and you can get them in e-bike shops or on the internet stores such as Amazon, Walmart, eBay, etc. Since they have the high-quality gear and many features they are more expensive than regular electric bikes. You can get the for the precise between 1000$ and 3000$.
Best 5 Gravel E-bikes For Sale Review
Best Gravel Electric Hybrid Bike
Schwinn Vantage RXe 650b Electric Sport Hybrid Road Bike
Comfortable Design
The bike comes in vantage fxe or rxe style and you can choose the size of the frame. The bike has an aluminum alloy frame and carbon fork and has custom-formed alloy for an easy upright position.
Motor And Battery
This is a sport hybrid electric road bike that is equipped with 250w motor which assists you to ride up to 32km/H. It carries a 400Wh Bosch Powerpack unit that should last up to 80km. The battery can be fully recharged in 5 hours.
Superior Performance
The bike has 11-speed drivetrain with thumb shifters for quick gear changing and smooth riding. Thanks to aluminum double-walled rims and Kenda tires, the bike offers superior performance.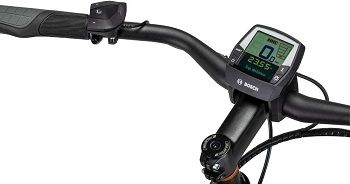 LCD Display
You can choose the level of assistance you want on the LCD which shows you other useful informations about the bikes such as battery status, speed, etc.
Specifications:
comfortable and smooth riding
LCD
good performance
different frame sizes to choose
Best Gravel Electric Commuter Bike
ZIP E3 Protour with COBI 700C Class 3 Electric Commuter Road Bike
Comfortable Grey Bike
The bike comes with integrated wires and smooth frame transitions, very good looking in metallic grey color with a range of three sizes for improved fit and comfort. This electric bike has sturdy alloy fenders, a minimalist rack, integrated frame lock, and smart LED lights.
Coby System
The bike offers high-speed pedal-assisted rides and has a Coby system which gives you many features such as speed, assist level, and battery capacity,  GPS maps, fitness trackers, music integration, and phone call support. The bike also has two-mode headlight with daytime running lights with a bright center light for illuminating the path.
Power And Motor
The bike comes with a custom shaped 48-volt Lithium-ion battery setup with high-quality Samsung or LG cells. The battery can be charged on or off the frame and uses the same metal-tipped charging port design. With it you can ride up to 35 miles.  The compact The Currie Electro-Drive/TranzX center drive 500-watt motor blends into the frame perfectly and allows you to ride up to 28mph.
Other Features
Ergonomic grips and wider tires help to reduce hand fatigue and vibrations, Also these tires have reflective sidewall stripes for safer riding and they offer a wide range of pressure options. Hydraulic disc brakes front and rear offer good stopping power.
Specifications:
comfortable design
powerful
Coby system
ergonomic grips
Best Gravel Electric Mountain Bike
Eahora 26inch Mountain Electric Bike 350W Urban Electric Bikes
Design
The bike comes in a simple black/red color and is made of 6061 aluminum alloy frame, suspension fork with aluminum shoulder, and iron legs. It weighs 50lbs and can take you on any road, jungle trails or beaches.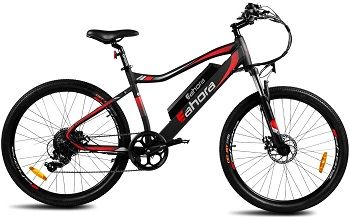 Motor And Battery
The bike is equipped with a 350w brushless motor and intelligent controller that is connected with the E-pas system. This means it increases the cruising range by 40% at the same power. Also it regenerates 60% of energy while going downhill. The bike comes with a strong 48v removable battery which is hidden for its safety. With fully charged battery ou can travel up to 50 miles per charge.
Smooth And Safe Riding
The bike drives Shimano 7 speed shifter and M370 derailleurs provide accurate and smooth shifting. Shorter braking distance and your driving safety are ensured, because the front & rear Tektro mechanical Disc brakes are well equipped on Eahora electric bicycles. It makes stopping smoother and safer.
Other Features
Another interesting feature is the intelligent waterproof display which is equipped with a backlit LED. With it, you can get more useful information about the vehicle. the bike has folding features which means it is less space-consuming. Also, the soft saddle ensures safer riding and giving enough space to move around.
Specifications:
LED display
folding
smooth riding and stoping
intelligent controller
Best Gravel Affordable Electric Bike
SOHOO 48V500W12AH 20″ x4.0 Folding Fat Tire Electric Bicycle Mountain E-Bike
Foldable Design
This SHOHOO electric bike comes with many features and is great for camping, and riding on the gravel roads. It is made of a one-piece foldable aluminum alloy frame with enhanced shock front fork. With the foldable design, you can store it in some small spaces.
Powerful Performance
The bike comes with a large capacity of 48V12Ah Lithium battery, 48V500 Watt rear-drive motor, and intelligent S900 LCD 5 Inch Backlit Display. These powerful components provide excellent quality performance and will help you reach 25mph. Multi-tooth thick tires increase mountain climbing ability and greater terrain adaptability:
Riding Modes
The bike has Variable Speed Throttle Mode; Pedal-assisted Mode and PAS Mode. with the assisted mode, you can do some exercise and with Level 5 you can reach a speed max speed of 25MPH with cruising range is 35-45miles. Also, Shimano 7S drivetrain provides smooth shifting for safer traveling.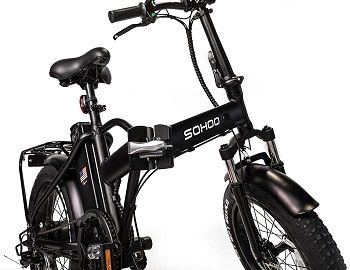 Other Features
The bike also has LED integrated headlight for night riding, multi-functional battery light under the sat and display that shows your battery status, speed, and other information.
Specifications:
folding design
intelligent display
2 riding modes
safe and smooth traveling
LED headlight
Best  Gravel Electric Assist Bike
Jetson Adventure Electric Bicycle
Agility Design
This adventure road bike has a simple design with lightness and agility. It weighs 42lb and its easy to pedal it without assistance. It is equipped with front and rear disc brakes for extra stopping power and a bright LED headlight and taillight for increased visibility even in evenings.
Motor And Battery
The bike comes in 2 working modes, and with the electric mode, you can travel with speed up to 20mph in the range up to 40miles. The bike is equipped with a 250-w hub motor and Panasonic 36v non-removable lithium-ion battery. The battery is concealed in the center of the lightweight aluminum frame and it is easy to charge.
Interactive LCD Display
The Jetson comes equipped with an interactive LCD Display. With it you can read some useful information about your vehicle such as remaining battery life, your current speed, track distance traveled, and much more.
Other Features
This electric bike comes with 9 levels of pedal assist. Each increase in level offers more power from the motor. Even tho this bike is missing some features like puncture-resistant tires or flared drop bars, it is still affordable and agile, and comes with decent design and battery capacity.
Specifications:
light and agility design
LCD
9-levels of pedal assist
LED headlight
comfortable
Conclusion: Which Two Electric Gravel Bikes You Should Choose?
Even thou it is hard to decide what is the best electric gravel bike, I would recommend the Schwinn electric gravel bike and the Sohoo gravel e-bike. The Schwinn comes with a comfortable design and you can choose the size of the wheel you like. It has custom-formed alloy for an upright position so u don't have to think about the back pain. The bike has good performance and comes with a display for bike informations. The Sohoo is another great gravel electric bike that comes with many features like folding design, intelligent display, and multi-functional battery light. The bike has multi-tooth thick tires that increase road terrain adaptability.
If you want to learn more about the electric bikes in general, check my other post about the best electric bikes for sale. If you want to check out other rad bikes, read my article about the best electric road bikes. If you are looking for something fast, read my post about fastest electric bikes.