2 Best 1500w Electric Bikes For You To Choose In 2022 Reviews
Are you looking for a 1500w electric bike?
If so then read my articles about the 1500w electric bikes for sale. Before the review you will learn more about motor sizes of electric bikes, the most common ones, which one an why you should choose, and what are the 1500w e-bikes best for.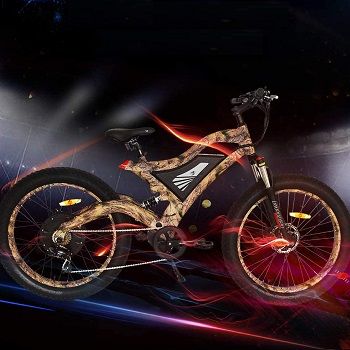 Things To Know About the Electric Bike's Motors
Motor Sizes Of Electric Bikes
Electric bicycle motors are measured in watts. With more watts comes the more powerful the motor. It Sizes range from 200w to around 1500w, but not all electric bicycles are created equally because comparing two with the same power of wattage level can actually be pretty different. To choose the voltage you should think about your weight and if you will be riding up many big hills. Also, The heavier you are, or your equipment, the more power you need to properly ride the bike.
Most Common Electric Bikes
On flat ground, an underpowered electric bike should be good but Trying to ride an underpowered bike up a steep hill, can risk causing damage to the bike like burning the motor or bike's connectors. A common electric bicycle setup is a 36V (volt) battery and a 15A (amp) controller which means that they should have 500 watts.
Voltage for Heavy Riders
Heavy riders that want to ride through hills and any type of terrain with fast speed should combine 1200-1500 w and 48v battery because those brought riding also can bring overheating issues. 1500w powerful bikes are also great for longer and faster rides on off-road riding because you can easily ride without the pedaling.
Fast But Expensive
If the motor is very efficient then you can feed it higher power then it's designed and a 1500w can get you up to 40mph for short time periods. The problem is that the more powerful motors require larger and more expensive batteries which means that they are made for heavy riders with more money to spend. That probably explains why those e-bikes are so rare on the market.
2 Best 1500W Electric Bikes For Sale
Best 1500w Mountain Electric Bicycle
Aostirmotor Fat Tire Electric Bike
Nice Sport Look
This nice sport electric bike comes in a nice black color with white and red lines. It weights around the 90 lbs and with upgraded load capacity, it is suitable for people weighing up to 300lbs.
Aluminum frame and Anti-sip Resistant Tire
This bike is made of aluminum frame and has anti-slip wear-resistant tire and alloy suspension fork, which is good for complex terrain and it is reducing bumps, giving you a more comfortable experience.
Strong Motor And Removable Battery
The bike is equipped with 1500w motor with the strong driving force and endurance and large capacity 48V 15 AH lithium battery. The battery is removable and supports 31mph speed with charging time 4-6 hours. You can ride up to 26 miles.
LCD Display
The bike also comes with a big multifunctional LCD display. This little computer shows you any useful information that you need when driving such strong vehicles, such as speed, power, PAS, and motor.
Other Features
It has 3 working modes, e-bike, pedal-assisted, and normal pedaled which improves your riding experience. Because of the fat tires, you will have no problem cruising over beach snow or dirt. Even with great feature, it doesn't seem to have any headlights which mean is better using it during the day.
Specifications:
nice-looking
strong motor and battery
LCD display
3 working modes
Best 1500W Folding Electric Bicycle
Cyrusher XF 690 Folding Electric Bike
Folding Design
The Cyrusher XF690 folding electric mountain bike comes in a few different colors and the red-black design offers you to choose 1500w strong motor. Thanks to this powerful motor, it has plenty of speed and it is able to ride all kind of terrains with ease, and the best feature is that is foldable which means you can store it away in small spaces.
Made Of Safe Materials
The bike is made of safe materials which means the products have passed CE certification and using only antiexposure safety painting material. With the fat tires, the riding is more stable and it suits all road conditions such as snow, road, or beach.
Powerful Motor and LG battery
The bike is equipped with 750-1500W BAFANG electric motor with a strong 48V LG lithium battery. This LG battery is one of the highest energy densities and a most reliable lithium-ion battery. It weighs only 3,5 kgs and with other lighter parts makes the whole bike not so heavy. With that equipment, you can cross up to 50 miles under pedal assistance mode and 25 miles under pure electric mode.
Other Features
This bike also comes with a smark bike computer which clearly shows the battery capacity, speed, PAS level, and trip distance. It drives a 21-speed system with hydraulic oil disk brakes for safer and better stoping and riding.
Specifications:
folding design
smart computer
21-speed system
pretty lightweight
Conclusion: Which The Best 1500w Electric Bicycle You Should Buy?
These two listed 1500w electric bikes come with strong and quality equipment and it is hard to decide which one is better but I would recommend the Cyrusher electric bike. This bike comes with a nice folding design which means it is less space-consuming. It is made of safe materials and has a good-quality LG battery which weighs only 3,5 kg.
If you want to learn more about other best models of electric bikes on the market, check this article about the best electric bikes. Also, you can check this review about the 1000w electric bikes, but if you like electric bikes with folding features, read it in my article about the best folding electric bike.