Best 5 Electric Hunting Bikes On The Market In 2022 Reviews
Are you looking for a hunting e-bike?
If so, read this article about the best 5 electric bike for hunting. Before the review, you will read more about electric hunting bikes, their specs, and features. After that, I hope it will be easier for you to decide which e-bike suits you the best.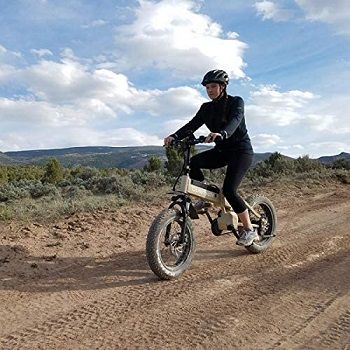 Things To Know About The Hunting Electric Bikes
What Is Hunting E-bike
There are many different types of electric bikes, so there are also hunting e-bikes. Today electric bikes are built specifically for hunting which can make a big difference to the success of your trip. Those bikes are perfect for adventure people that like to ride on all kinds of terrains.
Need To Carry A 300lbs Rider
The really good electric hunting bike should be equipped with a motor that is powerful enough to carry a 300lbs rider and still tow a trailer with lots of gear. The bike frame needs to be built to withstand the rough be light enough so you can lift it. Front suspension is a very important aspect for a smooth and non-vibrating ride. The tires should be fat between 4″ and 4,8″ for more stable riding.
Which Motor To Choose
Ultra mid-drive motors are the best motors on the market today and u could use it on moderate to rough terrain. Regular mid-drive has cadence and speed sensors and its good for some rough terrain. The ultra has three types of sensors and is best for challenging hills and brought terrain.
Best Battery For E-bike
The battery determines the range of the bike can cross.
The best choice would be to get a well-known manufacturer like Samsung, LG, or Panasonic. With a lesser-known, the quality and battery life can be shorter. The common battery for hunting bikes is usually 48V.
Best 5 Electric Hunting Bike Reviews
Best 1000w Hunting Electric Bike
2020 QuietKat Apex 10 SS Electric Bicycle
Design Of The Bike
This bike comes in camouflage color and it weighs 75 pounds. The Apex is QuietKat's most powerful and capable electric bike with a mid-drive electric motor and highest quality components. You can choose between 17″ and 19″ frame sizes.
Mid-drive Motor
The bike is equipped with Bafang Mid-drive 1000w motor with a wide-range 9-speed gearing system to handle the most difficult terrain.  It has 48V/11 6Ah Panasonic Battery and with those, you can travel up to 45 miles at the speed of 25MPH. The Apex is the ultimate off-road adventure bike great for exploring the backcountry.
Safe Stoping
This electric hunting bike has air suspension fork and mechanical disc brakes for safer stopping. Fat tires with stainless steel chains are making this bike ideal for hunting fishing or camping.
Other Features
The Pannier bags are made of waterproof materials that make them perfect for packing for a weekend camping trip. QuietKat fenders are made for the roads or trails that are wet or muddy from the drizzle, recent rain, or snowmelt.
The bike also has Pannier Rack which can carry up to 50lbs and is compatible with the pannier bag system.
Specifications:
powerful electric bike
mid-drive motor
fat tires
waterproof materials and bag
Best Foldable Hunting Electric Bike
QuietKat Bandit Electric Bike for Backcountry
Portable E-bike
This bike comes in white color with a 20-inch wheel size. It has a small/medium folding frame and folding steering column, which means you can store it even in small rooms or in your truck. This model is the smallest and most portable Quitkat bike.
Motor
The bike is equipped with a 750W mid-drive electric motor that can last 20 miles at a max unassisted top speed of 19Mph.  It should ride 16-19miles on the streets, but riding in the hills cuts the mileage by half.
High-capacity Bike
A high-capacity cargo bike can haul 300 pounds of stuff while still cruising at a calm 15 mph. It offers a comfortable ride since it is equipped with an air suspension fork, digital display, and mechanical disc brake 203mm rotor internal motor with 3-speed internal gearing.
3-speed Archer
It's impressively sturdy, the tubing is large with extra support where needed and there are no flex or creaking when pedaling.  The bike is super quiet, no engine whir sound when accelerating. The 3-speed Sturmey-archer, pedal-assist power, and human effort are well matched at economy power 2 and 3 settings.
Other Features
The bike has a good front fender, there is also good headlight for riding at night. It has a small display which is showing u some useful bike info such as the battery, mileage, etc.
Specifications:
small and portable
pedal-assist power
headlight
sturdy
Best Fastest Hunting Electric Bike
QuietKat Warrior 1000 Electric Bike for Backcountry
Black And Camo Design
The bike comes in basic black and camo for those who like to blend in with the natural surroundings with a 19inch wheel frame size. The warrior has an all-new integrated battery and motor system, also frame geometry features are updated to optimize riding and handling.
Mid-drive Motor
Powerful mid-drive motor Bafang BBSHD 1000W with torque is perfect for climbing steep hills, and off-road terrains. The bike has an unassisted maximum speed of 25MPH. Great eBike for hunting and fishing, the Warrior 1000 will help you overcome even the most difficult terrain.
Smooth Ride
You can carry a lot of hunting gear on this bike and it is rated for a 300-pound load carry.  It is made of a stainless-steel chain that won't rust and will hold up to the elements. A spring Coil Hydraulic Suspension will provide a smooth ride while hitting the trail.  The Warrior comes standard with a 48v/11.6ah Panasonic battery and can last up to 20miles.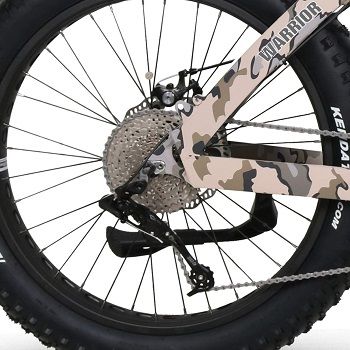 Other Features
The bike has also a  digital display that will help you keep track of battery life and some other useful information. The bike is stealthy and quiet in every way, and you can ride it as a normal bike or the one with 5-level pedal assist.
Specifications:
powerful motor
smooth ride
hydraulic suspension fork
quite
digital display
Best Electric Mountain Bike For Hunting
LANKELEISI 26″ Fat Tire Folding Electric Bicycle
Excellent Functionality E-bike
This electric bike offers you great features that ensure excellent functionality. This bike comes with a foldable design that is made of ultra-light aluminum. This means this e-bike is also easy to store and less-space consuming.  It is suitable for height between 165cm and 195cm.
Motor And Battery
The bike is equipped with 48V*1000W Brushless Hub Motor that is specially designed for Fat Cruiser E-Bike. Also, there is a 48V 10Ah Lithium-ion battery with US standard DC 2.1 smart charger. It takes 5-7 hours for the battery to be fully charged. With those, you can ride up to 50 km with speedo up tp 45km/h.
Comfortable Riding
The high carbon steel suspension ensures a comfortable riding no matter the terrain of the area. The bike uses 3 riding modes. You can choose between pure electric mode pure manpower mode and pedal assist mode.
Other Features
The bike comes with a smart LCD that shows the distance you have ridden, the speed per hour, and the remaining battery capacity. Some model comes with a faster charge but this large capacity Panasonic battery provides a longer runtime. Even tho this bike doesn't have some extra bag or basket It supports more than 150kg, so you can carry some items with you while going on a trip or a hunt.
Specifications:
great features and functionality
strong motor and long-lasting battery
display
3 riding modes
Best Fat Tire E-bike For Hunting
Aostirmotor 26″ tire Electric  Bike
Nice Sport Look
This nice sport electric bike comes in a nice black color with white and red lines. It weights around the 90 lbs and with upgraded load capacity, it is suitable for people weighing up to 300lbs.
Aluminum frame and Anti-sip Resistant Tire
This bike is made of aluminum frame and has anti-slip wear-resistant tire and alloy suspension fork, which is good for complex terrain and it is reducing bumps, giving you a more comfortable experience.
Strong Motor And Removable Battery
The bike is equipped with 1500w motor with the strong driving force and endurance and large capacity 48V 15 AH lithium battery. The battery is removable and supports 31mph speed with charging time 4-6 hours. You can ride up to 26 miles.
LCD Display
The bike also comes with a big multifunctional LCD display. This little computer shows you any useful information that you need when driving such strong vehicles, such as speed, power, PAS, and motor.
Other Features
It has 3 working modes, e-bike, pedal-assisted, and normal pedaled which improves your riding experience. Because of the fat tires, you will have no problem cruising over beach snow or dirt. Even with great feature, it doesn't seem to have any headlights which mean is better using it during the day.
Specifications:
nice-looking
strong motor and battery
LCD display
3 working modes
Conclusion: Which Two Best E-bikes For Hunting You Should Buy? 
Even listed best electric hunting bikes are more expensive, when you compare quality and quantity,  an electric bike is a good investment, especially if you are a big fan of hunting fishing and camping. I would recommend the QuietKat Bandit because it is a strong e-bike with folding and portable features. It offers comfortable riding, the bike is quite and has 3-speed cycling does. Een small this bike can carry up to 300 pounds. The second hunting electric bike I would recommend is Recon Ranger bike which is fast, affordable, and quite. The bike drives good mid-drive motor and has additional storage for your items.
If you think these are too expensive electric bicycles for you, check my other post about the affordable e-bikes. If you like faster electric bikes article about the best fast electric bikes, but if the type of an electric bike is still unknown to you, read this article about the best electric bikes on the market.