Best 5 Electric Tricycles (Trikes) For Adults In 2022 Reviews
Are you looking for electric bikes on 3 wheels?
If so, read this article about the best electric tricycles for adults. Before going into details, you will learn more about 3-wheel e-bikes, what are their advantages and disadvantages and in the end, you will decide if this is the right electric bike for you.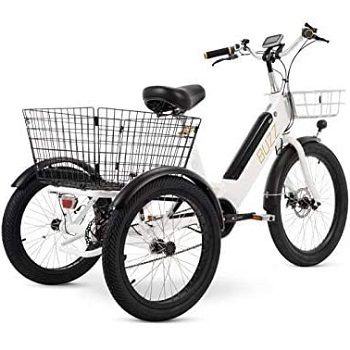 Things To Know About The  Electric Tricycles
Three-wheel Electric Bicycles
3-wheel electric bikes are usually called electric tricycles. They come in a range of designs and some of them look like two-wheeled bikes with changes to accommodate a wider axle and rear wheel. Some of them are supporting the rider in a chair seat with a low frame. Also, there is an option of buying a conversion kit for people that want to compose the trike by their own needs.
They Are More Stable
Electric tricycle for adults should be very stable since they have 3 wheels. it means you don't need to position yourself forward to balance the bike cause it will not trip over easily like the 2 wheels bikes. They are more powerful when it comes to climbing hills and you don't have to worry about the balancing.
They Can Carry Heavy Weights
Those bikes are usually heavy and can carry many heavyweights and also can be fitted with large cargo packs. Some of them also have 2 baskets so you can also do shopping or picnic with it. Some recumbent trikes rider low to the grounds so it can occur visibility problems. Because of that, many riders use a flag at the top of their trike to make them more visible.
Less Portable And More Difficult To Handle
Many trikes have a wider wheelbase which is making them less portable in traffic roads. Also, the wider position of this e-bike can be more difficult to handle, especially while turning the vehicle. They can more easily handle faster than lower speeds.
5 Best Electric Tricycles For Sale Reviews
Best Cargo Electric Tricycle
Emojo Caddy Pro Electric Tricycle
Battery Range
This practical electric cargo bike has a battery that can ride for up to 45 miles on one charge. To fully charge the battery you have to leave it for 4 to 6 hours. It has a capacity of 48V / 15 Ah. It weighs around 70 pounds and it can carry up to 320 pounds. It is a strong and stable bike that will get you safely and quickly wherever you want to go.
Oversized Basket
This is a perfect cargo bike for picnics, day trips, grocery shopping, or pet rides. There is a front basket that gives you a more practical place for your bag, phone, and other items. In the back is a bigger basket that can hold all of your other items. It is practical and easy to use e-cargo bike.
Stable And Safe Construction
The frame on this bike is made with a strong and stable aluminum alloy. It has a suspension fork for a smooth ride. It is a comfortable bike that every user will enjoy. It has 7 speeds that you can easily adjust to the outside circumstances and your personal preferences.
Excellent Motor Power
The motor power on this electric cargo bike is 500W. It can speed up to 23 mph which is powerful for these kinds of bikes. The powerful battery can hold you up and ride with you up to 40-55 miles. That is if you use only pedal assist mode.
Size And Dimensions
The front tire on this bike is 4 x R24 and the rear tires are 4 x R20. The overall dimensions of this bike are 78.5 in length, 29.8 in width, and 47.6 in height. It comes in white and black color combination which will suit everyone for any need. It is great for everyday use and you can even take it on long runs.
Specifications:
Powerful 500W motor
Quick charge
7-speed transmission
Max load capacity up to 320 pounds
Basket in front and the back
Best Road Electric Tricycle
Viribus Electric Tricycle for Adults
Easy To Ride
This electric tricycle comes in two colors, you can get it in black and in white. Also, you can choose between 24″ and 26″ size to completely adjust it to your height.
Removable Battery
This electric mobility tricycle for adults is equipped with a 36V 10A lithium battery. It comes with integrated storage, and you can charge it on or off the bike. The battery life should last up to 20 miles on a single charge depending on terrain and other conditions.
250W Motor
This bike comes with 250watt motor that can hold you and at a 10% incline. The weight capacity is 220 lbs so you can put a couple of belongings in the back too. The max speed of this bike is 15.5 mph.
Large Rear Basket
This bike comes with a rear baskets that allows you to carry items or even your pet inside. The basket is large, but it doesn't have a cover so if you put many small things inside and don't tie them they could fall out.
Specifications:
simple to ride and use
large rear basket
removable battery
250w motor that can go up an incline
Best Fat Tire Electric Tricycle
Culver Bikes Pro Electric Tricycle
Aluminum Body
This trike comes in white color and adapt the 6061 aluminum alloy frame. There are also aluminum handlebars and paddle. This bike weighs 70lbs and can carry heavy riders up to 320 lbs.
Battery
The 48v/15ah lithium-ion battery is placed in a sealed removable pack behind the seat and can take you up to 35 miles. Also, it can be fully charged for 4-6 hours.
Motor For All-terrain Riding
Bafang 48V*500W Front Hub Brushless Motor comes with half twist throttle for extra speed and it is specially designed for all-terrain riding. This bike can take you up to 55 miles by using level one pedal assist.
Other Features
The bike is equipped with Kenda fat tires, aluminum suspension fork, and mechanical disc brakes for safe stoping. This adult e-trike is perfect for carrying heavy stuff, so you can easily pick your supplies with you when going in shopping or picnic.
Specifications:
aluminum body
600w motor with half twist throttle
Kenda fat tires
perfect for carrying
Best Electric-Assist Tricycle
EWheels Pedal-Assist Electric Tricycle
Aluminum Alloy Frame
This read colored trike adopts the low step-thru frame made of steel. The bike has a pretty good weight capacity of 400 lbs. It is one of the basic models on the makret as you can see it from the simple design.
Storing Items Baskets
Just like most tricycles, this one also comes with two baskets. A large rear basket is perfect for storing your groceries and shopping duties, and the front basket gives you more space to put even smaller items like your purse, wallet etc.
500w Motor
The 500w hub motor has great power to reach speeds up to 15mph. You can ride aproximately 20 miles on a single charge, but that depends on the type of terrain and the weight of the rider. But, you can also pedal it if you want thanks to the pedal-assist mechanism.
Great Choice For Seniors
The great thing is the comfortable oversized seat with backrest, so you don't have to think about the back pain. This bike is a great choice for seniors because it provides good stability and comfort.
Specifications:
steel frame
front and rear basket
backrest seat
comfort and stability
Best Commuter Electric Tricycle Conversion Kit
Electric Adult Trike E-Bike Complete Conversion Kit
Make Your Trike
If you want to have an electric trike you can adjust to your need, this complete Schwinn meridian electric conversion kit is the perfect choice. It is perfect for city riding and comes with affordable price. You can also choose the size of the wheel you like the best.
Suitable For Seniors
This kit is suitable for seniors because of the adjustable power and speed options. It comes with DC brushless geared front hub motor and LI-ion 36v battery with LG cells. You can reach up to 32kmh without pedaling and recharge the battery for 5 hours.
Display
The display is a great feature for knowing your bike. You can read the pedal assist level, charge level, speed, distance, odometer, temperature, motor power, battery status, and others. Also, you can lock it with a security password.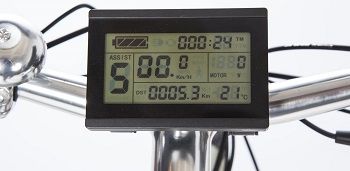 Other Features
You can choose 5 levels of pedal assist and use throttle on demand for more speed. Also, there are safety brakes that have a waterproof connector. This kit also has a seat post mount with an easy key lock and portable controller.
Specifications:
suitable for seniors
good stability and support
5 levels of pedal assist
display
Conclusion: Which Two Electric Trikes You Should Choose?
Between listed electric trikes for adults, I would recommend the Emojo Caddy trike and Viribus cargo electric bike. Viribus is a transit-friendly bike that comes with a lightweight frame and oversized baskets where you can store many items. Kenda tires and Tektro disc brakes provide good stability and stopping power. Emojo trike adopts aluminum alloy frame and can carry u to 320 lbs. It has 2 baskets that give you enough space to store your items. This electric tricycle for adults has a 7-speed transmission system and a backrest seat that makes him perfect for older people. The bike provides stability and comfort.
If this post was useful for you then check another article about the best electric bikes for the sale. You might also like the e-bikes on 2 wheels that come with extra storage space, so check this article about the best electric bikes with baskets. But, if you are more interested in heavy-duty electric bikes read about them in this post about the best heavy-duty electric bikes.