Best 5 Lightweight Electric Folding Bikes To Buy In 2022 Reviews
Are you searching for the best lightweight folding bike on the market today?
Folding bikes have revolutionized what bikes can do. With folding e-bikes, you can take longer commutes and reliably take your bike in all public transit. And as the name suggests, you can fold your bike easily and store it in your home or office. The best folding ebike folds down fast and securely. They're relatively lightweight and comfortable to ride. Even then buying a lightweight folding bike is a major decision. So, to help you find the right one for your needs, we'll look at some of the most important things you should consider when choosing your bike.
How to Find the Best Lightweight Electric Folding Bike?
What's A Folding Bike?
A folding bicycle is a vehicle designed so it folds down into a compact form, which makes it easier to store away, carry or fit into places that you can't normally take a regular bike. The folding methods of a folding bike vary depending on the bike's components. Also, the bike design and folding methods let you choose a faster assembly. As such, a compact build, different weights, and other variances can help you differentiate between the brand and type you want. While folding bikes are rather inexpensive, you can easily store them in smaller spaces.

Folding Bike Types
The folding feature of these bikes offer riders many benefits. For instance, Hikers/Mountain bikers can add a folding bike to their arsenal whenever the terrain permits. This provides them an efficient way to ride through certain areas especially when there is a descent. Also, commuters can enjoy these bikes since they can easily get on the bus, subway and rail stops. .

Bike Construction
When shopping for a folding bike, ensure that you go for one with a sturdy frame. As such, a robust build lets you ride your bike in different settings. Also, consider getting a bike made from stainless steel or aluminum. The material used should retain its natural appearance for longer since it doesn't rust or corrode. Additionally, make sure the folding bike you choose is a comfortable ride. It should have an adjustable well-padded seat with a comfy inclination.

Bike weight
This is another important consideration when shopping for a folding bike. With a lightweight bike, it means that you can easily carry it on buses, trains, or when walking. Therefore, be sure to consider how you plan to use your bike and the weight you need on the bike before making a purchase. Most foldable bikes are made of aluminum, so weight savings comes from eradicating other features. To help you choose the right bike weight start by deciding on the important features you need in your bike.

Wheel size
The wheel size of a folding bike means a trade between comfort and speed against its compact size. Most wheels range between 16 and 24 inches, however, you can still find extremes like 10 inches and 26 inches. The wheel size you choose will depend on what your needs are. Bikes with smaller wheels tend to be more compact and lighter when folded. Also, folding bikes with larger wheels often roll faster once the wheels pick up speed – but they'll weigh more and can be rather cumbersome to carry on public transport and even haul up the stairs.

Best 5 Lightweight Electric Folding Bikes
Best Lightweight Folding Electric Tricycle (Trike)
3SCORE 750W COMFORT CARGO TRIKE
750-Watt Bafang motor and battery
The motor of this electric folding trike makes it best for seniors. The 750-watt Bafang motor is designed so it generates both speed and power. This motor ensures the 3SCORE trike can perform well and climb hills easily. Plus, its operation is silent as well. Its 48v battery lets you travel distances of 45+ miles. Also, you get a smart charger that lets you recharge your trike in 5 hours only.
Durable Wheels
3Score cargo trike tires make it easier for you to ride on even and rough roads, thanks to its 4-inch-wide tires that give it good stability. What's more, these tough tires can handle inflation pressures of 5 to 30 psi. Hence, you can choose to fill up your tires with less air when riding on smooth surfaces. Alternatively, you can pump them with more air if driving on a bumpy road.
PAS System
PAS (pedal assisting system) feature means you don't have to apply much effort to the pedals to drive forward. You get 5 levels, with each needing a specified pedaling effort. When on level 0, you'll require the maximum effort. Thus, on the 5th level, you'll require the least effort to pedal forward. This feature is excellent for seniors who experience leg pain.
Extra features
The 3Score 750W trike features a 7-speed gear system that you can access when needed and the process is smooth. On the handlebars of this trike, you'll find a large backlit display that features easy-to-read text. The display meter also lets you gauge different factors like speed, distance, battery status, and the max speed limit. Also, this product weighs 49kg and can carry any load weight in its rear large foldable basket.
Specifications:
Aluminum frame

Foldable tricycle

PAS system

750-watt motor

49kg bike weight

7-speed gear system
Best 16 inch Lightweight Folding Electric Bike
ANCHEER LONG RANGE BIKE WITH REMOVABLE BATTERY
Design and build quality
This ANCHEER e-bike folds down easily, feels durable, and is manageable. That's because the bike's frame is made from aluminum alloy and it's centered around a single front tube. With a front fork made using carbon steel this bike weighs 21kgs and can hold weights of a maximum of 150kg (330lb). Along with a comfy padded seat, and ergonomic handlebars—this bike works well for long rides.
Removable battery
The bike's power is stored in a 36V long-lasting lithium-ion battery. With a full charge, the battery runs for 15miles if you aren't pedaling and 30 miles if pedaling. This battery can be found within the frame, which is what makes this e-bike unique. That helps protect the battery from dirt, elements, and other debris while riding and this helps improve its durability. Although the battery can be recharged both on and off the bike, it takes 4-6 hrs to fully recharge.
Speed and acceleration
The bike's acceleration is swift, particularly since this bike has a lightweight frame and an affordable price tag. With a maximum speed of 25km/h (15.5 mph), it's fast enough for commuting in a safe and timely manner. Also, this bike lets you choose no- pedaling mode or use the throttle in controlling the speed. If you don't use the throttle more for over 30 seconds, it'll turn off automatically. So, you'll have to pedal a single cycle to get the machine started.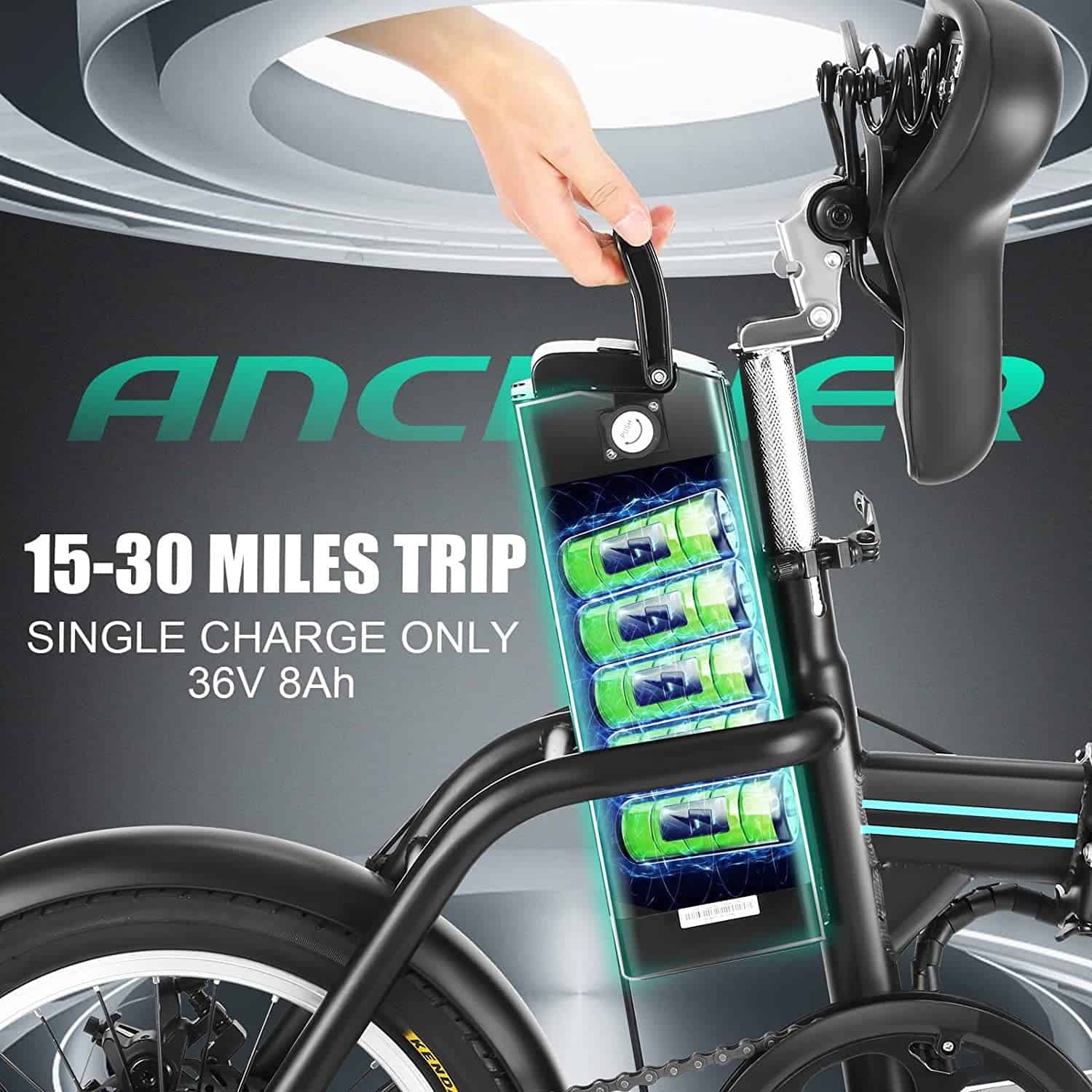 Excellent disc brakes
This ANCHEER folding electric bike uses dual mechanical disc brakes to give you good stopping power even at high speeds. What's more, its brakes are fluid and smooth which ensures the bicycle is responsive enough so it can stop the ride instantly. Overall, this bike works well on the trail and the brakes as well.
Specifications:
16-inch wheel size

small capacity 36V lithium-ion battery

Aluminum alloy frame

21kg bike weight

250W motor

Dual mechanical disk brakes
Best Carbon Lightweight Folding Electric Bike
SOHOO HIGH-SPEED BIKE WITH 250W BRUSHLESS MOTOR
High-speed 250W brushless motor
The SOHOO electric bike is fitted with a high-speed 250w brushless motor. This brushless motor generates enough power to meet your day-to-day travel needs and will get you to your destination fast. Also, this motor can handle occasional excursions. The SOHOO 250W bike can easily ride over hills, daily commute and around the city.
Sturdy collapsible frame
The sturdy frame lets you take your bike on most terrains without needing a bike rack. Since this bike folds up tightly, it can fit in your closet, trunk, and under your desk. Folding this bike down is easy using its two quick-release clamps and it's also what you'll need to open or close your ride. When shopping for a good folding bike, look for one that's light, and small. The SOHOO bike is a lightweight folding bike that weighs 25kg.
3 riding modes
This SOHOO bike has three riding modes: the first is the Variable speed throttle riding mode which allows you to use the bike without having to ride much. Next, you have the Pedal-assist mode and the regular bike Mode. Additionally, when you turn off the power, you can ride this bike in regular bike mode.
Removable 36V lithium-Ion battery
You can recharge the bike's removable 36V Lithium battery on or off the frame. This battery helps power the 250 W motor allowing your lightweight bike to reach maximum speeds of 20-25 mph on a full charge. An Easy Charge Port System lets you easily recharge the battery on and off the frame.
Specifications:
16-inch wheel size

3 riding modes

250w brushless motor

25kg bike weight

Front and rear suspension

Carbon steel and steel frame material

36V/8AH lithium-Ion battery

Disc brake style
Best Aluminum Lightweight Folding Electric Bike
SAILNOVO 14 INCH LONG RANGE WATERPROOF BIKE
Unique foldable design
The SAILNOVO electric bike has a unique design that allows it to fold down in one step. The bike can be folded down into a compact size that you can carry effortlessly to any place. This makes the SAILNOVO 14inch bike a good choice for the daily commute and short trips. Also, this bike uses IPX54 waterproof design that's perfect for rainy riding.
Long-lasting removable battery and long mileage
This e-bike is equipped with a 36V Lithium-Ion battery, with a stable built-in 450W brushless motor which lets you ride with more speed, fun, and freedom. The SAILNOVO ebike can cruise at top speeds of 18.6mph. When you switch to pedal mode, you'll have riding speeds and ranges that aren't affected by motor and battery life. If riding on pure electric mode, you'll achieve a mileage of 28 and 45miles when riding on pedal assistant mode. That helps make your daily commute easier.
High-quality gear and braking system
This SAILNOVO long-range ebike is fitted with rear and front dual disc brakes that offer you the powerful braking power to keep you safe. Along with the 14-inch air-filled tires, the bike's braking system offers you stability for an improved riding experience. The bike's separate braking for rear and front wheels makes your daily commute safe and fun.
Extra features
Additional features on this bike are the LCD screen that helps you monitor your gear level speed, distance, and battery features. Its handlebars use a nonslip bump design, which lets you grip the handlebar firmly and easily control the speed. The fashionable bright LED headlights and taillights allow for easy night riding. Plus, the lights will flash automatically as you brake to ensure your safety. This bike has a total weight of 25kg/55lbs which makes the bike easy to store in tight areas and your vehicle.
Specifications:
14-inch wheels

Dual suspension type

25kg bike weight

36v/10.4ah lithium battery

built-in 450W high-speed brushless motor

25-48 miles max range
Best Ultra Light Folding Electric Bike
SWAGTRON COMFORT BIKE WITH QUICK-SWAP BATTERY
Sturdy adjustable frame and build
The SWAGTRON bike's whole construction is adaptable so that a kid can ride it. When you're talking about the seat setup, you can position it rather low to work for any height to suit the rider. The frame is made using ultra-durable material and can support riders weighing a max of 264 pounds. With a sturdy lightweight frame, this bike weighs 37lbs / 17 kg and uses a triple-fold design which allows for convenient portability.
Removable battery with quick-swap extra battery
This bike is powered by a Lithium-ion battery so you can expect a range of 15 miles per single charge. Additionally, you can use the quick battery swap function to replace the dead battery with a fully charged one. This lets you easily and effectively double or even triple your mileage. When it comes to speed, note that factors like terrain, incline, weight, etc. can impact your bike's performance.
Speed and Acceleration
EB5 SWAGTRON ebike acceleration is quick on flat ground. Also, its performance is at its peak on flat dry ground. You can also obtain the 15.5 miles range when riding at 15 miles/hour if the throttle is completely open. Additionally, the battery life is good with smooth acceleration and swift starting. What's more, stopping is continuously smooth. The EB5 ebike is designed to handle a max of a 30-degree slope. When the slant is too steep, you can use some pedal power for that extra push.
Powerful 250W hub motor
EB5 is equipped with a 250W electric motor that can push you to speeds of 15 mph. Also, you can choose from 3 riding modes, each offering you different power levels. The riding modes are perfect for all riders even a beginner. Also, remember that variables like incline, biker weight, and terrain, will impact your bike's performance.
Specifications:
250W motor

Aluminum alloy frame

15.5 miles maximum range per charge

Removable battery

17kg bike weight
Conclusion: Which Lightweight Electric Folding Bike is Right for You?
Owning a lightweight folding bike offers you versatility since you can take it with you everywhere you go making your commute easier. If you're searching for an affordable bike model on the market then check out the Swagtron EB-5 Folding Bike. It includes a powerful hub motor with a sturdy adjustable design allowing both kids and adults to use it. Also, if you plan to carry a few items or take your pet with you while riding then the 3SCORE 750w Comfort Cargo Trike is a winner and comes with a larger basket for storing items.
If you're interested in affordable bikes, check out the Best Affordable Electric Bikes. Start by identifying what you want in your bike. For riders who plan to carry heavy loads, take a look at the Best Heavy-Duty Ebikes. This type of e-bike is a more powerful vehicle that's housed in a durable frame. Even then, with the many types of bikes on the market deciding on one can be overwhelming. And, if you don't find the bike you were looking for, check out our guide and reviews of the Top 25 Electric Bikes on the market today.