Top 5 Vintage & Retro Electric Bikes For Sale In 2022 Reviews
Are you an old school style fan and you like the electric bike?
If so, then this article about the best vintage and retro electric bikes is perfect for you. Before a review, I will type some general stuff about electric bikes and vintage style. You will learn more about their differences and specifications.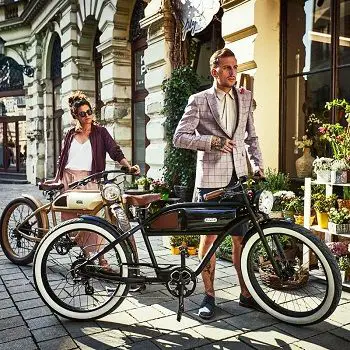 Things To Know About E-bikes
Electric Bikes vs. Regular Bikes
Since the technology is constantly spreading and growing, also the regular bikes were improved with a motor, batteries and many other features which we call an electric bike. The regular bike is a great method of fun, transportation, and recreating but it is hard to take long rides without any sweat and use them for carrying some heavier stuff. Electric bikes give you the possibility to ride faster and safer. You can ride them during the bad weather or on different surfaces. Also, some of them are made to carry heavy weights if you like to go on picnics or shopping.
Types Of The Electric Bike
Despite the large range of electric bikes, making sure you choose the one that suits you the best is really important. I will mention some of the most popular types of electric bikes. Mountain bikes usually have high-performance motor and suspension and offer more versatility for riding. Hybrid bikes are suitable for road riding or even canal paths and bridleways. Some of them have a front fork with suspension for easier riding when you face the bump. Heavy-duty bikes are usually more powerful and heavier since they can carry a lot of weight.
Vintage & Retro Electrike Bikes
Nowadays there are a lot of different styles and many purpose-build types of cycles of electric bikes but like the retro and vintage ones, they all don't have a nice antique silhouette. In its early years, the regular bike was designed to be more useful or practical rather than attractive. Some people were not able to buy a car, so the bike was simple and cheap and effective. Because of that, nowadays, retro bikes mostly have more useful features such as integrated basket and rack, built-in headlaps, or nice chain guards.
Best 5 Retro & Vintage Electric Bikes
Best Electric Vintage Bike With Fat Tires
AZBO Electric Fat Tire  500W  Motor  E-Bike
High-Quality Components 
This all-purpose retro electric bike comes in simple black color and is made of high-quality components. It is easy to use, quiet, and affordable. The antique design with unusual seating and massive wheels makes it unique. Also, it has a bottle holder easy to reach.
Rear Hub Motor
This electric bike is equipped with 48V/500W brushless hub motor and with Shimano 7 speed gear you can choose any speed you like for the riding. It can reach the riding speed of up to 20 MPH.
Long Life Battery
It has 48V/15.6 AH lithium battery which is placed beneath the seat. This long-life and the high-quality battery can be fully charged for  8- 10 hours and you can ride up 80 km per hour.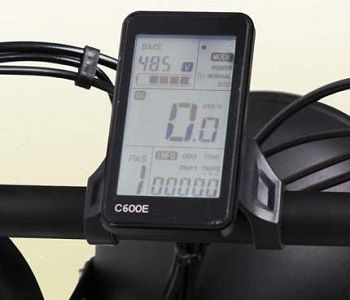 LCD Panel
The LCD panel is included with a 6-assistance level so you can get more control over the bike and know more useful information. It has PAS which is a style of throttle control, speed sensor, speedometer, odometer, and fault diagnosis
Other Features
With new Kenda all-round bike tire are made to set the measure in off-road versatility. It provides fast-rolling and excellent cornering on the wet road. This bike also has good front disc brakes with electric brake levers.
Another good accessorize is a powerful LED headlight and LCD panel with 6 assistance levels.
Specifications:
simple retro design
high-quality components
LCD panel
long-life battery
Best Beach Cruiser Vintage Electric Bike
CIVIBIKES 48V 750W Bafang Vintage Electric Bike
70s Design
This vintage electric bicycle is available in red – black or brown-black color combination. A standard LED headlight makes it looks like a racer bike od the 70s. It also has high and low beam function and daylight indicator function. It has brown leather tank cover and both sides of tank cover are covered with real leather. The black frame comes with a red painted tank cover.
LCD Display
This full-color LCD display is showing you all information you need to ride this electric bike such as do, trip, battery level, and motor output.  You can choose and adjust normal, eco, or power riding mode. There is also throttle and 5-level PSA choice, eco, normal and sport one.  This LCD display is readable even under the strong sunlight.
Material And Bike's Capacity
The bike is made of 100% durable aluminum alloy frame and tank cover is made of high-density ABS material which means it has a strong resistance to corrosive chemicals and physical impacts. The maximum loading weight is 350lbs which is pretty amazing.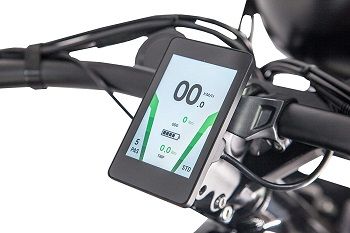 Speed And Battery
This electric bike is equipped with Banfang 750W high-speed torque motor and 48V 17.5 ah Samsung LI-ion battery with big capacity. This waterproof battery is also long-lasting and easy and placed in the "tank". It has a power switch and charging port placed under the cover. With those, you can ride up t 55 miles per charge.
Specifications:
interesting design
waterproof battery
high-speed motor
LCD-display
Best Greaser Retro Style Electric Road Bike
MICHAEL BLAST T4B GREASER RETRO STYLE Electric BIKE
Modern And Antique Design
This black color design with brown details is making it look like it came from 1920′, in the board tracker racer style when they were popular. It is specially designed and the engine and controller are hidden away in the nice designed aerodynamic sleek case. At the same time has an antique and modern design.
Perfect Transportation
This retro-style electric bike looks great with good design and hidden battery and controller. It is equipped with a Samsung Lithium-Ion 36V13Ah battery which has a quick charge. Also, it comes with the Hydraulic Tektro Auriga 6-bolt 160mm front & 160mm rear Disk Brakes making a design using anti-corrosive and environment-friendly mineral oil. Thanks to advanced Lithium-Ion technology it is great for transportation with environment-friendly and zero emissions features.
350W Motor And 5-speed Motor Assist
This bike equipped with 350W Geared Brushless Rear Hub Electric Motor allows you to ride at speeds up to 35k/h and gives you a range of travel of 60km per charge. Also, it has a 5-speed motor assist with 7 speed which is making your ride fast and easy to control.
Other Features
Those super fat tires and comfortable oversized seats are making you feel like you are floating on air.  Hydraulic Auriga brakes are making you stop safely and The extra-large headlamp will allow you to see better in dark and improve your safety.
Specifications:
modern and retro design
environment-friendly
quick charge battery
big light
Best Affordable Retro Electric Bike
DJ Super Bike 750W 48V 13Ah Power Electric Bicycle
Simple Design
This DJ super bike's simple black design making him look a bit of antique.
It is an-all purpose Electrik bicycle made of high-quality components. It is affordable, powerful, durable, and quiet and it will give you perfect riding experience through the city or off-road trails.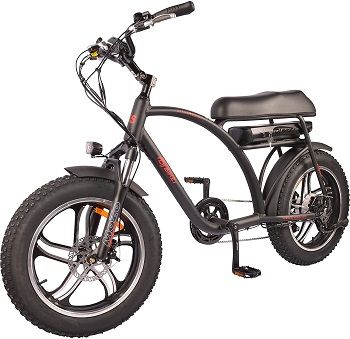 High-quality Material
This retro electric bike is made of aluminum frame and Aluminum alloy integrated wheel. It has tektro disc brakes and mozo fork suspension. Also, it comes with an extra-large and comfortable banana cushion saddle.
Strong Power
DJ bike is equipped with a strong 750W extending to 1000w peak power motor and Samsung lithium 48V 13Ah dismountable with a key lock which it empowers you riding any up long, steep hills. The battery can be also dismounted and charged anywhere and it comes with a safety design to prevent over-charged. Also with the power-assisted speed, you can ride up to 32km/h.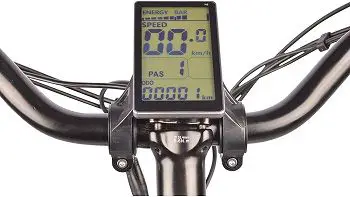 Large LCD Display
An LCD display allows you to know more information about the vehicle. It shows you many useful things such as speedometer, trip distance, and battery status.
Specifications:
simple design
 aluminum frame and wheel
strong power
LCD display
Best Vintage Style Electric Motorcycle
Munrojoy Retro Classic  500W Electric Bicycle Motorcycle
Retro Classic Design
This Munrojoy white-colored bike/motorcycle comes with a retro classic design which reminds on a vintage motorcycle. It is a bit heavier than most electric bikes but it can push high speeds.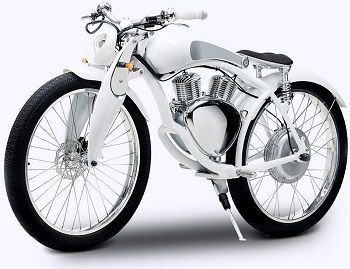 Power And Battery
It comes with an 11.6AH one-group lithium battery which is placed in a V-double cylinder chrome-plated box. It looks elegant and it's easy to use. It has 310-mile extra log battery endurance which allows you a long ride trip. The 500W 48v powerful motor provides a balance of speed and stability.
LED Dashboard and Headlights
It has an LED display which is made of high- temperature feature and strong material. You also can get some useful information about your bike such as battery status, riding distance, etc.  The strong LED headlights are improving security when riding in the evenings.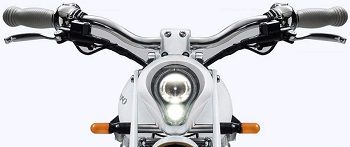 Other Features
It has features of Classical style, exquisite made, gothic shock absorption, which you can adjust for the comfort LED display and it is power saving. It is made of strong material and aluminum alloy frame. It also has a USB charging port, DOT certification, two battery engine chambers, and GPS  which is is a satellite-based radio navigation system.
Specifications:
strong body
classical-styled e-bike/motorcycle
Led display
Led lights
Conclusion: Which Two Vintage & Retro Electric Bicycle You Should Buy?
Those retro electric bicycles come with a unique old-fashioned design and are made of high-quality material with interesting features. Even though a bit expensive they are a great choice if you like an antique design. The 2 ones I would recommend are the  Azbo Electric bike and Michael Blast bike. The AZBO bike is affordable and comes with high-quality components. Antique design and unusual seating with massive wheels are making it unique. It also has a long-life battery that can ride u up to 80km/h. The Michael Blast has both modern and antique designs and strong battery with quick charge. It is environment-friendly and really comfortable.
If you think these vintage e-bikes are not the right bicycles for you, check my other post about the beach cruiser bicycles. But, if you are willing to spend some more money for an expensive good-quality electric bike with special design, read my other post about the best electric recumbent bikes.