Best 5 Heavy-Duty Electric Bikes You Can Buy In 2022 Reviews
Are you looking for a heavy-duty electric bike?
If you are already using an e-bike or you want something that can improve your fitness level, then read my article about heavy-duty electric bicycles.  You will learn about their types, specifications, and performance. I will type about the best 5 choices of heavy-duty electric bikes and after you read the article I hope it will help you decide which one is the best for you.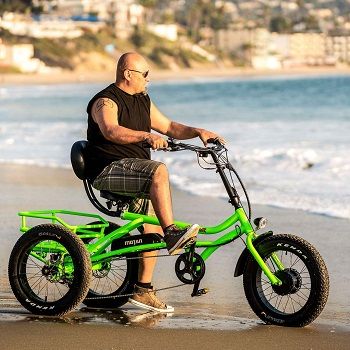 Things To Know About E-bikes
What Is an Electric Bike?
An electric bike looks like a regular bike but with a motor-assisted ride. There are a lot of different types, designs, sizes, models, and combinations of battery and motor types, and that's why electric bikes are a good choice for people of all ages.
Heavy-duty Electric Bicycle
These electric bikes are designed for large or overweight riders and also some of them are good if you are using it for carrying some equipment or more heavier items. They often have a huge weight capacity, wider tires, more powerful motors, and battery, and stronger frames. Also, they are good to retrieve fitness to overweight people.
More Powerful Equipment
Like every other product, this e-bike comes with some advantages and disadvantages.  The good thing is that this type of e-bike should have better and powerful equipment, durable frame and stronger brakes, also there may be some extra suspension on the seat. For example if you like camping or hunting the mounting e-bike would be ideal since they can carry up to 330 lbs and has the best braking system and stronger tubes.
Usually More Expensive
Some of the cons are that this bike is usually strong and sturdy and bigger-sized, so you will have to store it in some bigger room when you are not using it. Also electric bike cant keep the same speed for a long time. Since it is more durable and better-quality, you will have to spend more money on it.
Best 5 Heavy-Duty Electric Bikes You Can Buy In 2020 Reviews
Best Mountain/Hybrid Heavy-Duty Electric Bike
Schwinn Sycamore Mountain/Hybrid Electric BIKE
Nice Sport Comfortable Design
The bike comes with a nice black and silver color sport design. It has Schwinn Quality comfort seat and ergonomic grips and aluminum dual-sport frame with SR Suntour NEX suspension fork. Also, the predictable control and plainness, and the power of the motor make the riding comfortable and efficient.
Versatile Use
This Schwinn Sycamore electric hybrid bike is versatile and fun to use. With it, you can easily do bike paths, trails, or climb the mountain roads. The integrated motor activates when you pedal and gives u extra help at a level you want, which you can control with a thumb on the handlebar.
Handlebar Display
The nice and useful accessories are a handlebar display. This LCD display provides many features like battery life, MPH, and 5 assistance levels to choose from up to 20 mph which makes the control of your ride even better.
Battery And Speed
The bike comes with an 8-speed Shimano drivetrain with trigger shifter and rear and front alloy mechanical disc brakes, which makes your ride more durable and smooth. The removable battery has long durability and interesting thing is that you can recharge it with an ordinary household outlet. The battery will hold up to 45 miles and can be recharged in 6 hours. But if you want an extra battery they do not seem to be available online.
Specifications:
versatile and fun to use
LCD display
8-speed Shimano drivetrain
removable battery
charge with an ordinary household outlet
Best Heavy Duty 3-Wheel Electric Bike
Addmotor Motan M-360 Electric Tricycle Beach Snow Bicycle 
Red And Green Color Design
The design of this electric tricycle comes in red and green color. It should be very  stable and comfortable since it has a big saddle with sturdy and adjustable supporting backrest so you can ride longer without any pain. Also, it should be great for people with larger bodies.
Safe And Adjustable
This heavy-duty electric bike comes with an M-360 feature and 160mm rear and 180mm front disc brake which makes your stoping easier and safer. It has pretty big headlight with horn and rear taillight with brake light which is providing safe ride at night since it is active when the brakes are applied.  The good feature is that this bike comes with a folding handlebar, so that means it takes less space for storing it when you don't ride it.
Heavy-Duty Feature And Removable Battery
This bike comes with rich-cargo and heavy-duty features which means it is perfect for bigger people and its adding extra support for balancing the vehicle. It can carry a rider with a weight of up to 350 lbs. Also, heavy loads come with a sturdy alloy frame. The 14.5AH lithium-ion Panasonic battery is removable and u can recharge it for  4-5  hours.
Useful Accessories
A headlight is powered by the main battery and you can control it with 5 inch LCD display. The display is placed in the center and it is adjustable for any angle you want, also you will have no problem seeing it in direct sunlight. If you are taking your mobile phone with you, this bike has a USB port on the bottom, so u don't have to be afraid if you forget to recharge it at home. Another interesting feature is that this bike comes with a rust-resistant chain and water-resistant connectors and wiring harness.
Specifications:
rich-cargo and heavy-duty feature
safe and comfortable
adjustable
water and rust-resistant
Best Heavy-Duty Electric Mountain Bike
Ancheer 500w/200w electric mountain bike 
Strong Body And High-Quality Material
This nice looking mountain electric bike is made of high-quality materials and has a strong body. The handlebar is made of aluminum alloy and fork is made of carbon steel which means this material can carry heavyweights on the rough terrain.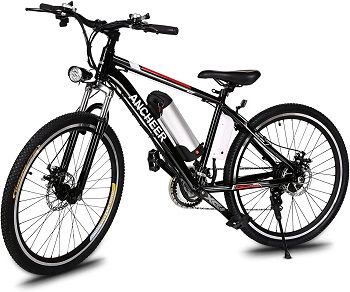 Mileage And Working Model
This e-bike has 3 working models; e-bike, assisted bike, and a regular bike. Since it has a charge port system, it can be charged easily. Lithium 36V 8Ah battery is environment -friendly and fully charged can give you to ride up to 50 km. Also, you can travel at the 15mph speed thanks to 250W high-speed motor.
Brake And Gear Shift System
The Ancheer bike comes with dual-disc-brakes that protect your safety fully, and you can choose any speed thanks to a 21-speed transmission system. You can travel in the evenings since this bike is equipped with an LED headlamp. Also, there is a 3-speed meter button that allows you to configure the power of the pedal-assist. The high-level will give you faster speed while using pedals.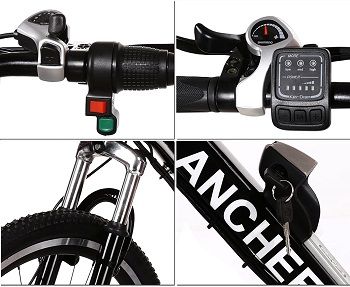 Improved Comfort
If your comfort is a top priority, this bike is a good choice because you can adjust the length and the angle of the handlebar. Also if you have back pain, a shorter stem length will put the bars closer and u will be in a more comfortable upright position.
Specifications:
strong body
high-quality material
improved comfort
21-speed transmission
Best Heavy-Duty Fat Tire Mountain Bike
Cyrusher XF660 1000W Electric Mountain Bike
Made Of Safe Materials
This nice looking mountain bike has drawn a lot of many good compliments. Fat tires are making the ride more stable and safe. The materials this bike is made of are using anti-exposure safety painting materials and all products passed CE certification which means they have health, safety, and environmental protection standards.
Braking And Driving
The driving is more stable and suitable for many road conditions such as snow, mountain road or beach thanks to the size of the tires. The bike has 7 speed system and dual hydraulic disc brakes so you can choose riding speed which you like.
Super Long Riding
This e-bike has an excellent 48v 13ah lithium battery making your ride last longer, up to 35 miles. The charging is easy and has two ways, you can remove it or directly charge it on the bike.
Motor Power
This bike carries the 1000W high power motor which is brushless, faster,  less noisy, and perfect for all road conditions. Powered with 48v battery you can travel up to 35 miles for the maximum speed of 25mph.
Smart Computer
This bike has an extra cool feature which is a smart computer on your steering wheel. It is easy to use and it has a bigger screen. Also, it can be helpful for riders and give you more information such as total Miles, Speed, Riding Times etc.
Specifications:
fat tires and safer ride
longer riding
suitable for any road conditions
smart computer
Best Heavy-Duty 3-Wheel Cargo Electric Bicycle
Culver Bikes Pro 500W Electric Tricycle
Design Details
The Cargo white-colored bike has an aluminum frame, handlebar, fork, and paddle. Since it rides on 3 wheels is more stable and also has a big rear basket which is good for picnics or to store your items and groceries and the front one which gives you even more place.
Electric System
This vehicle runs on a Bafang 48V*500W front hub motor which is specially designed for snow or beach terrains. The 48V*14.5 AH lithium battery is stored in a sealed removable pack with charging time 4-6 hours. Fully charged it can power the ride up to 35 miles.
Ideal For Carrying Heavy Stuff
As already said, three wheels, quality aluminum frames, and suspension fork cushion provide more stability and safety to ride.  This e-bike can carry weigh up to 320 lbs and with 2 baskets makes it perfect for carrying heavy stuff.
Other Features
Culver bike has pro freewheel 7 speeds and you can ride up to 55 miles using the level one pedal assist. It also has a 5 inch LCD display and good headlight to give u a safe night ride. Another good feature is definitely a rust-resistant chain and aluminum suspension fork when you encounter bumps.
Specifications:
powerful engine
2 baskets
carrying heavy items
more stability
Conclusion: Which Two Best Heavy-duty Electric Bicycle You Should Buy?
Even it is hard to choose and every listed heavy-duty e-bike is pretty good I would recommend the Addmotor Motan Tricycle and Cyrusher Electric Mountain Bike. The first one is a good choice if you like more 3 wheel electric bikes, it is more safe and adjustable. It can carry heavy weights and have many useful accessories, also it is water and rust-resistant. Cyrusher electric mountain bike is a good choice for you if you are nature-friendly oriented since it has products made of safe materials. This bike is perfect for mountain roads and has a high power motor and long-lasting battery. It is also safe because of fat tires. I hope this article will help you decide which is the best electric bike for you.
If you want to find out more about other best models on the market and learn more about the electric bikes, in general, you should check this article about the best electric road bikes. Also, read this review about the 3-wheel electric bikes, or if you are more interested in folding options, read more about them in my article about electric folding bikes.