Best Electric Recumbent Bike (Bicycle) To Buy In 2022 Review
Should you buy an electric recumbent bike?
Only you can answer that question but considering that you are reading this, you are probably thinking about it. Find out what are the benefits of e-bike recumbent and pick your favorite from the list of the tom electric recumbent on the market.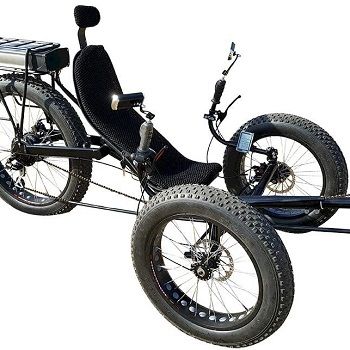 Buying Guide For Electric Recumbent Bikes
Types Of Recumbent E-bikes
There are two main types that you can choose from when it comes to electric recumbents. The first option is Delta which has a higher seat, one wheel in the front, and two in the rear end. They are great for carrying groceries and other items. Tadpole bikes give you more stability and speed. They have a lower seating area and two wheels on the front end.
Electric Motor Of The Recumbent E-bike
These bikes also started like regular bikes that you can use only by pedaling. Nowadays you can find different motors on these bikes that can help you when you are struggling. There are three different kinds of placement so you can choose from hub motors (front or rear), mid-drive motors, or a complete wheel system.
Comfort Of The Electric Recumbent
Whenever you are spending a lot of time in one position without much movement it is crucial that it is comfortable. That is the main advantage of the recumbent bikes.  These bikes are easier on the body and even if you have difficulties with legs, hips, or back, there are recumbent bikes that can help you feel comfortable and be able to ride the bike.
Best Electric Recumbent Bikes
Best Electric Recumbent Tricycle
Fat Tire Electric Recumbent Tricycle
Quality Materials
The frame on this electric recumbent tricycle is made from high-quality carbon steel. It is a strong and durable material that can carry a lot of weight and still remain lightweight. The pedals and rim are made from aluminum alloy. It has a soft cushion that will make your riding comfortable even after a long route.
Size Of The Tires
This is an electric recumbent trike made to be used on hard and demanding terrains. It has three fat tires. The front ones are 20 x 4 inches and the rear one is 26 x 4 inches. It is made so you can easily ride the bike on the mountain trails, snow, beach and it will provide you with a pleasant ride on the flat roads.
Other Equipment
There are some other items that can make special and better than the others on the market. The Fat Tire Electric Recumbent Tricycle has BB5 disc brakes that are reliable. It also has a 7-speed shifter from Shimano and Shimano speed cassette. It is fully equipped and practical to use. 
Motor Characteristics
This bike is equipped with a DAPU motor of 48 V and 750 W power. It is a rear hub brushless motor that can take you on long rides. You can also go with the 1200 W power booster. It is a powerful motor that is durable and can last you a long time. It is not heavy and it is not loud.
Battery Specifications
The battery on this electric recumbent tricycle is 48 V 15.6 Ah lithium-ion battery. It has LG cells and you can remove it from the bike when you need a recharge. It is a much powerful battery than on some regular electric bikes. There is also an LCD monitor in the front so you can see the status of the battery and other specs.
Specifications:
Carbon steel frame
Aluminum alloy pedals and rim
Shimano gears and cassette
LCD monitor
Conclusion: Are You Ready To Buy E-bike Recumbent?
If you like riding a bike, why not try something different? Electric recumbent bikes are comfortable and they give you more space and flexibility. It is a great form of transportation and you can find the one that has a powerful motor and that can take you on a long and demanding trip. One of the best bikes you can consider is the Fat Tire Electric Recumbent Tricycle because of the strong tires.
There are more articles and reviews that you can read and learn more. One of them is an article about the new electric bikes for sale. You can also take a look at the post about an interesting subject of folding electric bicycles and there is also a review of the best e-mountain bike.