Best 5 Electric Bikes For Seniors To Buy In 2022 Reviews
Are you looking for an electric bike for seniors?
If so then read my article about the best senior electric bikes for sale. Before the review, I will talk about the things to keep in mind when buying an electric bike for older people. What specifications and features it should have, so it will help you decide which one is best for you.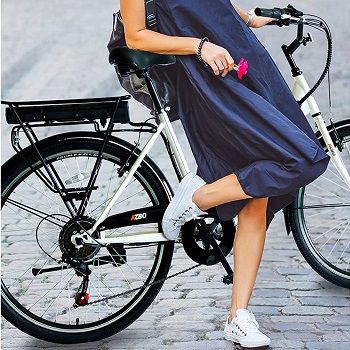 Best Electric Bike For Seniors Offer
Keep Exercising
Every older person doesn't have to end an active lifestyle and because of the mental and health benefits of electric bikes, seniors should also get a one, especially if they don't have a driving license, or live in a big, traffic city.
Health and Physical Benefits
An electric bike benefits seniors by offering an accessible activity. More activity means more physically straining and health and e-bike may offer a better brain boost than a regular bike. For older people exercise is very important to increase the strength of the muscles, bones, and it is reducing the risk of diseases. Cycling is an exercise with smooth movements without putting any stress on the body.
Improved Features For Comfortable Riding
Riding a bike for older people is not always top activity because it usually includes some possible injuries but the e-bike with electric components gives them a long ride without any issues involving stamina. Also, those bikes have some improved features for more comfortable riding experience.
Top E-bike's Features For Seniors
For seniors, the best bikes would be with a swooping lower step-through frame so they can get on and off easier. The forward pedal design allows you to put both feet flat on the ground. The older people don't need the most powerful motor with high speed and the 250 W motor should be enough for typical everyday riding. It is a good feature when your body gets too tired and the bike does all work for you. Also, you should consider a lightweight bike.
5 Best Electric Bike For Seniors
Best Senior City Electric Bike
AZBO City 250w Electric Bike
Lightweight And Adjustable
This lightweight electric bike comes in white color and is made of a sturdy aluminum alloy frame. The whole bike weighs in at 64 lbs and it has qualities of a mountain bike. It has an adjustable bike bell, headlight, and soft saddles for more comfort and easy-control grip.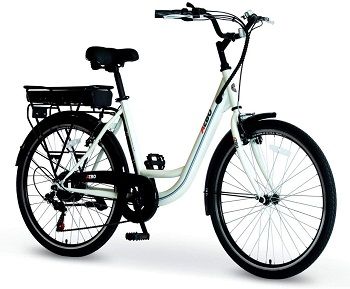 Motor And Battery
It is equipped with 250w brushless rear hub motor which is pretty enough to get you at speed of 15MPH. It also comes with high quality 36V/7.8AH lithium removable battery placed behind the seat, and with the 7-speed gear you can choose any speed you like and with full charged battery travel for 4-5 hours.
City Bike
This bike is an all-round city bike and it is providing good cornering and braking traction even on the wet roads. Thanks to AZBO tire it proves grip, stability, braking power, and low rolling resistance. The bike is powerful, affordable, durable, quiet, and easy to use which is a big plus for senior people.
Other Features
This bike has a long-life battery with quick charge and a removable battery case. It provides more comfort with the oversized ergonomic supportive saddle. The steering wheel is enriched with the front headlight and adjustable bike bel and battery indicator.
Specifications:
quiet and affordable
lightweight
long-life battery
easy to use
comfortable ergonomic seat
Best Senior Fat Tire Electric Bike
Addmotor Motan Fat Tire Electric Trike
Ideal For Larger Riders
This e-bike is a bit havier it comes with three-wheel and fat tires which makes the riding safer. It has sturdy aluminum alloy frame. It s designed to fit people up to 6'6″ and it can carry up to 350 pounds making it to be an ideal option for larger riders.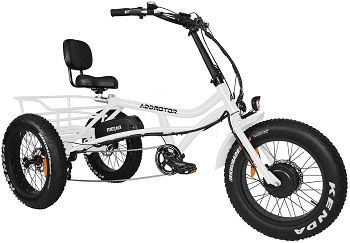 Perfect For Hauling Supplies
An oversized rear cargo bin is great for hauling supplies, but you will have to use a bag in it because it is only a construction. You can store your groceries or give your pet a ride because it can hold almost 100lb.
750w Motor
Bafang 48V 750 Watt Brushless hub motor you can ride for 55-65 miles, depending on the terrain. The motor is located in the front wheel and you can even go up an incline with this tricycle. Thanks to fat tires is allows you riding through mud too.
Removable Battery
This e-bike comes with a 48V*16 AH Lithium-ion Battery placed in a sealed removable pack. Thanks to its center location, it improves the overall stability of the bike. Depending on battery status it can be fully charged 3-4 hours.
Other Features
The trike is equipped with two lights, one in the back and one in the front so you can be sure you will see and be seen in the dark. Also, the electric assistance feature is great for older riders.
Specifications:
3 wheel
perfect for storing items
ideal for larger riders
rear and front lights
Best Senior Folding Electric Bike
SWAGCYCLE EB5 Plus Folding Electric Bike
Foldable e-bike
Even though that Swagycle Pro is small it has footpegs positioned in a way that most people should find comfortable, the seat is comfortable and suited for long rides. Controls are very easy to use. This bike is designed like a foldable electric bike and it is better for stronger older people.
Comfortable and Adjustable
This bike is petty comfortable to ride since it as adjustable seats and handlebars at you can give a 360-degree twist. The handles also have a unique shape that allows the wrist to rest while riding.
Battery And Power 
The bike is equipped with a US-based wall charger/power converter settled in the bottom of the bike's body which is also water-resistant. It has a low charging process and comes with a 36v lithium-ion battery. With it you can ride up to 15 miles on a single charge.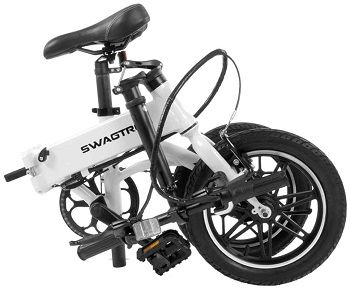 Control Of The Bike
The handlebars have a few different controls that include an on-off button, easy to use. It has a pedal-to-go mode which is similar to pedal-assist but it works in a way when you begin to pedal the motor is engaged and when u stop the motor stops a w seconds after.
Pros And Cons
This bike is comfortable for long-distance rides and has a long-lasting battery. It is highly adjustable and versatile and you can store it anywhere when not riding it. Even tho this bike is not the best for big jumps or heavyweight people.
Specifications:
foldable bike
long-lasting battery
small but comfortable and adjustable
easy to use
Best Senior Cargo Electric Bicycle
Nakto 26″ 250 W Cargo E-bike
Standard City Bike
This full, normal-sized 26″ e-bike comes in simple black color. Some people call this is a women's bike these days any bike can be anything it wants. This one has many features that should be good for older people. It is a standard city bike with a suspension fork that makes it more comfortable on light trails. Also, it has a front basket where you can carry some items and strong bright headlight.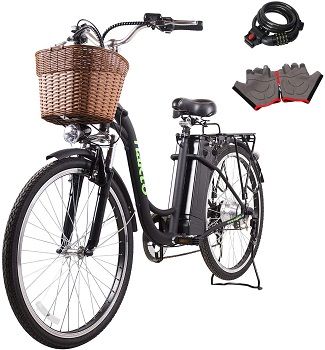 Good Performance
The bike rides with 250w motor with great performance. It only has one pedal assist level but it is fine considering to bike's price. The Shimano 6-speed drive train helps with pedaling on the hill climbs.
Comfortable And Lightweight
This electric bike is made of high-quality material. It has  high-strength carbon steel frame and front fork that comes with comfort shock absorption. It also has a comfortable seat and simple but effective brakes for affordable prices. The bike gives an upright seating position and it is comfortable enough for all of my riding.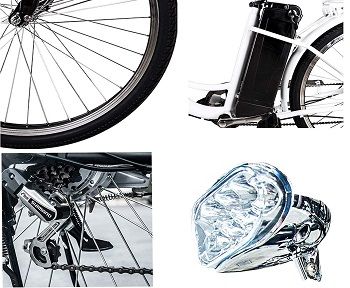 Long-Lasting Battery
This bike is equipped with a 36V*10AH lightweight lithium cell battery that is placed in a sealed removable pack, and with PAS function it can save 70% energy during cycling. It has a US standard smart charger and with a fully charged battery, you can easily ride up to 45 km.
Specifications:
long-lasting battery
comfortable
anti-slip resistant tire
good performance
Best Senior 3-Wheel Electric Bike
Mini Folding Electric Tricycle
Mini Black And Red Coloder E-bike
This mini black and red-colored electric bike is easy to fold and has 3 wheels which give more stability making the bike more flexible. By design, it looks like a mobility scooter used for older people and ones with mobility difficulties so it is suitable for seniors.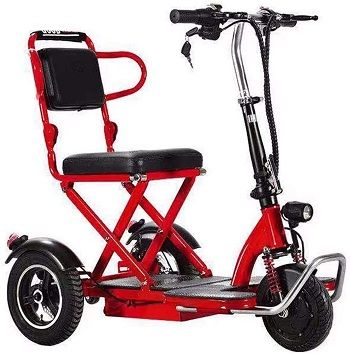 Foldable And Adjustable
This bike is easy to fold and should be good with older people in better form. It is made of aircraft-grade aluminum and has a comfortable adjustable seat with a backrest which makes the riding more comfortable and great for a painful back.
Safe And Durable Battery
It is equipped with a safe and durable battery, you can choose between 6A, 10A and 20A which can take you up to 80 km for the strongest option. It has a front wheel drive motor that allows you to travel up to 20 km/h. It takes 3-8 hours for the battery to be fully charged.
Easy To Deal With Any Kind Of Roads
It comes with multiple road sections and easy to climb up the landslide. Also, it can drive cement roads and shaped stone roads. It has safety reflectors providing your night riding and basket for storing items. Also, it is easy to disassemble and has an anti-collision bar and foldable steering bar. It can carry up to 150 kg.
Specifications:
foldable and adjustable
comfortable seat with backrest
durable battery
mini electric bike
Conclusion: What Are Best Senior Electric Bicycles You Should Buy?
Those electric bikes come with a unique design that is providing more comfort and easier use for senior people. Some of them are small and lightweight and some are folding which is better for stronger older people   The 2 best electric bike for seniors I would recommend are the AZBO City electric bike and Nakto Cargo e-bike. Azbo e-bike is perfect for senior people because it is lightweight and has adjustable features. It is easy to control and has a long-lasting battery that can be charged in 5 hours. It provides more stability and it is affordable and quiet. The Nakto bike is a standard city bike with a suspension fork and front basket for carrying stuff. It is made of high-quality material and has a comfortable seat. Also, it comes with a long-lasting battery and it has really good performance according to its cheap price.
If you are interested in other models of e-bikes that are available on the market, read this article about electric bikes for sale. If you like more electric bikes with more storage space, read more about them in my article about the best electric cargo bikes. But, if you are looking for a small bike, read my post about folding electric bikes.