Top 5 Fat Tire Electric Bike/Bicycles For Sale In 2022 Reviews
Are you looking for a new fat tire electric bike?
Electric fat bikes give you the option to explore new places and that is why they are becoming more and more popular. If you want to find out which are the best and how to choose the good one for you, keep riding this article.
Buying A Fat Tire Electric Bike
Explore Different Places
If you like to cycle and to explore different parts of your community, eventually you will want to go with the fat tire e-bike. They are designed to smoothly ride through rough trails, muddy roads, and snow terrains. With this bike, you don't have to hike through a certain path but you can set the bike in the required mode and power through.
Added Comfort
Because fat tires are low-pressure tires, you can enjoy this bike on long trips. These bikes have added shock resistance and better shock absorbers which makes this bike comfortable to ride even for a long time. You can change the tire pressure and make it the best for the trail ahead.
Cost-effective E-bike
The fat tire electric bikes can be more expensive than other types of bikes. This is because they need to have more added features to make them suitable for all terrains. But, in the end, it is worth the investment. You will get anything you need in one bike and they are more durable so that it can last you for a long time.
Types Of Fat Tire E-Bikes
Fat tires are one segment of a bike. This means that you can choose what kind of frame and design you want your bike to be. There are three main categories to choose from. Folding fat tire bikes are convenient to carry, the second option is hunting e-bikes, or you can go with all-rounders.
Check The Size Of The Bike
One of the most important things you have to consider before buying a fat tire e-bike is the size of it. The reach is the distance between the saddle and the handlebar and that is one of the measurements that can determine which bike you will purchase. You also need to measure the height of the bike and inseam as well as torso length.
Top 5 Fat Tire Electric Bikes
Best Folding Fat Tire Electric Bike
Eahora X5 4.0 Fat Tire Folding Electric Bike
Strong Body
Eahora X5 plus bike comes in Gray, Green, and Lakeblue Colors. The size recommendations for this bike is 5ft – 6ft 4in. It has a strong body with a foldable aluminum alloy frame, strong fat tires, and a comfortable seat.
E-pas feature
You can ride faster, over 30mph and it has energy regeneration tech which automatically charges the battery for 20% when you ride. Also, when you are going downhill the E-pas intelligent sensor gives you the ability to regenerate 60% energy.
Long Travel
The Electric Hybrid Bicycle is equipped with 750W Brushless Motor and Mechanical Disc Brake. It has 48V / 14AH Samsung Removable Lithium Battery Cells with charging time 4-5 Hours. With those, you can ride 45- 55 miles depending on riding mode and terrain.
Suspension and Fat Tires
Bike is made of full aluminum mechanical front fork with suspension absorbers CST front and rear fat tires with wider rims which help you dive more comfortable on bumpy roads. Also, soft saddle ensures safer riding giving you enough space to move around.
LCD Smart Display
This smart LCD Display is password-protected and waterproof. Also, it can be upgraded to a color display. It shows your power bar, current speed, class, and trip distance.
Specifications:
smart display
e-pas feature
strong body
long ride
Best Fat Tire Electric Tricycle
Addmotor Motan Electric Tricycle 
Heavy-Duty E-Bike
Thie electrical fat tire trike is perfect for ridding especially when you need to carry different items with you. It is great for large loads and it has additional support on the rear end. It has a maximum load capacity of up to 350 pounds and the rear rack can hold up to 100 pounds.
Motor Equipment
This fat tire trike has 750 W motor and it works together with the lithium battery of 16 Ah. It is a Panasonic removable battery that you can charge on and off the bike. It needs about 4 hours to be fully charged so you can go to the next adventure.
Longer Frame
This trike is designed with a longer frame than other trikes like this. This increased length of the frame allows you to have better control and it is easier to handle the bike. There is a display mounted on the handlebar so you can read all the settings of the bike. There is a USB port to charge your phone while you ride.
Comfortable Features
This is a uniquely comfortable bike with oversized saddle and a sturdy and adjustable backrest that supports you while riding. This kind of seat is great for people with larger bodies and limited mobility. It is a costume made backrest and seat so that you can be comfortable even on long rides.
Product Size
The overall length of the bike is 80.7 inches and the distance between wheels is 55.5 inches. The handlebar is at the height of 45.2 inches from the ground. The seat is at the height at 28.3 inches and the reach is 29.5 inches. The rear wheelbase is 23.6 inches.
Specifications:
Aluminum alloy frame
Addshox steel fork
Sensitive front horn
Large metal basket
Best 20-inch Fat Tire Electric Bike
ENGWE 20 inch Fat Tire Electric Bicycle
Faster Small Bike
This bike is made with the 6061 aluminum alloy frame and it has a mechanical lock in the front. There is a front fork for the better comfort on bumpy roads and you can adjust the handlebar and seat to your likings. It is a lightweight and practical design that is suitable for urban and trail environments.
Powerful Motor And Battery
With the combination of 48V battery and 750 W power of the motor, you can easily use this bike for long rides and travel as fast as 28 miles per hour. The battery has 12.8 Ah and it is removable. With these settings, you can travel more than 25 miles on a single charge.
Perfect Brakes And Speed
This folding fat tire electric bike has front and rear disc brakes that help you to feel safe at any weather conditions. This bike also works on a 7-speed Shimano gear system so you can choose and adjust the speed as you like it and enjoy a faster or slower ride, depending on the conditions.

Comfort Design
This bike is designed to be as comfortable as it can be for a bike. It has a soft leather seat and fat tires that make this bike more comfortable than the others on the market. This allows you to enjoy long riding trips. Because of the foldable feature, you can easily take it with you in the car.
Overall Dimensions
The height from the ground to the rear rack is 26.4 inches and the seat can be adjusted at 32.7 inches to 50 inches. The overall length of the bike is 66 inches and the height from the front bottom to the handlebars is 52 inches and the handlebar height is additional 14 inches.
Specifications:
Folding aluminum frame
20 inches wheels
Holds up to 330 pounds
Best Electric Fat Tire Mountain Bike
Cyrusher XF800 Electric Mountain Bike
Great Selection Of The Materials
This product is made with the selected materials that give it stability, safety, and durability features. Every material and part used on this bike has passed CE certification and only anti-exposure painting materials were used. It is a high-quality fat tire mountain bike that anyone would want to have.
Fat Tire Characteristics
The increased size of the tires allows them to have better friction on the road surface. This makes the bike safe on any road conditions and any other outside factors. You can be safe if you decide to ride this bike on snow, beach, mountain trails, or enjoy cycling on a smooth road.
Double Suspensions
Because this bike is made to be comfortable on difficult trails, it comes with double suspensions on the front fork and rear end. These features help the bike to absorb any bumps on the road while making the ride comfortable. It is a practical and safe bike to ride at all times.
Great Battery Life
This bike works on a powerful motor of 750 W and it has a battery of 48 V 13 Ah. It can provide you with a large amount of energy for long rides in the mountains. You can also charge your phone along the way. There are also two ways to charge the battery of the bike. Because it is removable you can charge it on and off the bike.
Specifications:
Smart display
Stable ride on fat tires
Turbo power motor
Hydraulic disc brakes
Best Fat Tire Electric Beach Cruiser
Nakto Super Cruiser Electric Bicycle
Excellent Materials
This electric bike is made with ultra-durable aluminum. It means that the bike is lightweight and it is not easy to dust. It is easy to maneuver it and you can carry it if you have to. It is an ideal design for the daily cyclists and people who like to enjoy the ride on the beach.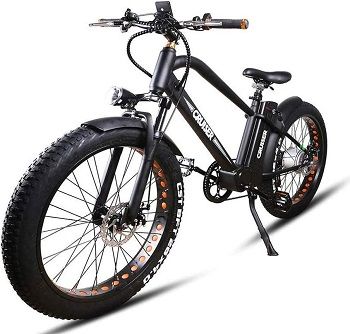 High-Speed Settings
This bike is equipped with the 500 W motor and it has a removable lithium battery of 48 V 10 Ah. This allows you to reach the speed up to 30 miles per hour. When the conditions are ideal you can use the bike on electric mode for 25 to 30 miles. It has a headlight so you can safely ride it at night.
Three Working Modes
You can adjust and choose different riding mode that fits the best current road conditions and your needs. You can always use the bike in a normal mode without electricity. The second option is a pedal-assist mode that gives you power when you need it or you can go with the third option of full electrical mode.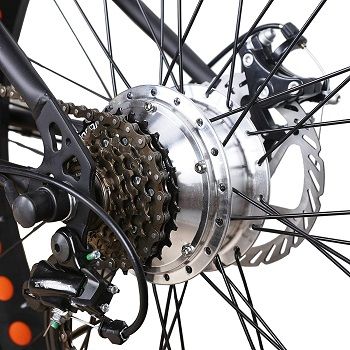 Ergonomic Design
Anx bike needs to be comfortable and easy to use, but if you go for a beach cruiser bike, you have to pay extra attention to those details. This bike is designed to be a comfortable and smooth ride along the beach and that is how it is designed. it has a soft seat, fat tires and bright light to see in the night.
Specifications:
Durable construction
High-speed options
Three riding modes
Ergonomic design
Removable battery
Conclusion: Which Fat Tire E-Bike Will You Choose?
Fat tires electric bikes give you additional options to explore the outside and they are comfortable to ride for a long time. There is not a very good reason why you shouldn't buy one of these. If you want the best you have to consider ENGWE 20 inch Fat Tire Electric Bicycle because of the folding design or you can choose the Nakto Super Cruiser Electric Bicycle for a comfortable ride along the beach.
There are more articles about electric bikes that you can read and learn. One of them is the review of electric bicycles. Also, take a look at the one about electric trike bikes or the one that covers the best electric cargo bikes.