Best 10 Folding Electric e-Bikes For Sale In 2022 Reviews
Are you looking for information about folding electric bikes?
In this article, you can find everything you need to know before purchasing the best folding electric bike for you. You will learn what to look in one and find your favorite from the list of top foldable e-bikes on for sale.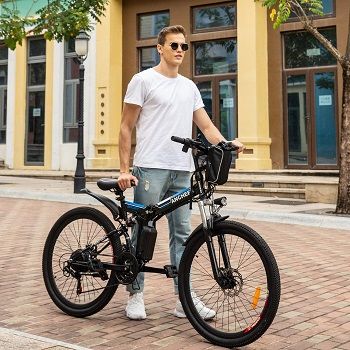 Things To Know About Foldable Electric Bikes
Why Buy A Folding E-Bike?
Folding electric bicycles are practical and easy to carry around. That is why they are getting more and more popular among travelers. They come in different styles and designs but what all of them have in common is that they become a small package that you can take with you on a train, in the car, on a boat, or anywhere else.
Folding Mechanism
The folding mechanism doesn't have to be the same on every bike. It determines how quickly you can fold and unfold the bike. The options you have are a split-folding mechanism, a triangular hinge mechanism, and a breakaway mechanism. Each of them can be found on different types of electrical bikes.
Frame Material
Frame material is another important factor that you need to consider. It determines the weight of the bike so it is important to choose the lightweight material. Choices that you can choose from in the market are aluminum, carbon fiber, titanium, and steel. Aluminum and steel are commonly used, but carbon fiber and titanium are used in premium and high-end bikes.
Wheel Size
The wheels on folding electric bikes come in all sizes. It is important that you choose the ones that are comfortable for you while riding and that is suitable for terrains that you are exploring. Wheel size also makes a difference in the overall size of the bike and the folding size. The options you have are 16 inches wheels, 20-inch, 24-inch, or 26-inch wheels.
Range Of The Bike
Another important factor to consider is the range and the power of the bike. The battery is an important factor and the bigger the battery the more range you will have but it is also possible that the bike can be heavier. Make sure that you take int consideration how far do you travel, how much motor assistance you intend to use, and how difficult is the trail.
Best 10 Folding Electric e-Bikes
Best Folding Electric Tricycle
TopMate ES31 Electric Mini Foldable Tricycle
Long Rear Axle
The default setting for the rear axle is the length of about 10 inches. This mini trike comes in the version of 15.75 inches long axle. The longer axle makes the riding more stable which is important for the mini e-trikes. Both options are available for this bike so you can choose the one for you.
Size And Weight Recommendations
This mini electric trike is recommended for people under 70.87 inches in height and under 60 years old. This vehicle requires basic balancing skills so you need to be alert at all times. It is a fun experience to ride this e-trike and it provides you with something new on the market.
Adjustable Gears
This bike can be adjusted in three different gears. The first gear can speed up to 3.7 miles per hour, the second one is up to 7.4 miles per hour and the third one goes up to 13.7 miles per hour. It is easy to adjust the speed with the lever on the handlebar so you can fully enjoy the ride.
Shock Absorbers
There are three shock absorbers on this trike. One is on the seat and two of them are on the rear wheels. This makes tricycle more stable and it provides you with safety and power. This fun three-wheel trike can be great fun for the elderly and children.
Load Bearing Capacity
Thi electric trike is made with 98% aviation aluminum alloy. It is a firm and light materials that can last you a long time. The durability of this trike is also extended because of the corrosion-resistant coating. The entire bike weighs 30.9 pounds and it can hold up to 220.5 pounds.
Specifications:
Folding feature
Long rear axle
Three adjustable speeds
Integrated shock absorbers
Good load-bearing capacity
Best 20-inch Folding Electric Bike
G-Force T42 Folding Electric Bike
Quality Materials
This folding electrical bike is made from high-quality aluminum alloy. With this bike, you won't have the problem of riding across sand, snow, or muddy terrains, and you can also enjoy a smooth cruise on the flat surface roads.
Bike Speed Specifications
This foldable electric bike can reach a maximum speed of up to 20 miles per hour. It is made from the lightweight material so it weights around 45 pounds. It is equipped with 350W brushless motor.
Removable Battery
This bike comes with a removable battery so you can easily charge it. The battery is 48V 10.4A which meanst it takes about 5-6 hours to fully charge it. For one charge of the battery, you can ride this bike from 25 to 40 miles.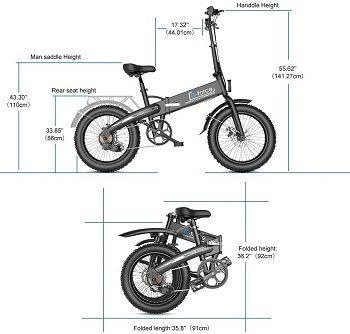 Adjustable Seat
You can change the height of the handle and the seat. That is great if you plan to borrow this bike to ther people. Also, it is better to lower the handle and seat once you fold the bike and put it away.
Specifications:
350W brushless motor
48V 10.4A large capacity battery
Variable speed control
Handlebars and seat height adjustable
Best Electric Folding Fat Bike
DJ Folding Electric Bicycle
Quality Certification
The DJ bike company makes sure that their bikes pass all of the certifications that they need, to be safe and comfortable. Their bikes are certified with the highest safety and quality standards that are accepted in the US and Canada. The motor, bike frame, battery pack, and charger meet all of the requirements.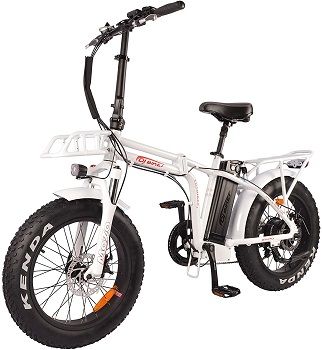 Strong Power
This is one of the most powerful folding electric bikes you can find on this list. Because they are small the weight of the motor can be too much. But this one has a motor of 750 W and the power can be extended to 1000 W. In the combination with the battery you can ride this bike up any hill you want.
Selected Materials
This folding e-bike is made with the stainless sporty aluminum frame. It has integrated Bafang motor. The suspension fork is Mozo and it has Shimano gear system and Tektro brakes. These are the most important parts of the bike and they are selected from the best on the market.
Fat Tires
This bike is equipped with fat tires so you can ride on different kinds of terrains and conditions on the road. The tires are 4 inches thick and mounted on 20 inches wheels. They are Kenda all-purpose tires that are suitable for everyone. Using this bike is extra comfortable because of the cushioned seat.
Specifications:
750 W powerful motor
Lg lithium battery
Tektro disc brakes
Best Mini Folding Electric Bike
Swagtron Folding Electric Bicycle
Compact And Powerful E-bike 
Just because this is a mini folding electric bicycle doesn't mean that it needs to be weak in power. This bike can be ready in less than one minute and take you up to 18 miles per hour. You can also explore the uphill roads up to 12 degrees.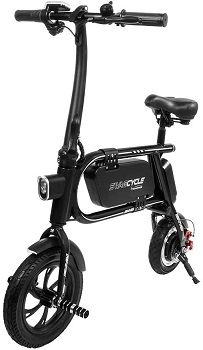 Comfort On The Road
There are two-foot pegs so this is an electric bike designed without the pedals. This way you can enjoy the surroundings and relax while exploring. It also has a handlebar display so you can monitor the settings and the status of the battery while on the go.
Traveling Distance
With the lithium battery integrated into this bike and the 350W powerful motor, you can ride this bike for 15.5 miles per charge. It has a fast charger so you can have a full battery again after 3 to 4 hours of charging. The bike can support up to 264 pounds of weight.

Quick Stop Brakes
This bike comes with dual disc brakes. There is a rear-wheel brake that stops you in seconds when you need to stop at an instance. It is a perfect option especially if kids start to use this bike.
Ride In the Night
You can feel safe riding this bike even in the night. There is a headlight installed in the front end and there is a horn on the handlebar. This way you can be safe about you and the people around you. It is a stylish bike that everybody will enjoy.
Specifications:
15.5 miles per single charge
18 mph is maximum speed
Safe ride at night
No pedals
Best Folding Electric Mountain Bike
ANCHEER Folding Electric Mountain Bike
Collapsible Metal Frame
This folding e-bike is lightweight yet made of strong and durable aluminum. It is designed so you can quickly fold it and easily store it when you don't use it. It has double shock absorption and mechanical disc brakes on the front and rear end. It also works on a 21-speed transmission system.
Electric System
This bike is equipped with the removable 8 Ah lithium battery and it has a motor of 250 W power. With these elements, you can ride the bike for 15 to 30 miles and the top speed of this bike is 15 miles. This is enough power and capacity that you can enjoy the day in nature.
Strong Wheels
This bike has large 26 inches wheels. They are made from aluminum alloy and have thick tires. The tires are anti-slip and wear-resistant. These tires are perfect if you like to ride on rainy, muddy, and other mountain roads. It is a perfect choice for outdoor adventure.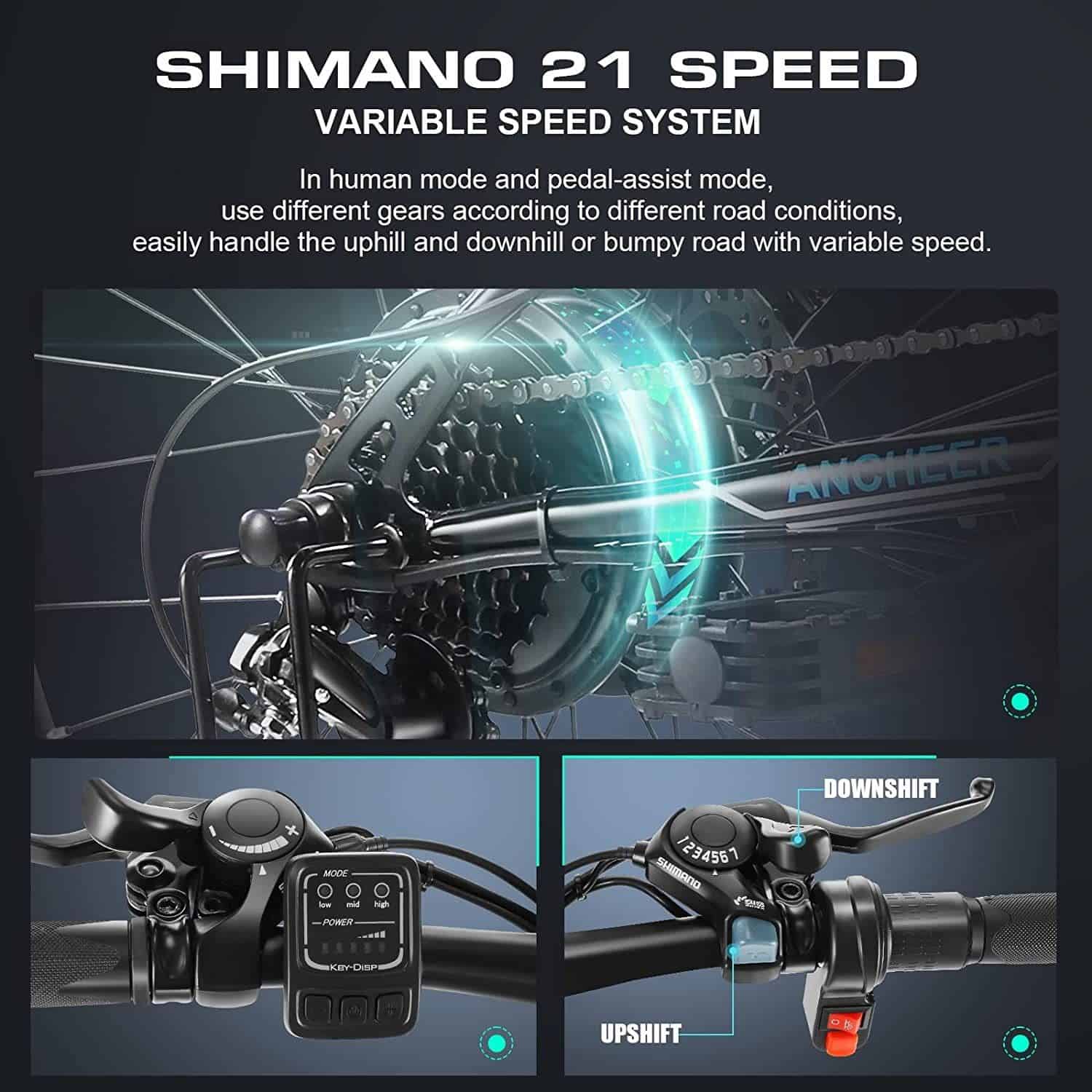 Working Modes
This foldable e-bike comes with three different riding modes that you can adjust to the conditions on the road and to your preferences. The E-bike mode is a full electrical mode, the pedal-assist mode is the one where the sensors sense when you need a boost, and Natural mode is riding without electric power.
Easy To Stow
Thanks to the folding design, this bike is easy to store when you are not using it. The frame folds in half and the pedals also come together inside the frame. You can put it in the truck, train, or take it with you wherever you go.
Specifications:
Bright LED headlamp
Rear suspension
21 speeds gear system
Easy to store
Removable battery pack
Best Folding Electric Bike For Adults
Nakto Foldaway City Electric Bike
Compact Design
This is a compact bike that is easy to fold and take with you wherever you need to go. It is efficient bike that you can ride on the smooth and bumpy roads comfortably. It is ideal to take with you on a holiday or to have at home if you have a minimal storage space.
Personal Adjustments
You can adjust this bike to fit you perfectly. The saddle can be adjusted in height so that it is well fired. There is a quick-release clamp so you can fold and unfold it quickly. It is practical and easy to use. It also has a rack in the back so you can carry an extra bag with you.
Operational Modes
Although this is a small bike, it has multiple operation modes so you can use it on different occasions. You can use the bike without electric power or you can use it with the occasional power when needed. There is also an option to use it in full electric mode.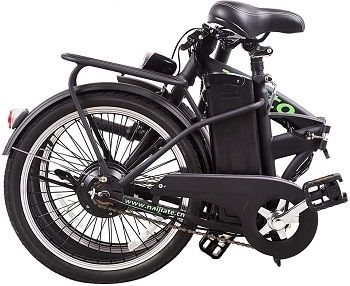 Range Of The Bike
This bike allows you to ride it for 19 to 25 miles depending on the operational mode you are using. The battery is a powerful 36 V 10 Ah battery that needs 3 to 4 hours to be fully charged. It has overcharge protection and it can be removed from the bike.
Folding Features
This bike folds in half for easy storage and transfer. Even the pedals can be folded up for maximum portability and saving space. The handlebar can also be folded so save on the width of the bike. Once in folded position this bike is 39.4 inches long and 27.6 inches high.
Specifications:
Super compact design
Display with setting details
Removable battery
Bright headlamp
Best Folding Electric Trike For Seniors
Mini Folding Electric Tricycle
Read And Black Design
This foldable electric bike comes in a black and red color combination. It is mostly red with black details on it. It comes with 3 wheels, two at the back, for better stability so it is safe for seniors.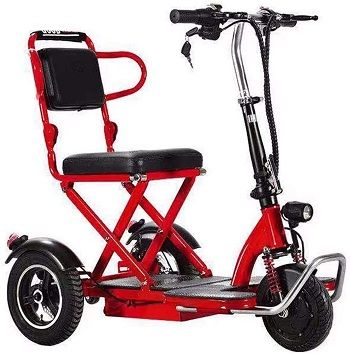 Folding Tricycle
This is easy to fold a trike that saves the storage space. You can even lock it once you fold it so that it can be placed in the trunk and it won't accidentally unfold. At the bottom of the trike is a drawbar that can be pulled after folding so you can easily carry it.
Made of Aircraft Aluminum
The bike is made of aircraft aluminum so you can be sure it will last a long time. The seat comes with backrest so you know it will be a comfortable ride. The tires on the bike are tick for a good ride on every terrain.
Multiple Choice Of Batteries
Because you get multiple choices you will get multiple experiences. The unique structure and design this trike can match 48 V 12 Ah lead-acid battery or you can go with the 48 V 12 Ah or 20 Ah lithium battery. Each battery is rechargeable and long-lasting.
Solid Body Construction
This electric folding trike is stable and not easy to roll over. It has integrated flexible brake for a slow start. Out of additional equipment, this bike has night lights, anti rollers, and anti-collision beam.
Specifications:
350W brushless motor
multiple choice of batteries
anti-collision beam
Best Portable Electric Bike
EAHORA X7 Plus Electric Bike
Upper Class Frame
The frame of this foldable e-bike is made from stainless aluminum alloy. It is a high-quality construction and can last you a long time. It is designed with the folding ability so you can travel easily and take it with you wherever you go. It can hold up to 330 pounds.
Powerful Motor
This bike has a motor of 750 W and with that powerful energy, it is cost-effective so you can enjoy the daily commuting and crossing the mountain trails. With this motor, you can ride the bike up to 28 miles per hour. It has an integrated cruise system so you can steer the bike at a fixed speed automatically.
Constant Battery Cell
The battery on this bike is 48 V 10 Ah battery that can provide durable and consistent power. It is an efficient battery that is also environmentally friendly. It is waterproof protected and you can remove it off the bike. On one charge you can ride the bike for 45 to 55 miles.
Suspension And Disc Brakes
The front fork is made of stainless aluminum and it is lockable. On the rear end is hydraulic pressure suspension made of great quality materials and it highly reduces the vibrations while riding the bike. There is a mechanical disc brake installed to reduce the speed or you can stop the bike promptly.
Riding Mode Choices
There are three different operation modes that you can adjust to. The first option is fitness cycling mode which is the normal riding of the bike. PAS mode gives you an electrical boost while riding, or you can go with an electric mode that runs automatically without you using the pedals.
Specifications:
Recharge function
LCD dashboard
Shimano 8-speed system
Available in four colors
Best 500 W Electric Folding Bike
Ecotric Folding Electric Bike
Motor And Battery Specifications
This folding electric bike has a 500 Watt brushless geared motor. It is a high-speed brushless motor with a strong driving force. You can ride this bike for a long time also thanks to the battery of 36 V 12.5 Ah. It is a lithium battery that can support up to 20 miles per hour speed. On a single charge, you can ride for 18 to 23 miles.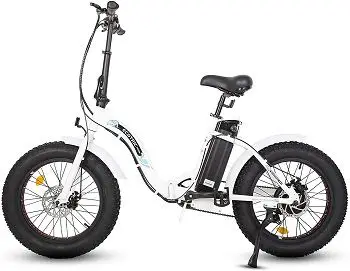 Fully Equipped Bike
Thie mini electric bike has all the things you need on the bike to make your riding experience even better. Also, you can choose between different riding modes so you can choose pedal assist of throttle power.
Tires And Assembly
Everything you need to finish the assembly comes in the package together with the simple instructions. The bike uses the 20 inches wheels and 4 inches fat tires so you can easily ride on all kinds of surfaces. The bike has a disc brake for full protection.
High-quality Materials
This bike is made from the quality aluminum alloy and it has a collapsible design frame. You can easily fold this bike to get it into the trunk or store it when you are not using it. This folding bike can hold up to 200 lbs of weight.
Specifications:
Removable 36 V battery
MAximum speed of 20 mph
Easy to store and fold
18-23 miles range in electric mode
Anti-slip tires
Best Folding Electric Bike Under 1000 Dollars
Vivi Electric Mountain Bike
Selected Quality Materials
The bike is made from the quality selected materials. The frame is made from the aluminum alloy which is light in weight but strong and designed to last a long time. The wheels are also made from aluminum alloy and they are double layer. It has a high-strength suspension fork for additional comfort.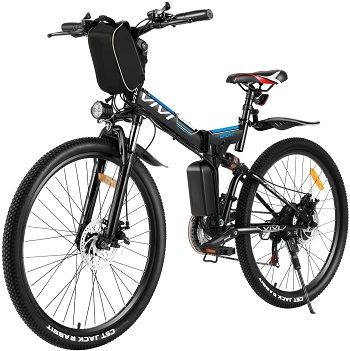 Gear Shift System
There are front and rear mechanical disc brakes. They are reliable and made to a quick stop in all weather conditions. It has integrated 21 speeds gear and together with the 350 W you can easily climb uphill and ride further than with the other bikes. It also has a LED headlamp for a safer ride in the night.
Large Capacity Battery
This bike is equipped with a large 36 V 8 Ah battery. You can easily remove it from the bike or leave it on the bike when you need to charge it. Together with the motor, this bike has a range from 22 to 40 miles and the top speed of it is 15 miles per hour.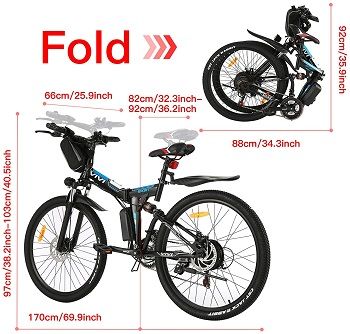 Choice Of Riding
Like most of the folding electric bikes on this list, you can choose and adjust the different riding modes. The natural mode doesn't use the electrical power so you can get all the exercise that you need. The assist mode senses the need for an additional boost and the electric mode rides only on motor power.
Ergonomic Details
This is a great electric bike for any occasion and for any user. It is a great price for the bike that has an comfotable seat, ergonomic handlebar, and RST. For a safer ride in the night, there is a LED light in the front. It is a lightweight and efficiently made bike.
Specifications:
Comfortable seat
Folding frame
Removable battery
Front and rear Shimano speed shifter
Best Cheap Folding Electric Bike
SWAGTRON Swagcycle EB5 Series Folding Ebike
No Assembly Needed
This electric folding fat bike comes already pre-assembled which makes it different than any other electric bike on the market. This means that you don't have to waste your time on complicated instructions, and you can hop on it and enjoy the ride the moment you get it.
Adjustable Features
This folding fat bike can be adjusted in many different ways so that it can suit you the best. The seat height can be adjusted easily. You can adjust the angle on the handlebar and other features so that it is the most comfortable for you and your preferences.
Fat Tires And Wheels
Most of the folding electric bikes have 14 inches to 20 inches wheels. This one goes in a smaller category with 14 inches wheels. It has a pair of air-filled rubber tires which re easy maintenance. It also has quick-disconnect power lines for better traction.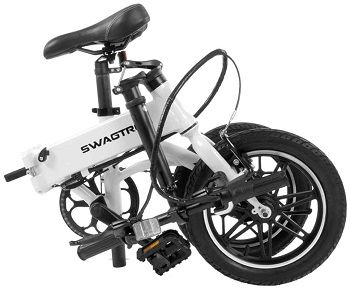 Speed Possibilities
With this bike, you can ride up to 15.5 miles on one single charge. This is also a hybrid bike because it is a combination of all the best parts of other bikes. On a full-throttle and with changing modes between pedal assist and pedaling you can ride very far.
Size Of The Bike
When this folding fat tire bike is in an open position it measures 49.2 inches in length, 21.7 inches in width, and 34.9 inches in height. Once you fold it and get it ready to transport it is a bike of 26 inches in length, 15.6 inches in width, and 23.6 inches in height.
Specifications:
Hub motor
Removable power line
Easy to transport
Conclusion: Which Folding Electrical Bike Will You Choose?
There are certain advantages to having an electric foldable bike and that is why you want the best option on the market for you. One of the best folding electric bikes for sale is the G-Force T42 Folding Electric Bike because of the powerful motor or you can go with the ANCHEER Folding Electric Mountain Bike because of the larger wheels.
If you are interested in electric bikes and want to learn more about them, you can read the article about the best electric bikes on the market. There is also an article about the best electric road bikes or check out the post about pedal-assist bikes.