5 Best 48-Volt Electric Bikes To Choose From In 2022 Reviews
Are you interested in 48-volt electric bikes?
If so, then read my post about the best 48v electric bicycles for sale. Before the review you will learn more about the electric bike's battery, what is the common battery used for electric bikes, where to buy them, etc. After reading this post I hope it will be easier for you to decide which electric bike is best for you.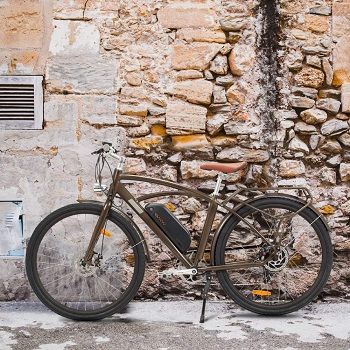 Things To Know About 48-V Electric Bikes
Things To Know About The Battery
It is important to consider the size weight and shape of the battery. Also, the battery should look good once installed on the bike and not to be heavy because it can be hard to carry it up a flight of stairs or put it on a bike rack!
. The electric bikes use lithium battery which are light and durable but they should be used with battery monitoring system battery pack and cells to ensure a longer life.
More Voltage More Speed
The higher voltage will let you get more performance of the electric bike which means the more voltage equals more speed. When combined with a larger pack capacity it is achieving high cycle life maintaining performance. "36v" battery is the common battery used in electric bikes and usually can take you up to 36 km, but the 48v ones even more.
Common 48v e-bike Features
The 48volt battery lasts 20 to 25 miles and it is usually suitable for 250-1000w motors and making you enjoy longer rides. The 48 v battery pack weighs around  11 lbs. That 48-volt electric bike is perfect for people who like more speed and better bike performance.
Where To Buy 48v Electric Bike
Since those electric bikes are pretty popular you can get them anywhere and you can choose different types of electric bikes with different motor wats according to your needs. You can also buy them online, via Amazon Walmart, AliExpres etc, and find them for the price 1000-2000 $.
5 Best 48-Volt Electric Bikes For Sale
Best 48-V High Power Electric Bicycle
Extrbici Fat Tire Snow Bicycle
Made Of 6061 Aluminium Alloy
This well-designed e-bike comes in a few nice color combinations you can choose. It weighs 28 kgs and it fits for people between 165-200cm with a max weight of 200kg. This bike has a 6061 aluminum alloy frame and pro aluminum crown lockout suspension fork.
Strong Motor And Waterproof Battery
The bike is equipped with 1000w strong brushless motor 48V*13AH Lithium Batteries in a sealed removable pack. The waterproof battery comes with a smart charger and with it you can ride around 20-25 miles. The charging time takes 4-7 hours.
Safe Riding
The bike comes with fat tires and front and rears hydraulic dual disc brakes for a safer ride. The bike has a humanized design of throttle which is anti-skid and anti-fall. Also with a breathable ergonomic seat design, you can ride more comfortably.
Other Features
This mountain electric bicycle has a 7-speed crank gear plate, it is equipped with a mini-computer which shows speed, battery capacity travel distance, pas level etc. Also it has a front LED light and horn included for night riding. This fat tire electric bike is suitable for riding on all kinda terrains.
Specifications:
6061 aluminum alloy
safe riding
waterproof battery
strong motor
LCD display
Best 48-V Mountain Electric Bicycle
MZZK 7-Speed Electric Mountain bike
Ultra-light Strong Aluminium
This 26″ electric bike with fat tires comes in a sleek brown design. It is made of ultra-light strong aluminum alloy frame and other aluminum parts that are designed to last.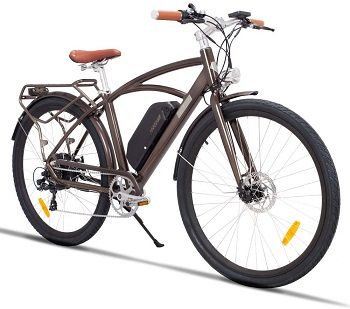 Battery And Motor
The bike is equipped with the 48V 13AH lithium removable battery and 500W stable brushless motor with those you can reach range up to 75 miles per charge. The speed can go up to 25 mph.
6 Kinds Of Assist Mode
You can choose between e-bike, assisted, and normal bike mode, and there are 6 kinds of assist mode that you can change according to your needs. Also, you can add a burst of speed with throttle which is ideal for riding away from traffic lights.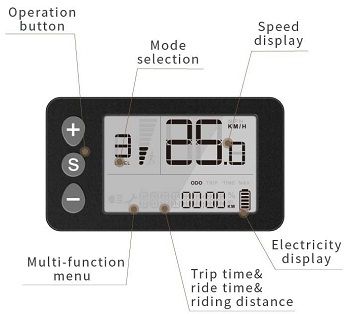 Other Features
The bike comes with an LCD multi-functional display which shows you battery status, riding speed, and other useful information about the vehicle. The wheel is also equipped with control buttons, disc brakes, and a non-slip grip for safer ride.
Specifications:
removable battery
fat tires
6-kinds of assist mode
LCD display
Best 48-V Folding Electric Bicycle
Mukkpet Folding Electric Bike 750W 48V
Small Foldable Design
This small Muppet comes in few different colors, comes with strong step-thru frame and double layer thick pipe technology. It is made of a high-quality aluminum alloy frame which is foldable.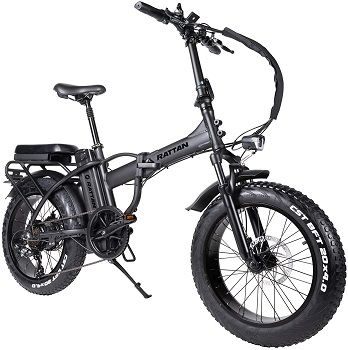 I-PAS Assist
The bike has I-PAS intelligent power assist system that helps the motor to be more efficient and to save energy. Aso, it extends the life of the motor and battery. Because of the I-pas, the bike is capable to give you a ride up to 80 miles.
Motor Power
With the intelligent controller, the 750W high-speed brushless gear motor you can reach max speed at 32 MPH. Lithium batteries have the characteristics of stable and high performance. Besides, the 48V 13ah lithium battery guarantees the bike can go up to 60-80 miles in PAS mode and 50 miles using electric mode.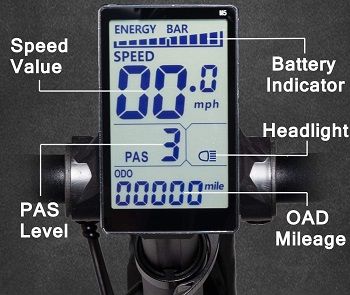 Other Features
This bike also has an LCD display that shows information such as the battery, headlight, pas level, mileage ad speed value. With good front headlight, the riding is safer at night. Since the bike is foldable it means you can carry it anywhere when not driving it.
Specifications:
foldable
I-PAS
LCD display
headlight
Best 48-V 750W Fat Tire Electric Bike
W WALLKE X3 Fat Tire Electric Bicycle 48V14A
Design Of The Bike
The bike comes in a green and black matte color. It has an E-PAS system that recharges 40% power for the battery. Equipped with all-aluminum gold crank and all-aluminum alloy foldable foot pedal.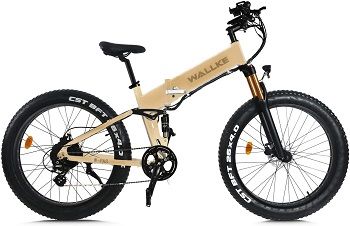 Motor And Battery
The bike is equipped with a 750W brushless motor and 48V14Ah Large Capacity Samsung Lithium Battery. This e-bike can reach up to 25mph and the charging time is 5-7 hours. By using level 1 electric speed the driving speed is about 12.8 mph.
Comfortable Riding
Riding this bike should be more comfortable and safe since it is equipped with a high-quality double-disc hydraulic brake system, aluminum suspension front fork, and front air shock absorber combined with center shock absorber.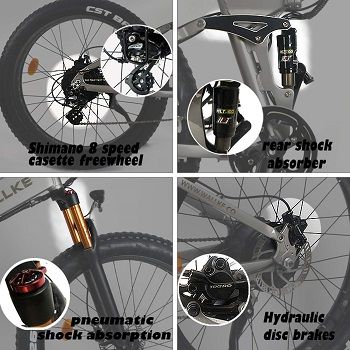 LCD Display
The bike comes with high-end color large LCD screen allowing you to see useful information about the bike such as remaining energy, as well as the distance traveled. Also, the dashboard has a USB port for charging mobile devices.
Other Features
The bike has Shimano 8-speed transmission, and leather handles for better comfort. Also with hydraulic brakes, it is possible to ride on a mountain, snow rain, or muddy road.
Specifications:
E-PAS system
8-speed transmission system
comfortable riding
USB port
Best 48-V Electric Hybrid Bicycle
Eahora AM100 27.5inch 48V Mountain Electric Bicycle
Design Of The Bike
eAHORA electric bike is styled in 6061 Aluminum alloy frame, Air front suspension Fork, adjustable preload to match weight, and riding style for better riding experience. The bike comes in green black and blue color. It  Weights 60 LBS and its Load Capacity is  300LBS.
Powerful Motor and Samsung Battery
The bike is equipped with 350W Power Brushless Motor and With 48V Large Capacity Samsung Lithium Battery. The Maximum Speed it Can Reach is 28MPH. Electric Mode Mileage is 45-50 miles, E-PAS Mode is 50-55 miles, and Sport Mode is 60-80 miles.
E-PAS System
The 350W ECO motor is connected with the E-PAS system that recharges power back to the battery.   As you enjoy the downhill riding speed, E-PAS effectively extends the life of the motor and battery and allows your bike to ride up to 55 miles.
Other Useful Features
Eahora mountain bike comes with an adjustable suspension element, and suspension fork for better shock absorption. Also, it comes with a smart LCD display which is password protected and waterproof. With it you can check the power bar, current riding speed, and trip distance.
Specifications:
aluminum alloy frame
E-PAS system
LCD Display
suspension fork
Conclusion: Which Two 48-volt Electric Bicycles You Should Buy?
Between these five 48-v electric bikes I would recommend the Mukkpet folding electric bike and Mzzk electric bike. The Mzzk fat tire electric bike is lightweight and made of strong aluminum. With fat Kenda tires, the riding is more stable and safer on all terrains. The bike also has some other useful features such as LCD display, waterproof pug cable, and non-slip grip. The Mukkpet electric bike comes with a folding design which means you can store it in smaller rooms. This bike has also I-PAS intelligent power assist system which helps the motor to be more efficient and also to save energy. The bike has a strong 750w motor and can ride up to 80 miles in PAS mode which is pretty amazing.
If you think these e-bikes are not the right one bicycles for you, check my other post about the best electric bikes on the market or if you are willing to spend some more money on an expensive good-quality electric bike, read my other post about the high-power electric bikes. But, if you don't need that and you want to get a simple city bike, read my post about best electric commuter bike.