Top 5 Affordable/Cheap Electric Bikes For Sale In 2022 Reviews
Are you looking for an affordable electric bike?
Electric bikes can be expensive and not everybody can afford the high-end ones. But that doesn't mean that you can't enjoy the benefits of an electric bike. There are cheaper options and a few of the best ones you can find on this list.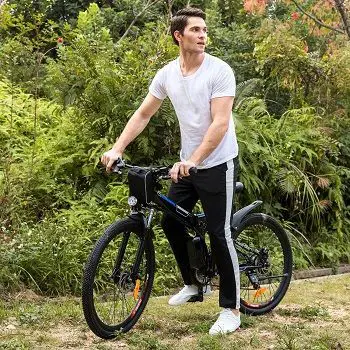 Things To Consider Before Buying Cheap E-bike
Why Choose An E-Bike?
There is no reason why you shouldn't enjoy the perks and benefits of an electric bike just because of the price. These bikes are a popular feature on the market for many reasons. They are comfortable and they give you additional power and electrical boost when you need it. This allows you to ride for a longer time and to explore places that you never thought you would.
Difference From Normal Bike
The first difference you will notice between these bikes is in the design. Because electric bike need the place to fit the motor and the battery you will notice those additions on the middle tube or the rear rack of the bike. That is the main difference when it comes to looks. The performance in the electric bike is better because you have an option to use it as a normal bike or turn on the electric motor so you can go faster and be relaxed at the same time.
Styles Of Budget Electric Bikes
No matter the price tag, an electric bike comes in a few different categories. You can choose from mountain e-bike, road e-bike, cruiser e-bike, folding e-bike, and many more. Which one will you choose, depends on your preferences and style of riding. Also, keep in mind that different categories come at different prices.
Charging The Batteries
These bikes come with lithium batteries from different manufacturers. Depending on the size of it and the quality of constructions, it will be determined the charging time. It usually takes 4 to 8 hours for batteries to be fully charged. Keep in mind that the batteries are the most expensive part of the bike and that is what should determine your decision in the end.
Top 5 Affordable/Cheap Electric Bikes
Top Cheap Electric Mountain Bike
ANCHEER Electric Mountain Bike
Durable Construction 
The front fork on this bike is made from durable and strong carbon steel and the handlebar is made from the aluminum alloy. These materials make this bike lightweight but very sturdy and stable. This bike can be comfortable in rough terrains and it can support a lot of cargo.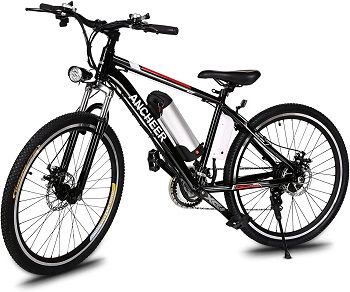 Gear Shift And Brake System
There are front and rear disc brakes on this bike and it has a 21-speed transmission system. You can choose any speed that is suitable for the terrain you are on. It is easy to change them and in any case, you can use the brakes that are strong and reliable. There are a horn and a bright LED light that can help you ride at night.
Removable Battery And Mileage
The lithium battery on this bike can be removed so that you can charge it on and off the bike. It is integrated with the easy charge port system. You can ride on this bike from 15.5 to 31 miles depending on the mode you are in. It also has a 250 W motor that can reach the speed of 15 miles per hour.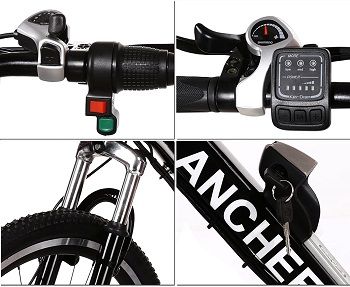 Working Modes
You can choose from three different working modes. The first mode is a full electrical mode where you only use electric power to ride the bike. The second mode is the pedal-assist mode which can give you a boost of power when you need it. The third mode is the natural mode where you ride a bike without the use of electric power.
Size And Dimensions Of The Bike
The full length of this bike is 64.4 inches and the handlebar is 26.7 inches long. The seat can be adjusted from 32.6 inches to 38 inches in height. The maximum load capacity of this bike is up to 330 pounds and it weighs only 50 pounds.
Specifications:
Aluminum seat tube and frame
3-speed smart meter button
Bright headlamp
Powerful motor
Smart lithium battery charger
Top Cheap Electric Bike For Adults
ANCHEER LONG RANGE BIKE WITH REMOVABLE BATTERY
Design and build quality
This ANCHEER e-bike folds down easily, feels durable, and is manageable. That's because the bike's frame is made from aluminum alloy and it's centered around a single front tube. With a front fork made using carbon steel this bike weighs 21kgs and can hold weights of a maximum of 150kg (330lb). Along with a comfy padded seat, and ergonomic handlebars—this bike works well for long rides.
Removable battery
The bike's power is stored in a 36V long-lasting lithium-ion battery. With a full charge, the battery runs for 15miles if you aren't pedaling and 30 miles if pedaling. This battery can be found within the frame, which is what makes this e-bike unique. That helps protect the battery from dirt, elements, and other debris while riding and this helps improve its durability. Although the battery can be recharged both on and off the bike, it takes 4-6 hrs to fully recharge.
Speed and acceleration
The bike's acceleration is swift, particularly since this bike has a lightweight frame and an affordable price tag. With a maximum speed of 25km/h (15.5 mph), it's fast enough for commuting in a safe and timely manner. Also, this bike lets you choose no- pedaling mode or use the throttle in controlling the speed. If you don't use the throttle more for over 30 seconds, it'll turn off automatically. So, you'll have to pedal a single cycle to get the machine started.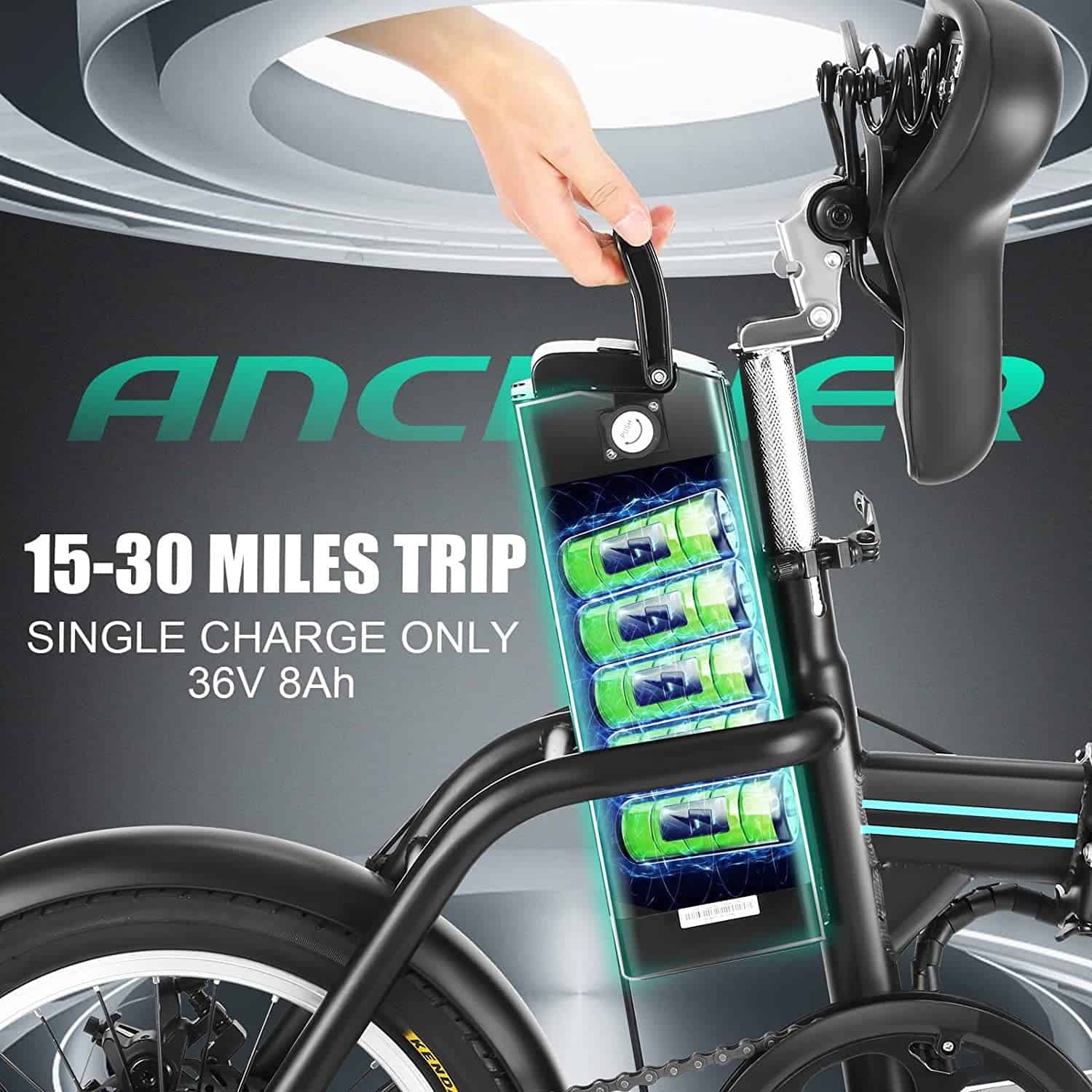 Excellent disc brakes
This ANCHEER folding electric bike uses dual mechanical disc brakes to give you good stopping power even at high speeds. What's more, its brakes are fluid and smooth which ensures the bicycle is responsive enough so it can stop the ride instantly. Overall, this bike works well on the trail and the brakes as well.
Specifications:
16-inch wheel size

small capacity 36V lithium-ion battery

Aluminum alloy frame

21kg bike weight

250W motor

Dual mechanical disk brakes
Top Cheap Fat Tire Electric Bike
ECOTRIC Fat Tire Electric Bike
Speed And Mileage
This is one of the best budget electric bikes that you can find on the market and it can go up to 20 miles per hour. On a pure electric mode, you can ride this bike for over 19 miles.  The weight of the bike is 58 pounds and it can support up to 260 pounds. It has an Outage braking system and mechanical brakes.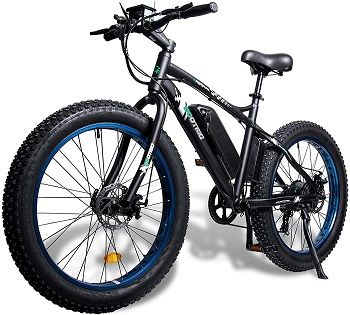 Motor Power
This bike has a powerful brushless motor of 500 W. It is placed on the rear end of the bike and it allows you to speed up to 23 miles per hour. The bike has a power of 36 V and it comes with a smart charger. The battery is removable so you can charge it on and off the bike. There are a battery and power lock function on it.
Fat Tires Characteristics
This bike is a little bit more expensive than others on this list and that is because of the fat tires on it. They are 26 inches wheels and 4 inches fat tires. They are suitable for different kinds of trails and terrains so you can enjoy and explore anything in your community.
Ergonomic Design
This cheap electric bike comes 95% assembled so you have to finish and adjust a few details to make it suitable for riding. Keep in mind that you also have to charge the battery before first use. The handlebar and the seat are ergonomic. It also has anti-slip and wear-resistant tires.
Dimensions Of The Bike
The main tube from the handlebar to the seat is 22.2 inches long. The middle tube is 19.3 inches long and the center distance between two wheels is 45.2 inches long. The entire bike length is 74.8 inches long and the height from the handlebar is 39.8 inches. The seat can be adjusted from 36.2 inches to 42.1 inches.
Specifications:
26 inches alloy frame
Powerful 500 W motor
Throttle control
Top Cheap Folding Electric Bike
Ancheer Electric Folding Bike
High-Quality Materials
This electric folding mountain bike has a frame made from aluminum alloy. It is a strong and durable bike, but because of the aluminum, it is lightweight so you can carry it around. It has double-wall rims from aluminum alloy. The front fork is high-strength and you can ride even on bumpy roads.
Gear Shift System
The bike has two sets of disc brakes on the front and rear end. They are mechanical brakes which are the best for mountain bikes. There is also a 21-speed gear shift system for the various terrains. The bike also has the horn and the LED light in front.
Large Lithium Battery
The battery on this bike is 36 V 8 Ah. It is a lithium-ion battery. It works great together with the 250 W motor. With this combination, you can ride the bike from 15 to 30 miles and it can reach a top speed of 15 miles per hour. This is the mileage for only one charge of the battery.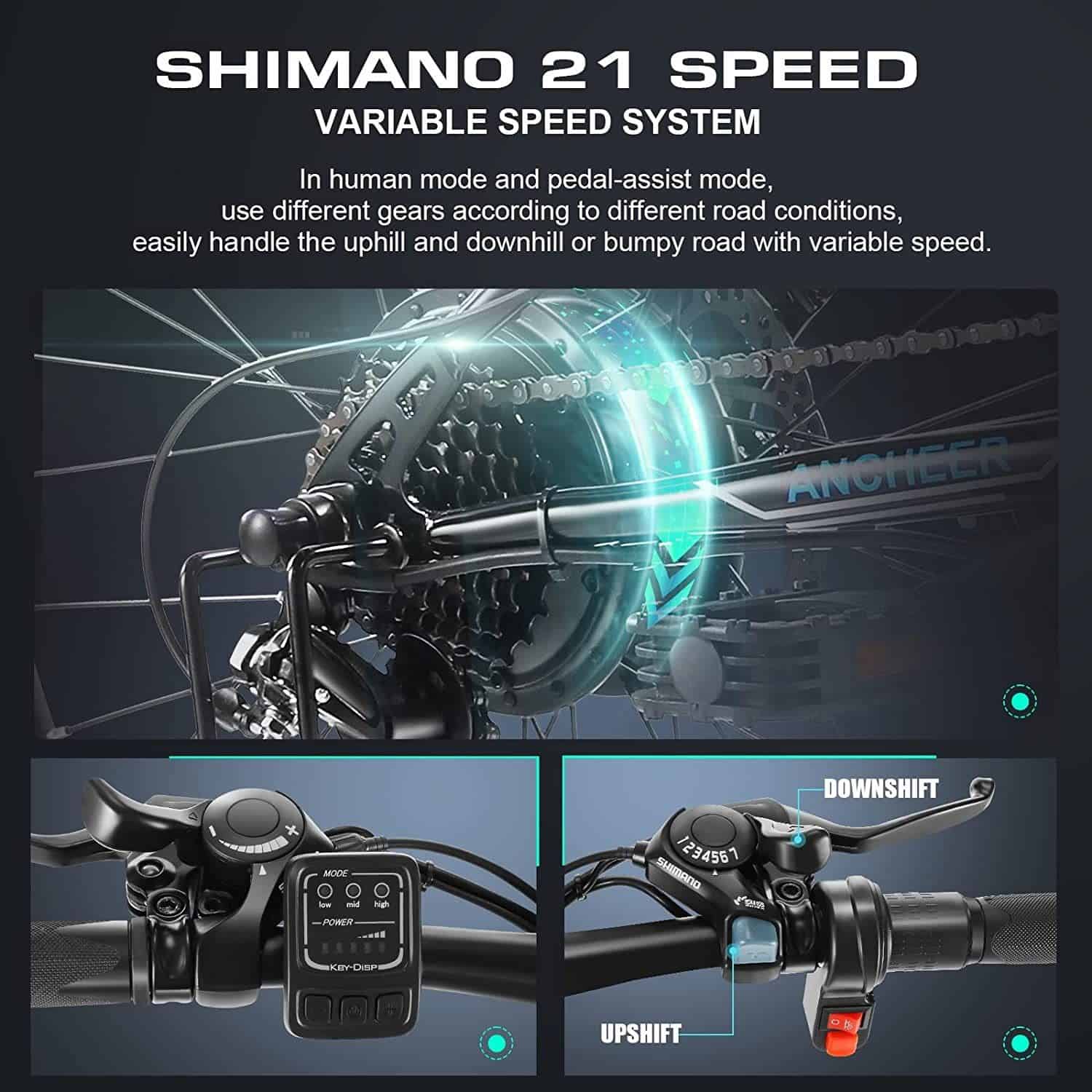 Working Modes
The Ancheer Electric Mountain Bike can be adjusted in three working modes. You can adjust the mode depending on the road conditions and your personal preferences. You can use normal mode without electricity, a pedal-assist mode for occasional boost, or a pure electric mode where you don't have to use the pedals at all.
Ergonomic Details
This bike is designed to fit the human body and to make you feel comfortable as much as possible. It has an adjustable seat and an ergonomic handlebar. There is a LED headlamp in front and a horn for safe and comfortable night riding.
Specifications:
Aluminum frame
Available in Black and White
Folding Design
250 W power motor
Top Affordable Mid-drive E-bike
Tomasar Power Electric Bike 
Removable Battery
This bike has a removable 36 V 8 Ah lithium battery. You can ride with this bike for 15. 5 miles to 31 miles on only one charge. This depends on the mode you are choosing to ride this bike and the intensity of the road. The battery can be charged on and off the frame.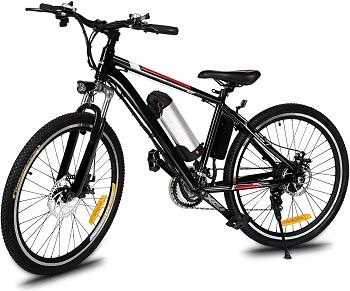 Quality Materials
This is a quality-made yet affordable electric bike made from 100% aluminum alloy. The front fork on this bike is made from carbon steel and it has integrated comfortable shock absorption. The front and rear wheels are made from double layers of aluminum alloy. These durable materials can last you for a long time.
Motor And Transmission System
There is a 250 W high-power brushless motor. With the premium gear transmission system this bike can assist you with the speed over 15 miles per hour. depending on the assisting mode you can travel on this bike from 22 to 43.5 miles. It is a mountain bike that can take you places.
Premium Quality Brakes
There are rear and front brakes installed on this bike. They are reliable in different weather conditions. The front fork needs to be made from durable materials, and this one is made from carbon steel. It has an integrated premium shock absorption function. The wheels are double-layer aluminum alloy.
Two Working Modes
This bike can function in two different working modes. The first is E-bike mode which allows you to relax and enjoy the surroundings a little bit more than usual. The second option is Assisted bicycle mode that can be used on tricky trails when you need help only on certain points. The meter has a 3-speed smart button.
Specifications:
Adjustable seat height
Professional transmission system
Integrated PAS mode
The battery can be removed
Quality material selection
Conclusion: Are You Ready To Choose Your Best Budget Electric Bike?
Although electric bikes can get quite expensive, some of them come at affordable prices without damaging the quality of construction. One of those bikes is ANCHEER Electric Mountain Bike and it has a quality made frame. Another great option for you to consider is the emdaot Electric Folding Bike because of the practical design.
If you are interested in this subject, there are more articles you can read. One of them is the review of the best electric bikes. There is also a post about 3 wheel electric bikes or you can take a look at the post about the most powerful electric bikes.