5 Best 20-inch Wheel Electric Bikes For Sale In 2022 Reviews
Are you looking for a 20″ wheel electric bike?
If so, read my post about the best 20-inch wheel electric bikes. Before the review, you will learn why wheel size is so important, which sizes are used on electric bikes and what are their pros and cons. After reading this post, I hope you will more easily decide which bike is the best for you.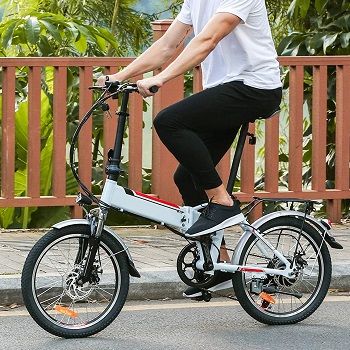 Things To Know About The 20-inch Wheel Electric Bikes
Wheel Size Is Important
No matter if you are buying an electric bike or converting regular one into an e-bike you will have to choose the size of the wheel that suits you. Comparing to other components like motor and battery, wheel size doesn't seem very important but it will have a big impact on how it rides and handles.
Different Wheel Sizes
The electric bike comes in different sizes and shapes and the wheel size you can choose is usually 16, 20, or 26 inches.
16″ bikes are usually set up on the folding bikes and smaller wheels are reducing weight and folding size.
26″ wheels are the most common wheel size and they can be found on every type of the e-bike, from mountain bikes to beach cruisers.
20-inch Wheel Size
20″ also can be found on the folding bikes but are more common than 16-inch wheels and they can be used in children's bikes. Also, If the maneuverability, comfort and the folding design is right for you, 20-inch wheels will do its purpose.
Advantage Of Larger Wheels
One of the main advantages of larger wheels is their ability to roll over obstacles easier. Also, a 26-inch bicycle wheel can climb it easily, because the angle of attack compared to the axle is lower for the bicycle wheel. With larger wheels, you will much easier roll over obstacles on your path.
Disadvantages Of Bigger Wheels
Big wheels also come with their disadvantages. For example, they require the bike to have a longer wheelbase, which is resulting in reduced maneuverability. Big wheels are also slower to accelerate. But, larger wheels and a longer wheelbase are more stable at higher riding.
5 Best 20-inch Wheel E-bikes For The Sale Review
Best 20-inch Folding Electric Bike
Qualisports Electric Ebike Volador 20″ Folding Bicycle
Foldable Design
This 20″ electric bike comes in silver color, and it weighs only 38lbs. It has a foldable design which means it is less space-consuming. The VOLADOR frame and fork are made of industry-grade Aluminum Grade 6061.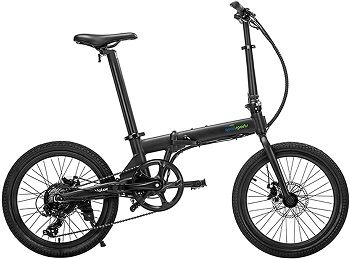 Motor And Batter
The bike is equipped with 350w high-speed brushless motor that weighs only 2.2 kg and has torque which gives you enough power to climb up hills. With a built-in clutch, this bike gives you a comfortable ride at speed up to 20mpH. The bike comes with a 36V 7Ah Samsung Battery capacity which charges in 3 Hours.
Brakes And Riding Modes
The bike has front and rear disc brakes that are keeping you safe, and it shut dows the power system when you use the break. You can choose between pedaling mode, or at cruise control mode without peddling or pure bike mode if you need some exercises.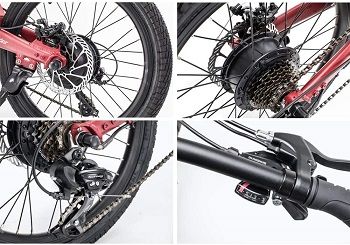 Other Features
Multi-function LCD display,12 points sensor, and FOC controller work together for the PAS system.  Also, there are sensors that can detect every intention precisely. You can adjust the bike seat and handlebar which means more comfort. The Volador is equipped with a Shimano Tourney 7 speed mechanical gear system, so every rider can experience a much more great riding especially when you are hilling.
Specifications:
foldable and adjustable
LCD display
lightweight
quick charging
PAS system 7-speed gear system
Best 20-inch Commuter Electric Bike
20 Inch Folding Electric Bike
Lightweight e-bike
This 20-inch bike comes in white color and it has a foldable design, which means you can store it anywhere when not using it. The bike adopts a 100% lightweight aluminum alloy frame for quick folding.
Safe Stoping
Front and rear disc brakes fully protect your safety when shopping. Also, the front fork is made of high-strength carbon steel and packed with premium comfort shock absorption.
Motor And Battery
The bike runs 250w high-speed brushless motor and 7-speed Shimano transmission system, and with it, you can travel at the speed of 15mph.
It has a 36v8ah lithium-ion battery which is equipped with a smart lithium battery charger. With a fully charged battery, you can travel up to 50km.
Working Modes And Other Features
The bike has 3 working modes. You can choose between e-bike, assisted bike, and normal bike. Also, there is a LED 3-speed smart meter button, and you can choose electric-assist power when you want. The bike comes with strong bright headlight so u can ride even at nights.
Specifications:
foldable
3 working modes
smart meter button
7-speed transmission system
Best 20-inch Affordable Electric Bike
ANCHEER Folding Electric Bike
User-friendly Design
User -friendly design allows you to carry the bike over the steps.
The bike has high quality anti-slip wear resistant tire. The riding is more comfortable thanks to the front suspension fork.
The bike adopts aluminum alloy frame for quick folding and easier storage when not using it.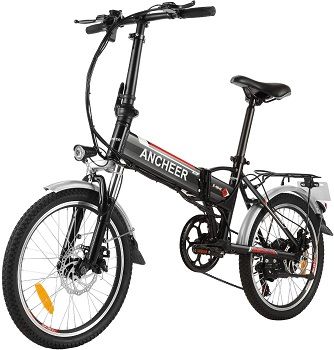 7-speed Transmission System
The bike has a 7speed professional transmission system that is here for comfortable pedaling speed, and you can easily deal with hills or bumpy roads.
Motor And Battery
The bike is equipped with a stable 250w brushless gear motor which is enough power to meet daily commuting needs. Also there is a 36v18ah built-in removable li-ion battery that supports the ide up to 50 km. Also, it can be easily charged in 4-6 hours on or off the frame.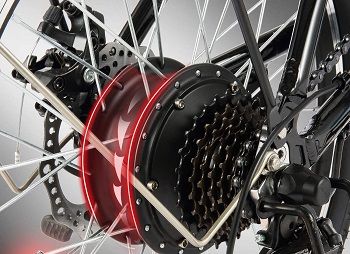 3 Working Modes
The bike has 3 working modes to choose from. You can ride a normal bike, e-bike, or assisted one. With led 3-SPEED smart meter button you can choose the assist power according to your needs. The bike also comes with a bright LED headlamp and horn for night riding.
Specifications:
user-friendly design
foldable
LED headlamp
3 working modes
Best 20-inch Fat Tire Electric Bike
Yamee Folding Electric Bike
I-PAS System
This electric pedal bike has an intelligent power assist system. This system increases the power of the output and it extends the life of the motor and the battery. The bike has a Samsung battery that has power and capacity of 48 V 14.5 Ah. With the innovative technology integrated into this bike, you can travel longer and the maximum reach is up to 80 miles.
Smart Upgrade
This bike has a new cruise control technology. It needs only 8 seconds to maintain the constant speed and you don't need to control the throttle. As long as you use the brake, the cruise control will stay turned off. There is also a function of recharging. The energy of the high speed or downhill ride will charge your battery.
Transmission System
This pedal-assist bike has a complete set of 8-speed Shimano transmission system. This system works smoother than on any other bike. It provides you with multiple choices that can be suitable for mountain trails, hill climbing, or road cruising. The bike has hydraulic brakes with oversized brake discs that give you extra safety while riding.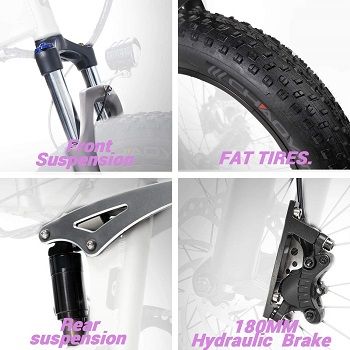 Advanced Suspension and Tires
The front and rear shock absorbers on this bike use four-link air suspension technology. The wheels are 20 inches and the fat tires are 4 inches thick. They are all-terrain tires suitable for climbing, snow and dirt roads.
Easy Assembly
This bike comes 99% pre-assembled. All you need to do is unfold it, install the saddle, and adjust it according to your height. 24-hour customer service is available if needed.
Specifications:
Intelligent display
IPAS technology
Samsung lithium battery
Upgraded off-road performance
Best 20-inch Mountain Electric Bike
ECOTRIC Electric Fat Tire Folding Bike
Design Of The Bike
This mountain e-bike comes with a 20-inch aluminum frame and high-quality front fork. You can choose between black, white, and blue color. The bike can ride on sandy or snowy Terrans with no problem. The fat tires provide more stability when riding.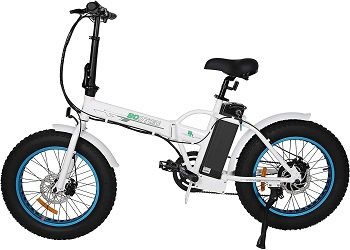 Removable Battery
The bike is equipped with The 36V 12AH lithium battery which is removable to be dismounted and charged anywhere.  It takes 6-8 hours for the battery to be fully charged.
500W Motor
The 500W high-speed brushless gear motors easily assist you to travel at the 20mph road speed limit and you can ride more than 18-23 miles with pure electric power on a flat road. The range of riding mileage depends if you use pedal assist power or throttle power more.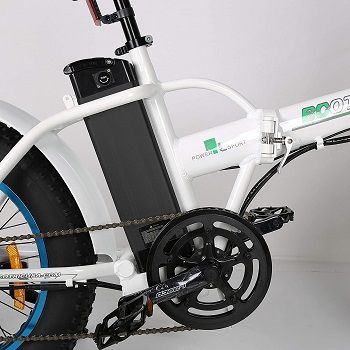 Comfortable And Secure
The bike has a sunproof saddle that is made of breathable fabric, promoting heat dissipation. Bike provides more security thanks to the outage and mechanical braking system.
Other Features
This electric bike with fat tires has excellent climbing performance and it simply adjusts the body to pass through roots and small drops. The bike also has a battery and owe lock feature for securing the bike.
Specifications:
comfortable and secure riding
fat tires
lock feature
500w motor
Conclusion: Which Two 20-inch Wheel Electric Bicycle You Should Buy?
Between 5 listed 20-inch wheel electric bikes I would recommend the Qualisports e-bike and the 20″ Folding e-bike. The Qualisports weights only 38lbs and has a foldable design which is easy to store. It also has a lightweight 350 high-speed motor that gives enough power to climb up his. The bike is adjustable and comes with an LCD display so you can see your bike status. The 20″ folding e-bike adopts a 100% lightweight aluminum alloy frame and strong forks for safer stopping. There are 3 working modes to choose and this bike has a smart meter button.
If you want to learn about the best electric bikes available on the market than reading this article about the best electric bikes for sale. Also, you can read this review about the 3-wheel electric bikes if you prefer bikes with 3 wheels, but if you like to do shopping or take some items with you, then read this article about electric cargo bikes.